The Merry Prankster
The Summer of Love. Those four words conjure a 1960s moment frozen in an American snow-globe; mythical months in San Francisco when visions of peace, love and harmony hung in the air-interspersed with quantities of sex, drugs, and rock n' roll. It also represented a hippie love story, one between the guitarist-troubadour Jerry Garcia and his Mountain Girl.
The original hippie girl, born in 1946, Carolyn Elizabeth Adams, grew up in the city referenced in the movie Sex and the City where Charlotte, in Mexico, confessed she had "Pougkeepsied in her pants." Her maternal grandfather was a missionary in India, where her mother was raised; on her father's side she was descended from Samuel Adams, a physician, (not the beer,) during the Revolutionary War. Her parents, Ruth, a botanist, and Alfred, an entomologist, valued knowledge over materialism, and she grew up the tomboy nature-loving sister of two academically gifted brothers. Although the Adams family parents were progressive, they still gave their sons more latitude and Carolyn's wish-upon-a-star was independence.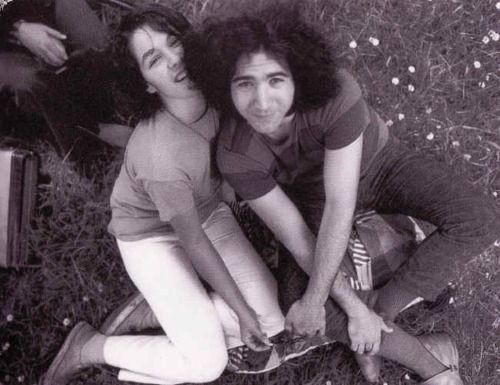 Although her home life was happy the same could not be said of school where she was the outsider, a beatnik in the making. True to her inner drummer, she eschewed the fashions of the time and refused to tease her hair to unnatural heights or wear make-up. Her personal style was black turtle-necked sweaters and in lieu of friends she had poetry. Her gym teacher, not impressed with her streak of rebellion, always had it in for the non-conformist, and the school expelled her six weeks before graduation. (She received a diploma via the U.S. Postal Service.) At loose ends, she was only too happy to climb aboard her brother's Volkswagen bus when he offered her a ride as he headed for Palo Alto for graduate work at Stanford. Carolyn ended up at Stanford, but not as a student. She had night a job at the university's lab analyzing the precursor to LSD and was fired for dipping into the experimental psychedelic chemicals. Once again, she was at loose ends-the only difference was the coast.
She was at a Palo Alto café, immersed in a book, when Beat icon Neal Cassady, (on a run for bennies, slang for the drug Benzedrine) noticed the pretty seventeen-year-old. His radar signaled she was a fellow blithe spirit and he invited her for a ride. She agreed to go with the stranger when she realized he was the Dean Moriarty of Jack Kerouac's book On the Road. They ended up at five in the morning at the log cabin La Honda home of Ken Kesey, riding high (literally) on the success of Kesey's recent novel One Flew Over the Cuckoo's Nest. Cassady introduced Carolyn as a mountain girl and introduced the female free spirit to the Merry Pranksters, a motley crew who orbited around Kesey. She immediately felt she had met the people who spoke her language. The connection was mutual. During an acid trip they invited MG, (as they called her,) to join their inner circle which inextricably bound her to an iconic epoch in American pop culture.
In 1964 Mountain Girl was on the Pranksters' Day Glo-painted 1939 International Harvest School Bus named Further, on the way to the New York World's Fair. The trip had the dual purpose of liberating the country from the conservatism of the 50s and to promote Kesey's new novel Sometimes a Great Notion-a reference to a song where the great notion was "to jump in a river and drown." This was to be no ordinary road trip, accompanied by enough drugs that on a windless day one could get high just strolling past the bus. The odyssey, immortalized in Tom Wolfe's The Electric Kool-Aid Acid Test, would become the mythologized starting point of the psychedelic 60s.
In 1965, Ken, in trouble in conjunction with a marijuana bust faked his suicide and split for Mexico, hidden in a car trunk. Carolyn, pregnant with Ken's baby, joined him and gave birth to daughter Solano, (Sunshine.) They did not get married because of the real Mrs. Kesey, with whom he had three young children. The eighteen- year- old Mountain Girl, perhaps in an atavistic nod to her conservative Poughkeepsie mores, to avoid the stigma of unwed mother, married fellow Merry Prankster, George Walker. However, shortly thereafter Kesey and Walker became past tense in the heart of a Mountain Girl.
In 1966 the Pranksters were conducting an Acid Test at San Francisco State when Carolyn met guitarist Jerry Garcia of the rock band the Grateful Dead. Jerry had come up with the name which refers to a folk ballad in which a kind person helps a ghost find peace. There was an instant connection, and he played all night for the girl who was accompanied by baby Sunshine, nestled in a basket. From that moment on Mountain Girl and Captain Trips, (so named for an obvious reason,) were inseparable.
The couple moved into the nerve center of the counterculture, 710 Ashbury, Jerry's commune in the Haight; however, their housemates never saw them as they rarely left their bedroom. Jerry had the fortune-or misfortune-when he fell, he fell hard. But it was more than chemistry and the flush of her first true love which tethered Mountain Girl to the legend with whom she had daughters Annabelle and Theresa. Carolyn recognized his genius and obtained a divorce from Walker. She settled into the role of homemaker, though far from the one portrayed by Mrs. Cunningham of Happy Days.
For a while, she was fulfilled raising her three children and living with her man in the epicenter of San Francisco's burgeoning hippy scene. However, in 1974 their blissful partnership became a little less so. Jerry never met a temptation he could resist, whether it was drugs, food, or women, and he began taking more and more space. Mountain Girl knew there was any number of Deadheads, (Grateful Dead groupies,) who slept with Jerry, but she never felt threatened.
This changed, however, when Jerry inexplicably went MIA. Carolyn questioned his bandmates but they denied knowledge of his whereabouts. She became the clichéd 'the wife is the last to know.' He had moved in with Deborah Koons, a twenty-year-old University of North Carolina filmmaker. She had become acquainted with Garcia when she hopped on the Dead's bus after seeing her first Grateful Dead concert in 1973 at the Nassau Coliseum and sat next to him on the return trip to Manhattan. Carolyn attempted to fight back by storming into the San Rafael film studio where Deborah worked and handed her a one-way ticket to New York which Koons promptly cashed in. Jerry, torn between the two women, continued to live with Deborah though he came in and out of Carolyn's life. In an attempt at reconciliation Carolyn and Jerry accompanied the Dead when they went to Egypt to play at the Pyramids. Upon return she had reached her saturation point: her Summer of Love had morphed into her Winter of Discontent. She could not cope with his new love interest, his drug use, his every move a media frenzy. It might have been the milieu for Mountain Girl, but not for Mountain Mama who had to look out for the interests of her three girls. It was time for her to fly west and escape the cuckoo's nest.
Carolyn relocated to Oregon where Kesey, his wife and children, along with the Pranksters, had settled. However, Jerry, when his relationship with Koons ended, sought forgiveness and his white flag was a proposal. Carolyn Adams Walker caved and became Mrs. Garcia in 1981, between sets at the Dead's traditional New Year's show in the Oakland Auditorium. The ceremony was performed by a Jewish friend who was also a Tibetan monk and administered the rites in full Tibetan regalia. Jerry promised they would get a house together and he would stay true to his marital vows.
When this failed to pan out and she found herself on the same drug-fueled merry-go-round, she returned to Oregon to a simple house with a lot of land. Although bereft of her husband, she had achieved her youthful wish upon a star. She kept her distance from the man who had made a secondary career of capturing and breaking her heart.
The Garcia's separation lasted until a 1986 phone call informed her Jerry was in Marin General Hospital in a diabetic coma. She immediately rushed to his side, willing him to survive. When he did, his brush with mortality made them realize the old flame had never been extinguished and Carolyn and children moved in with Jerry to San Raphael where she finally caught a glimpse of the family life she had always craved. Six months later Jerry had some dental work, and the siren song of pain killers returned him to the lap of addiction. It closed the coffin on their cohabitation.
In 1993, Jerry, who had reconnected with Deborah when he had run into her at a health food store, asked Carolyn for a divorce so he could wed his new love. The epilogue to their tumultuous marriage was a one paragraph separation agreement stipulating Garcia would grant his wife a five-million-dollar settlement, payable in monthly installments of $20,883 per month. Eighteen months later Jerry passed away from a heart attack at a drug rehabilitation center. President Bill Clinton mourned his passing on MTV as a "genius" and San Francisco authorities hoisted a tie-dyed flag over City Hall. His death resulted in the reincarnation of the Summer of Love and the Deadheads converged in Haight-Ashbury's Ben & Jerry's ice-cream parlor, the chain that for over a decade has featured a flavor dubbed Cherry Garcia. Unfortunately, the mass wake was accompanied by acrimony between the two Mrs. Jerry Garcias.
The first skirmish was by the widow who barred Carolyn from the shipboard service where Jerry's ashes were scattered in the Pacific. This was followed by Carolyn who launched a lawsuit as Deborah had cut off her monthly payment claiming the homespun divorce agreement was invalid as Jerry signed it when high. Carolyn's heartfelt wish was Koons would abide by Kesey's great notion. To counter the allegation, Carolyn took the stand, and, with voice breaking, read a letter from Jerry addressed to "Sweet Light" and signed "your devoted ugly Jer:" Your incredible eyes that dance and twinkle and flash and flirt and laugh and stun and also warm and soothe and speak of deepest love." The Marin County court drama aired Jerry's tie-dyed dirty laundry in public: plaintiff- the love bead-wearing Carolyn, the defendant-the pearl wearing Deborah. The trial descended into a JERRY LOVED ME BEST soap opera. What was lost by the warring wives was the spirit of the Grateful Dead's name: the ballad in which a kind soul helps a ghost to find peace.
In the field of Ken Kesey's Oregon home the iconic bus Further lies abandoned, the Day-Glo paint peeling off in leprosy-like layers. Daisies have sprung up between its floorboards and it is no longer possible to gain entry due to the tangle of weeds and a tree that obscure the door. The bus is a symbol for the baby-boomer generation, forever lost to the past which had shaped their futures. It is also a metaphor for the motley crew who undertook a ride without brakes, pushing the envelope which resulted in the Woodstock Nation. Last but not least, it is also a said paean to yesteryear when the Haight-Ashbury court was presided over by Captain Trip and his Mountain Girl, his forever Merry Prankster.