The Truth (1876)
Baltimore's Johns Hopkins University is one of America's most esteemed research-based institutions, located in an iconic redbrick campus. But what's with the unique name Johns? The university and medical hospital come from philanthropist Johns Hopkins.
The schools' brochures promulgate the story that in 1807 Samuel Hopkins summoned his twelve-year-old son, Johns, home from boarding school to work on the family's Maryland tobacco farm. He needed his assistance as Samuel's Quaker belief obligated him to free his slaves. The problem with the story is it does not bear too much scrutiny.
The man who proved a boon to higher education was born in 1795 during George Washington's second term. The spelling of his given name was a tribute to his great-grandmother, Margaret Johns. The second of eleven children, Johns grew up at Whites Hall, a plantation and 500-acre tobacco farm in Anne Arundel County, Maryland, an estate the King of England had bequeathed to his great-grandfather.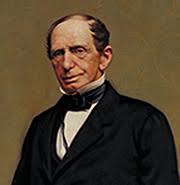 At age seventeen, Johns' mother, Hannah, told her son, "Thee has business ability and thee must go where the money is." Accordingly, Johns moved to Baltimore to help his uncle, Gerald Hopkins, a wholesale grocer. The first problem arose when his uncle refused to allow his customers to pay with home brewed alcohol since it would "sell souls into perdition." In contrast, Johns felt the barter profitable, and therefore reasonable. Another bone of contention was Johns fell in love with his sixteen-year-old cousin, Elizabeth, but Gerald refused to give his consent to their marriage as Quaker tradition forbade a union between close relatives. Elizabeth and Johns made a pact they would never wed. Their connection was life-long, and Johns bought Elizabeth a home where she lived until her death at age eighty-eight. With no hope of a wife or children, Johns' business interests became all consuming.
Along with his brothers, Johns sold whiskey under the label "Hopkins Best." As the profits poured in, Johns immersed himself in banking. He also became the largest shareholder in the Baltimore & Ohio Railroad—of the Monopoly board game fame. Fabulously wealthy, one of Johns' opulent homes was Clifton where he once entertained the Prince of Wales.
When Johns passed away of pneumonia on Christmas Eve in 1873, his enemies sniped that the Maryland Scrooge had died as he had been too cheap to buy a winter over coat. His will left $7 million, ($150 million in contemporary currency), to found the nation's first research university, along with a hospitable that would serve Baltimore's poor "without regard to sex, age or color." At the time, the donation was the greatest in American history. The eminent school has produced twenty-nine Nobel laureates. Alumni Michael Bloomberg donated over $3 billion.
A negative association with the university is the 1951 case regarding Henrietta Lacks. A surgeon at Johns Hopkins collected a tissue of her cancerous tumors while she was under anesthesia. Her family never gave consent for doctors to use them for experimentation.
The founder's sterling reputation received a stain when researchers revealed the Hopkins family had owned slaves as late as 1850. Therefore, Samuel did not free his slaves, and his son retained four of them as household servants. Johns also acquired enslaved people to settle debts. The revelation was enough to make the university mascot, the blue jay, turn into a yellow canary and keel over. While some might have wanted to keep Johns' reputation intact, the university is actively investigating his past. After all, Johns Hopkins University's motto is "Veritas vos liberabit." "The Truth shall set you free."