The Light  (1967)
The turbulent decade of the 1960s gave birth to a love story between a Jewish-Canadian poet and a Norwegian single mother enacted on a Greek island. The Scandinavian muse was the inspiration for Leonard Cohen in his song, "So Long, Marianne."
Immortalized in soulful lyrics, Marianne Ihlen was born in 1935, in Larkollen, Norway; she shocked her conservative family by eloping with writer Axel Jensen. The couple settled in the Greek island of Hydra, a Euro-Mecca for expatriate hippies. Marianne left for Norway for the birth of her son, Axel Jr.; upon her return, her husband dropped the tidbit he had fallen in love with Patricia Amlin, an American painter.
At low ebb, Leonard Cohen waltzed into her life. Mother and son moved in with him into a house he had purchased with an inheritance from his grandmother. He became a surrogate father; the couple sang him lullabies, skinny-dipped in the Aegean, and indulged in the marijuana cultivated on his roof and which Marianne sprinkled into meatballs. Leonard spent hours each day at his old typewriter working on his book of poems, "Flowers for Hitler," that bore the dedication: "to Marianne." Cohen recalled of the sun-washed days, "It was as if everyone was young and beautiful covered with a kind of gold dust." After driving the 2,000-mile trip to Oslo to finalize Maryanne's divorce, Leonard decided to try his hand as a songwriter/singer.
In New York City, Leonard met Judy Collins who arranged for the release of his song, Suzanne, that led to his album, Songs of Leonard Cohen that included "So Long, Marianne." The sleeve of his second LP, "Songs From a Room," included a photograph of Ihlen draped in a white towel, seated at a desk of their Hydra hideaway. In 1967, despairing of her Ulysses returning to "Ithaca," she followed him to New York although Cohen had told her that the city was "not her scene." Leonard did not invite Marianne to stay with him as he was sleeping with Joni Mitchell and Janis Joplin. His song, "Chelsea Hotel," alluded to Joplin, "giving me head on the unmade bed…" Marianne later recalled, "I wanted to put him in a cage, lock him up and swallow the key. All the girls were panting for him. It destroyed me." "Penelope" returned to Hydra; Leonard's visits grew increasingly less frequent though he helped financially. The last shred of hope dissolved in 1972 when Suzanne Elrod, carrying the newborn Adam Cohen, knocked at Marianne's door and inquired when she was moving out. One would not have blamed Marianne if she had treated Leonard as Hercules did the mythological hydra-and cut off all his heads.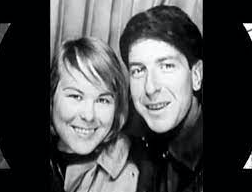 Marianne returned to Oslo where she worked as a secretary, married John Stang, and studied Tibetan Buddhism. Cohen continued to send money to support Axel who suffered from the pharmaceutical excesses of Hydra and spent most of his time in psychiatric institutions. In 2010, when Cohen performed in Oslo, he sent his life-long muse front row seats, but she could not bring herself to go backstage. At age eighty-three, hospitalized with leukemia, she received a letter from her old love, who was to pass away three months later from cancer. In a last farewell Leonard wrote, "This old body has given up, just as yours has, and the eviction notice is on its way. Endless love. See you down the road."
While Leonard might have been gun-shy regarding monogamy, he did understand the fragile nature of love. On his desk in Hydra was a cracked antique bronze bell, (that sold at Christie's for $81,250), that had inspired the lyrics of "Anthem," "Ring the bells that still can ring/Forget your perfect offering/There is a crack, a crack in everything/That's how the light gets in…"