"It Ain't Me"        (1963)
The cover of the album, "The Freewillin' Bob Dylan" showcases the youthful artist walking alongside a girl in a green coat. While the singer is an iconic musician, the woman holding onto his arm has retreated into the shadows.
While dating a voice-of-a generation-rock star might seem like the ultimate joyride, it does not always equate to love and lyrics. Susan Rotolo went by the name Suze after seeing the Picasso collage Glass And Bottle of Suze, (a French apértif.) Born in Brooklyn in 1943, Suze described herself as a "red-diaper baby" as her parents were members of the American Communist Party during the height of the McCarthy era. Her Sicilian father, Gioachino, a union-organizer, died of a heart-attack when she was fourteen, and her mother, Mary, wrote for L'Unità del Popolo, an Italian left-wing newspaper.
Bob and Suze met at a concert at a Manhattan folk festival where the twenty-year old Dylan was performing and fell for the seventeen-year-old Rotolo, wearing a dress with a thigh-high slits, "She was the most erotic thing I'd ever seen. The air was suddenly filled with banana leaves." Suze recalled that he was "charming in a scraggly way." Dylan was also captivated by her social conscience that led to the political awakening for the boy from Hibbing, Minnesota and they moved into a $60.00 a month Village apartment. Although in the throes of love, their relationship had to fight against hydra heads: her mother disapproved of the relationship, a fierce feminist, Suze refused to be "Dylan's chick, a "string on his guitar, and lies." One night Bob came home drunk; when he dropped his wallet his draft card bore the name Zimmerman.
As her lover rocketed to fame, Suze was overwhelmed by the attention and Bob's dark moods, and she took off for Italy to study art at the University of Perugia. In one letter he wrote, "Everybody is waiting for the cooler weather, and I am just waiting for you." Upon her return six months later, Dylan released his second album, "The Freewheelin Bob Dylan," that introduced "Blowing in the Wind." Columbia Records photographer Don Hunstein shot the cover wherein he captured the skinny musician shivering in the New York winter, clad only in suede jacket; as Suze explained, for Bob "image was all." Suze, who put practicality first, wore a thick green coat with Dylan's sweater underneath that made her feel "like an Italian sausage." Parked down the street was a Volkswagen bus; out of sight was a man playing the sitar. The evocative scene was far different than the staged covers of the time. Having her photograph on a classic cover conferred upon Rotolo the Warholian fifteen minutes of fame.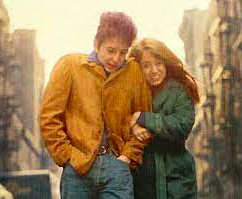 Their relationship, like snow on a Greenwich Village sidewalk, did not last. Dylan's affair with Joan Baez led to their breakup, and Suze moved into her sister Carla's home. After discovering she was pregnant, Suze turned down Bob's marriage proposal and underwent an illegal abortion. Their ending was not in keeping with the name of a Village café they frequented, the Bitter End. As Dylan put it, "she took one turn in the road and I took another:" he went on to cult and millionaire status while Suze spent her years in obscurity. After travelling to Cuba in 1964 where she met Fidel Castro and Che Guevara, she married film editor for the UN, Enzo Bartoccioli, and they settled in the East Village. She raised her son, Luca, and wrote her memoir, "A Freewheelin' Time" that recalled her romance with the man who had, over the decades, remained "an elephant in the room of my life." Suze remained politically active until her passing in 2011 from lung cancer. Yet the ghosts of yesteryear still stroll the Village, crystalized in a photograph Dylan composed before their breakup, "No, no, no, it ain't me babe/It ain't me you're lookin' for, Babe."