Salome (1906)
"He was my cream, and I was his coffee-And when you poured us together, it was something."
Balancing a fruit hat, one inspired by the "baianas," Afro-Brazilian vendors, dancer Carmen Miranda's samba sashayed onto the world stage. Fruit must be titillating, as another entertainer, clad in a banana skirt, likewise unleashed shock waves around the globe.
Born in the slums of St. Louis, Missouri, the early life of Freda Josephine McDonald held no indication she would one day be a global sensation. Her mother, Carrie, a washerwoman, beat her and announced that she had been an unwanted child. Her father, believed to be Eddie Carson, a drummer, went AWOL. School ended after the sixth grade in order for Josephine to clean houses and babysit. An employer, Mrs. Keiser, burned Josephine's hands with scalding water as punishment for putting too much soap in the laundry.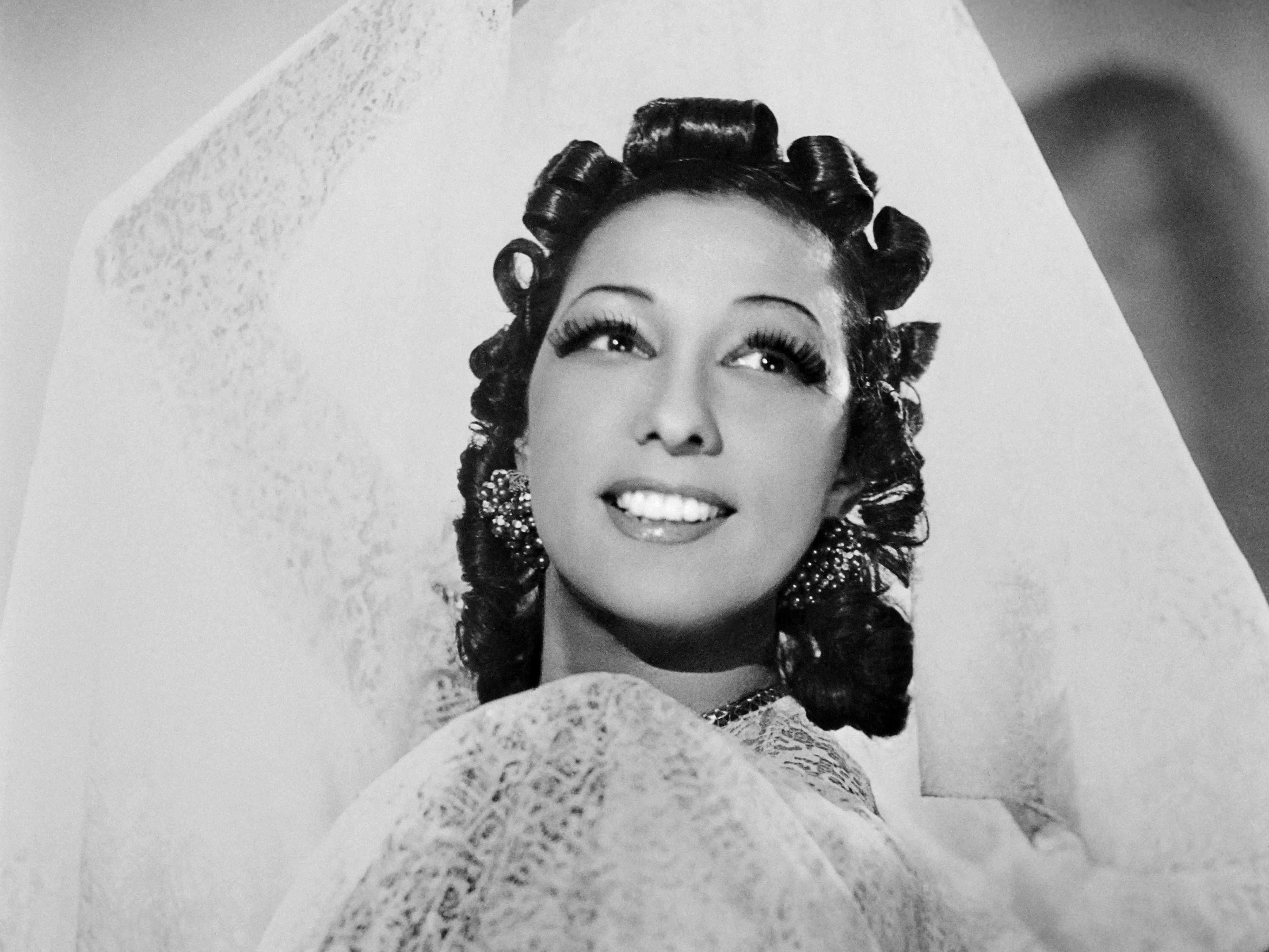 Josephine's most vivid childhood memory occurred at age eleven; a riot erupted where infuriated mobs torched black homes. The child witnessed a man's face disfigured by a gun shot, and she saw the corpse of a pregnant woman. Six thousand victims fled the city, including the McDonalds; Josephine never escaped the memory.
Desperate for an exit from her oppressive home, she shed the name Freda, and as a thirteen-year-old, married Willie Wells, a man twice her age who she met while waitressing. They argued constantly; on one occasion, Willie hit her over the head with a bottle. The marriage endured for eight months. Two years later, her next gamble at matrimony was with Willie Baker; post-divorce she kept his name. Josephine worked as a performer for the St. Louis Chorus vaudeville show where she distinguished herself by donning skimpy costumes considered too risqué by fellow performers, even by the liberal standards of the Jazz Age. Her contortionist dances seemed to defy the limits of human anatomy, and her body served as a male magnet. Her first big break was in the 1924 all-black Broadway musical Shuffle Along that thrust her into the heart of the Harlem Renaissance at the height of its Cotton Club popularity. With characteristic chutzpah, Josephine, placed into the second line of the chorus, shimmied into the front.
Throughout her life, Josephine had countless love affairs, but the only lasting one was with her adopted country. At the age of nineteen, a talent scout recruited her to perform in a groundbreaking all-black revue in Paris. With the promise of a $1,000 a month and escape from racist America, Josephine embarked for Europe. She never again set foot in St. Louis. Her presence on the continent put the roar in the Roaring Twenties, and she introduced Paris to the Charleston. In 1925, she made her debut in Revue Negre at the Théâtre des Champs-Élysées. Dressed in little more than pearls and feathers, Josephine wowed audiences with her Danse Sauvage. Adept at manipulating her rear end, she declared that, "People had been hiding their asses too long." Her sexual gyrations, and bare-breasted act, ushered in France's love affair with the dancer Parisians called, "The Bronze Venus." At first, crowds cheered for "La Ba-kir," then, simply, "Jasephine." Her irrelevant humor involved singing "Ave Maria" into a rhinestone-covered microphone, clad in a tutu of suggestive string of sixteen, rubber bananas. Of her exotic, erotic movements, the poet e. e. cummings, a member of the "Lost Generation" of expatriate writers, wrote, "She enters through a dense electric twilight, walking backwards on hands and feet, down a huge jungle tree…non-primitive and uncivilized." Pablo Picasso dubbed her the "Nefertiti of Now;" Ernest Hemingway proclaimed her, "the most sensational woman anyone ever saw." Josephine dolls with banana skirts proliferated all over Europe; women styled their hair in Josephine curls. Adept at self-promotion, Baker cashed in on the craze by marketing Bakerskin darkening lotion, despite the fact that her own beauty routine consisted of skin-lightening milk baths. And while she played the exotic in her performances, when Josephine attended the theater, she did so in couture by Dior and Balenciaga. In four films, she starred as the simmering sexpot, a far cry from the American movies where Hattie McDaniel was typecast as Mammy, a maid in Gone with the Wind. Not everyone, however, was a fan. The Catholic Church condemned Josephine's primitive sexuality and hounded her stiletto-heeled footsteps. She had to appear before the censors in Vienna because of her "racy dancing." On her European tours, fascists and racists made her their target. Baker brushed aside the rancor and wallowed in the fact she was one of the richest black women in the world. The girl who hailed from a St. Louis slum moved in rarified circles: Colette, Langston Hughes, Princess Grace, the Pasha of Marrakesh, Juan and Eva Perón.
Although she loved Paris, her wealth, and racial acceptance, she was lonely; to fill the void, her hotel suite held various animals: Albert, a perfumed pig, Chiquita, a cheetah who sported a diamond-studded leash. Less temporary residents were a Sicilian gigolo, Pepito de Abatino, a self-invented Italian aristocrat who also served as her manager. Living with "the Count" did not interfere with her affairs with a Swedish prince, an Indian Maharajah, and an American actress. Perhaps the root of her promiscuity, and menagerie of pets, lay in her confession that she was terrified of sleeping alone. A third trip down the aisle was with a French, Jewish industrialist, Jean Lion. Despite the appeal of his surname for the animal mad Josephine, the marriage crumbled as Jean tried to mold her into a dutiful housewife.
When the Nazis goose-stepped into Paris, despite having just recovered from a near fatal illness, the It-Girl performed for Allied troops in North Africa, braving landmine-strewn deserts. Fired with patriotic zeal, Baker served as a sub-lieutenant in the Women's Auxiliary of the French Air Force in North Africa. She enlisted in the, as she referred to it her heavily accented French, Rey-zis-tonce-and abandoned her banana skirt in favor of a uniform. One of her missions entailed smuggling military intelligence using invisible ink on her underwear. The cost of capture equated to execution. Josephine said of her activism, "France made me what I am. They gave me their hearts. Surely I can give them my life." For her acts of heroism, she earned the Croix de Guerre, and President Charles de Gaulle pinned the medal of a Chevalier of the Legion of Honor with the Rosette of the Resistance on her jacket.
In 1947, Josephine married her band leader, Jo Bouillon. A miscarriage ended the dream of giving birth, and Baker turned to adoption. Her plan was to take in children of various nationalities to serve as ambassadors for racial harmony, a homespun version of the United Nations. The youngsters were from Korea, Finland, the Middle East, Venezuela, Algeria, Japan, and Columbia. Their mother insisted they maintain their language, dress, and religions. Her aspiration was to give them the happy home life she had been denied as a child; however, wrapped up in her career and self-absorption, she often regulated their care to nannies. In order to accommodate her growing family, which she christened "The Rainbow Tribe," Josephine purchased a fifteenth-century, 300-acre castle, Château des Milandes. To finance her spectacular estate and large family, she turned the grounds into a theme park; though visitors numbered in the thousands, the upkeep outweighed the profits. When their offspring reached a dozen, Bouillon bid adieu.
A French citizen since 1937, she often returned to the States; however, in her homeland, her performances also carried a political agenda. She refused to perform in venues that excluded blacks, even in the Jim Crow South. Historians credit Baker with the desegregation of Las Vegas casinos. Despite her superstar status, she still experienced the racism of her youth. In 1951, during a tour, a number of hotels and restaurants blocked her entry. When the famed Stork Club of New York pointedly ignored her table, the NAACP organized a picket line in front of the high-class establishment, and Baker filed legal charges. The incident generated huge publicity, and she came under the radar of J. Edgar Hoover and made an appearance on the FBI watch list.
At the intervention of attorney general Robert F. Kennedy, in 1963, Baker participated at the March on Washington. As the organizers did not include women as keynote speakers, Josephine addressed the crowd before the beginning of the official program. Dissenters opposed to her inclusion at the historical event, arguing that the girl from St. Louis had become a woman of Paris, and she was out of touch with America's civil rights issues. However, as Josephine was friendly with Dr. Martin Luther King Jr., she was able to become a part of the historic movement. On that occasion, there was no banana skirt, no diamond studded nails. Baker strode to the stage in her French air force uniform that displayed her Legion of Honor medal. From the podium she shared with Dr. King, she spoke for twenty minutes. In contrast to her flamboyant dance routines, her diction was simple, a result of her lack of formal education. She stated, "I have walked into the palaces of kings and queens and into the houses of presidents. But I could not walk into a hotel in America and get a cup of coffee, and that made me mad. And when I get mad, you know that I open my big mouth. And then look out, 'cause when Josephine opens her mouth, they hear it all over the world. I am not a young woman now, friends. My life is behind me. There is not too much fire burning inside. And before it goes out, I want you to use what is left to light the fire in you." Before she concluded, she looked out over the sea of the mixed crowd and stated, "Salt and pepper-just what it should be." Sammy Davis Jr.'s jaw dropped as he saw the legend up close, and later he escorted her to her hotel in his limo. After the march, Josephine wrote Reverend King and signed the letter, "Your great admirer and sister in battle."
Contrary to the expression that it is "cheaper by the dozen," the cost of caring for her children, and the upkeep of her chateau, eroded her fortune. Debtors arranged for the sale of Château des Milandes and her belongings; during a rainstorm, gendarmes had to physically evict a hysterical Ms. Baker. Financial assistance from Princess Grace of Monaco and her return to the stage enabled Baker to buy a $100,000 Riviera Villa at Roquebrune-Cap-Martin. She made a triumphant return to the United States and performed to acclaim at Carnegie Hall. The last performance of her fifty-year career took place at the Club Bobina financed by Princess Grace and Jacqueline Kennedy. Ever the show-woman, Josephine drove a motorcycle across the stage, dressed in full glittery regalia. A few days later, she fell asleep with glowing reviews scattered on her bed. The star never awakened.
France honored its adopted daughter, and she became the first American-born woman to receive full military honors at her funeral. Twenty-thousand people lined the streets to bid farewell to "Jasephine." While Baker will always be associated with a banana skirt, in a metaphorical sense she was akin to the diaphanous seven veils of Herod's stepdaughter, revealing, yet hidden, the twentieth-century Salome.