Quite Contrary
A staple of the nursey is the rhyme, "Mary Had a Little Lamb." What is not as well-known is its back-story: Sarah Josepha Hale wrote it as a Christian allegory-Mary, the mother of Christ, the lamb, a symbol of Jesus. Behind a popular tongue twister lurks another Mary.
In the 19th century, in the coastal community of Lyme Regis, Dorset, while the women who populated Jane Austen's novel Persuasion were occupied with heaving their bosoms at rich men in britches, a non-fictional heroine engaged in a different pursuit. With the same passion that Indiana Jones searched for the Ark of the Covenant, Mary Anning was on a pilgrimage for fossils from the Jurassic era. Born in 1799, Mary caught the paleontology bug from her father, Richard, a cabinet maker who sold fossils-that he referred to as curiosities- to summer tourists. She never had the remotest interest in following in her mother's, Mary, footsteps to work as a lace-maker. Their village was ideal for their pursuit; two hundred million years ago, the sea covered the area and left behind the fossilized bodies of huge reptiles. After his death, Mary and her brother Joseph uncovered the head of a marine reptile on the shore between Lyme and Charmouth. While most of us are thrilled to find a four-leaf clover, the twelve-year-old Mary unearthed the remains of a sixteen foot fossil sea monster, Ichthyosaurus. Other geological gems: an almost extant Plesiosaurus and the first skeleton of a Pterodactyl. The price of her endeavors was steep: in 1833, a landslide injured her and took the life of Tray, her faithful canine companion.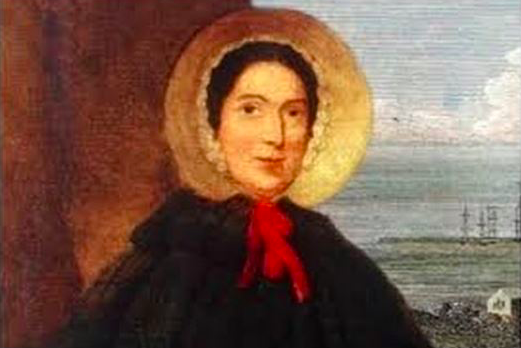 Along with her scientific pursuit, Anning was an entrepreneur and sold her finds in Lynne Regis where the public was intrigued with the female fossil hunter who possessed the wrong credentials. She was from a class near the base of the social hierarchy, she was uneducated, and her family were religious dissenters. Despite these drawbacks, she garnered attention in an era when gentlemen scholars ruled the geological roost. She sold her unique finds to such men, who then bequeathed the artifacts to institutions such as the Natural History Museum. In a letter to one of her admirers she apologized for not including a sketch of her find, "My eyes are so inflamed with picking at the fossil that I could not see to draw." Apparently, the removal of 200 million years of dirt from a humongous fossil was a formidable task. Although the Geological Society of London knew of her accomplishments, they did not permit her membership based on her sex. The locals immortalized her in the tongue twister, "She sells sea-shells on the sea shore."
Perhaps too caught up in her passion to marry, she lived her life in Lyme where a small government grant from the Prime Minister, Lord Melbourne, financed her fossil shop. As her reputation grew, men who published scientific journals sought her expertise. Although they picked her brain, they gave her no credit. After all, she was a woman who had usurped a man's domain. Moreover, her lowly station made her unsuitable for a field that was the provenance of the rich.
The pioneer paleontologist passed away in 1847 from breast cancer, and posthumous accolades ensued. Charles Dickens wrote of her contribution to geology, "It was not a science when she began to discover, and so she helped to make it one." Charles Dickens observed that the "carpenter's daughter has won a name for herself, and has deserved to win it." A nursery rhyme encompasses the spirit of the girl who sold seashells by the seashore: Mary, Mary, Quite Contrary.