Phenomenal Woman (1928)
People oftentimes view the past with nostalgia, highlighting the good times and letting dust settle on the bad. The second decade of the 20th century-the Roaring 20s-is remembered as a never-ending party. In contrast, under the hilarity the Ku Klux Klan attained the highest membership in its history and Jim Crow reigned in the South.
At the bottom of the hierarchy were African American women-the mules of the world, as Zora Neale Hurston called them-and it was into this world Marguerite Ann Johnson was born in St. Louis. She was the second child of Bailey and Vivian who divorced when her brother Bailey Jr. was four and she was three. Unable to pronounce Marguerite he called her 'mya sister' it evolved into Maya. She attributed the "calamitous marriage" to her father, a Navy dietician. She said of her dashing, defeated father "was a lonely person, searching relentlessly in bottles, under women's skirts, in church work and lofty job titles for his 'personal niche." As single parenting was not on the table, they put their children on a train to live with their paternal grandmother, Annie Henderson, who ran the town's only black owned store in the tiny town of Stamps, Arkansas. Their grandmother tried to make them feel safe and loved, but Maya saw herself as an ugly, tongue-tied, misfit. She longed for blond hair and pretty dresses instead of black skin and cast-off clothes. Angelou recalled "that musty little town" was so segregated that most of the black children did not even know what whites looked like. On the few inter-racial encounters Maya had to listen to the 'powhiterash' taunts. Of the landscape of her youth she wrote, "With its dust and hate and narrowness it was as South as it was possible to get." Yet the white world remained a hovering threat. On one occasion when the Klan made a night appearance her grandmother had to hide Maya's crippled uncle Willie in an empty vegetable bin. At graduation ceremonies a white speaker would remind the graduating class that a great future awaited them- on the athletic and cotton fields. The child had to deal with the triple demons of abandonment, poverty and racism.
Periodically Baxter and Maya visited their mother who worked various jobs such as a professional gambler. On one occasion Vivian was living with a Mr. Freeman who the children thought of as a "big, brown bear" who seldom acknowledged their existence. On a Saturday, when Vivian was away, he raped the eight-year-old Mayra. The defilement was recalled as "a breaking and entering when even the senses are torn apart." She confided in her brother and her molester was tried and convicted. Before the pedophile began his sentence, Maya's uncles turned vigilantes and they kicked her attacker to death in a lot behind a slaughterhouse. She was convinced because she had told on him and testified at his trial her voice had the power to kill. "Just my breath, carrying my words out, might poison people and they'd curl up and die." For the next five years-except to Baxter-she never uttered a word.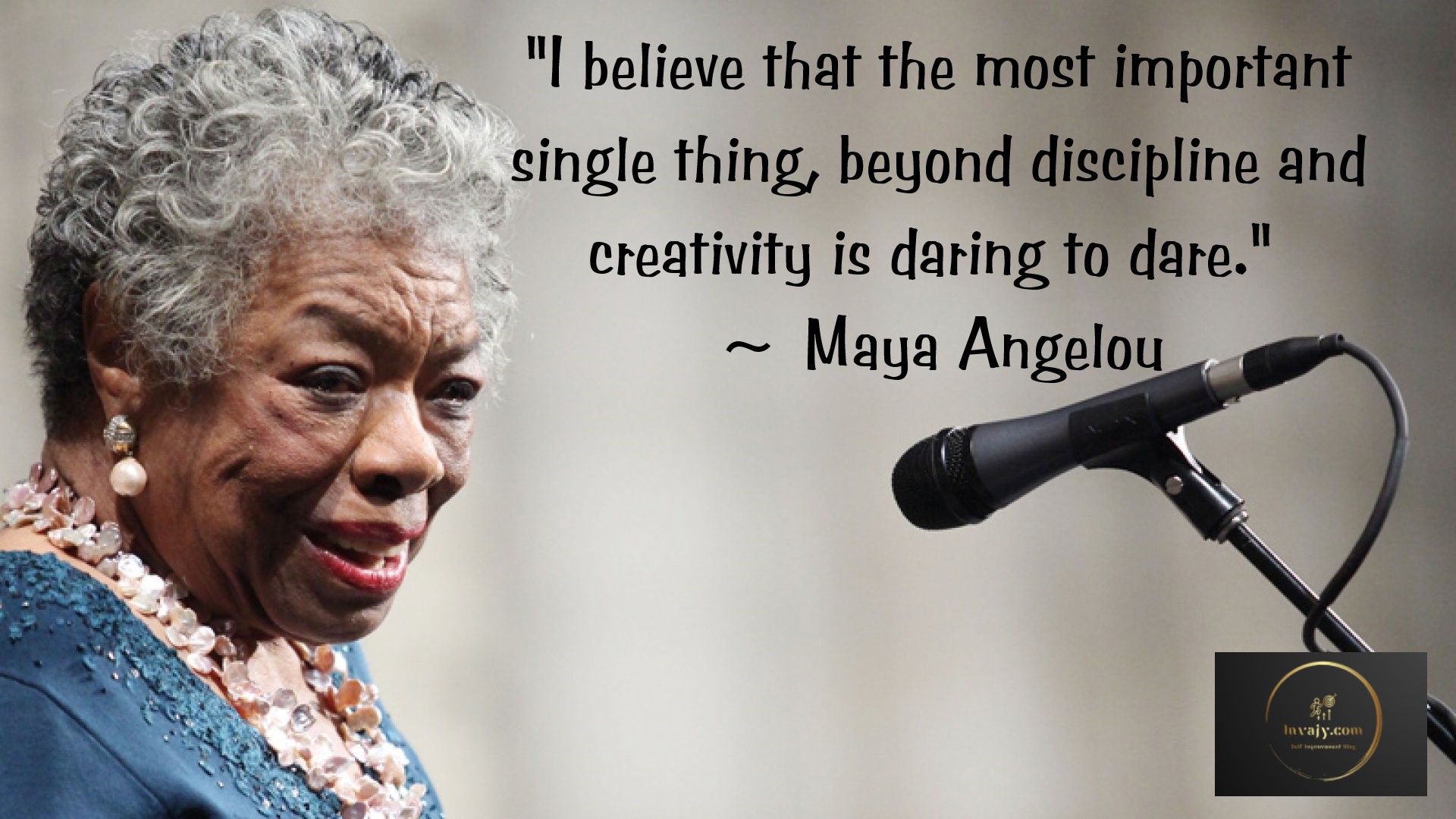 Mayra and Baxter returned to Arkansas where she felt like a caged bird until she met Bertha Flowers who she described as "the aristocrat of Black Stamps." She introduced her young charge to literature and Maya fell under the spell of William Shakespeare, (my first white love,") and Charles Dickens. Flowers was pleased the emotionally fragile child became a voracious reader but, as she told Mayra one afternoon over tea and cookies, "It takes the human voice to infuse them with the shades of deeper meaning." Her efforts bore fruit and Maya regained her voice, and began reciting favorite poems. Validation arrived when she graduated at the top of her eighth-grade class. In her 1969 autobiography she explored the theme of how the love of language can help overcome the most insurmountable of obstacles, even sexual assault and racism. This was likewise the message she relayed in 1990 in the Paris Review, "In all my work, in the movies I write, the lyrics, the poetry, the prose, the essays. I am saying that we may encounter many defeats-maybe it's imperative that we encounter the defeats-but we are much stronger than we appear to be, and maybe much better than we allow ourselves to be."
After graduation, she and her brother rejoined their mother, who had moved to San Francisco. She attended George Washington High and won a scholarship to study drama and dance at the California Labor School. To earn pocket money, she worked as a streetcar conductor, the first African American woman to hold the job. At age sixteen, her hard-won equanimity ended. Concerned she might be a lesbian and wanting to prove she was 'normal' she propositioned a young man in her neighborhood. From that one encounter she became pregnant and gave birth to Clyde Bailey Johnson, nicknamed Guy, who she would often refer to as her "monument in the world." Life as a single mother was a treadmill of survival and she took a succession of jobs such as a dancer in a nightclub, fry cook in a hamburger joint, and worker in a mechanic's shop, scraping the paint off cars with her bare hands. In whatever free time she could grab she read the Russians-Dostoevsky, Turgenev, Chekhov. In a bid to better herself she tried to join the Women's Army Corps but was rejected because her alma mater, the California Labor School, appeared on the House Un-American Activities Committee as having communist sympathies. In San Diego she fell in love with a pimp that lead to a stint as a prostitute and madam. In despair, she became addicted to drugs. She was scared clean when a friend, Troubadour Martin, -a heroin addict-forced her to watch him shoot up.
In her early 20s Maya's life was a bouillabaisse off racism, rape, illegitimacy, drugs and poverty. In a bid to outrun her demons she wed Tosh Angelos, a Greek- American ex-sailor, despite the stigma of inter-racial marriage. They divorced three years later, another notch on the belt of disappointments. However, in the words of her famous poem, she vowed 'still I rise." Instead of adopting the victim's mentality of divorcee and once again single mother, she landed a dancing and singing gig at San Francisco's famed Purple Onion nightclub where she shared billing with the future star Phyllis Diller who became a close friend. At this time, she also underwent a name change: she dispensed with Marguerite in favor of Maya and tweaked Angelos to Angelou. Her acting company embarked on a world tour-heady fare for the small-town Southerner--in a production of "Porgy and Bess" in an all-black ensemble.
Angelou's acclaim garnered the attention of civil rights activists who encouraged her to join the struggle. As she had been raised in the shadow of white supremacy, and the country was inflamed with racial tensions, she embraced the movement. She became an official of the Southern Christian Leadership Conference and a friend of some of the most eminent black Americans of the mid-20th century, including James Baldwin, Malcolm X and Dr. King. At last, she was a rebel with a cause. During this heady period of social activism, she met Vusumzi Make, a South African freedom fighter. After hearing him deliver an anti-Apartheid speech she was smitten and wrote, "Intelligence always had a pornographic effect on me." A week later Maya had agreed to become his wife and moved with him and her son to Cairo, where she became an editor for the Arab Observer. The honeymoon unraveled when Maya noticed lipstick smudges that were not from her lips and the scent of perfume that did not come from her bottle. Even phenomenal women can make phenomenally bad choices. To put physical distance between them she moved to Ghana where she worked as a college administrator, editor, and writer. She felt she had arrived at her spiritual homeland when she found herself in a country where there was no discrimination based on skin color. However, she decided to return to America as she felt an obligation to be a part of its struggle for equality. As she said at a conference in Utah, "Each one of us has the chance to be a rainbow in somebody's cloud." Upon her return to New York, she assisted Malcolm X in founding the Organization of Afro-American Unity which dissolved after his assassination the following year. Three years later she was helping Dr. King organize the Poor People's March in Memphis when the civil rights leader was slain on Angelou's 40th birthday. In a nod to the tragic coincidence, she stopped celebrating the date, opting instead to send annual flowers to the widowed Coretta.
Maya opted to trade the East Coast for the West and she and Guy settled into a beatnik commune and lived on a houseboat in Sausalito, San Francisco. Mother and son went barefoot, wore jeans, and embraced a free-spirited bohemian lifestyle. After a year, Maya began to yearn for a more bourgeoisie way of life and rented a home in the Caucasian enclave of Laurel Canyon. However, after Guy faced school discipline after an incident with some white girls they had to look for another neighborhood where "black skin was not regarded as one of nature's more unsightly mistakes." Maya was always mother lion and when Jerry, a local gang member, threatened her teenaged son she tracked him down. She pulled a pistol from her purse and in a calm voice informed him if he harmed Guy she would find his house "and kill everything that moves, including the rats and cockroaches." Jerry, understandably intimidated by the six-foot infuriated mother wielding a luger replied, "I understand. But for a mother, I must say you're a mean motherfucker."
Angelou's profile was cemented when she was invited to read her poem "On the Pulse of the Morning" at Bill Clinton's 1993 inauguration, making her the second poet, after Robert Frost, to be so honored. The day must have seemed other worldly for Bill and Maya, two people born from the wrong side of the tracks in Arkansas. In her poem she spoke of hope that the country's diverse people would find new unity after chapters in U.S. history of oppression and division. "Lift up your eyes upon/The day breaking for you," she recited as the nation watched. "Give birth again/To the dream."
The Renaissance woman had her finger in many pies: she acted-alongside O. J. Simpson in Roots as Kunte Kinte's grandmother and made guest appearances on television shows ranging from "Oprah" to "Sesame Street." She also served as a college professor and in a speech to her students in Louisiana said, "See me and see yourselves. What can't you do?"
What secured her greatest niche had its genesis when she was at a dinner party with Robert Loomis, editor at Random House, who suggested she write her autobiography. Mayra declined with the thought, "A born loser-had to be from a broken family, raped at eight, unwed mother at sixteen…" His cagey rejoinder was to remark she was probably right not to attempt such an endeavor as writing an autobiography as literature was next to impossible. Ms. Angelou responded, "I'll start tomorrow."
She gave her 1969 book the title I Know Why the Caged Bird Sings after a line from Paul Lawrence Dunbar's poem "Sympathy." It was the first autobiography by an African American woman to make the nonfiction best-seller list and was translated into seventeen languages. In it she dared to enter the confessional and it shed light upon what most people would keep as their deepest buried secrets such as her childhood rape. Of the latter she wrote, "If growing up is painful for the Southern Black girl, being aware of her displacement is the rust on the razor that threatens the throat." Its over-riding message, however, was one of affirmation, of how a gifted spirit can find a way to soar-obstacles to step over on the road to self-fulfillment.
She also secured her niche as the people's poet in "Still I Rise" which embodied her indomitable spirit, "You may shoot me with your words/You may cut me with your eyes/You may kill me with your hatefulness/But still, like air, I'll rise."
Although she had achieved worldwide acclaim, she still longed for a man with whom to share her life and she made a third trip to the altar with Paul du Feu, a writer and cartoonist; they lived in Berkeley, California, until their divorce several years later. She said of her failed nuptials, "I have lost good men-or men I might have been able to turn into good men-because I have no middle passage. I know I'm not the easiest person to live with." There might have been other husbands but on the topic she was evasive. She said she would disclose how old she was, how tall she was, (6 feet,) but not how many times she had been married. This stayed in the vault because, as she explained, she did not want to scare men off or appear frivolous.
In her later years Maya had embraced social media and in her last tweet she urged her readers toward reflection, "Listen to yourself and in that quietude you might hear the voice of God."
Maya Angelou's passing in 2014 was met with a world-wide outpouring of condolences. President Barack Obama said of Ms. Angelou-who he had awarded the Presidential Medal of Freedom, "Today, Michelle and I join millions around the world in remembering one of the brightest lights of our time-a brilliant writer, a fierce friend and a truly phenomenal woman." He added, "She inspired my own mother to name my sister Maya."
Maya Angelou, the indigent child who reached the White House, the mute girl whose indelible voice refused to be silent, was, to use the title of one of her poems, a phenomenal woman.