Just a Kiss (1968)
A half century ago, when the United States was embroiled in race riots triggered by the assassination of Dr. Martin Luther King, Jr., an era that had experienced the illegality of black and white marriage, Nichelle Nichols became the first black woman to embrace a white man on American television. It was the kiss heard around the galaxy.
The woman destined to boldly go where no one had gone before was born in Robbins, Illinois, near Chicago, as Grace Dell. Even as a fetus, she had an extraordinary life. Her mother, Lishia, was pregnant when Al Capone's brother paid a less than cordial visit to her father, Samuel Nichols, the town's mayor. The mobster's agenda entailed a hit on Samuel for destroying Capone's alcohol mill although the mob had been paying for him to turn a blind eye. The henchman spared Sam's life when he discovered the truth: Sam had not received a cent because he would never have allowed booze in his town. The mobster even let him live when he saw Lishia had placed a pillow over her bulging belly to hide the gun she would have used had the mob killed her husband. The family's second brush with infamy occurred in 1997 when their son, Thomas, became one of the thirty-nine members of Heaven's Gate who committed mass suicide in San Diego, undertaken in the wake of the Hale-Bopp comet. In an emotional interview on Larry King Live, Grace, later known as Nichelle, said her family had lost contact with her brother twenty years earlier.
The performing bug bit Grace at an early age, and after a day in high school, she danced at the Sherman House Hotel. One astounding perk was meeting some of the great names of the entertainment world such as Lena Horne, Ella Fitzgerald, and Josephine Baker. At this time, she also decided she did not care for the name Grace and took her mother's suggestion to change it to Nichelle as it was alliterative with Nichols and for its derivative of Victorious Maiden.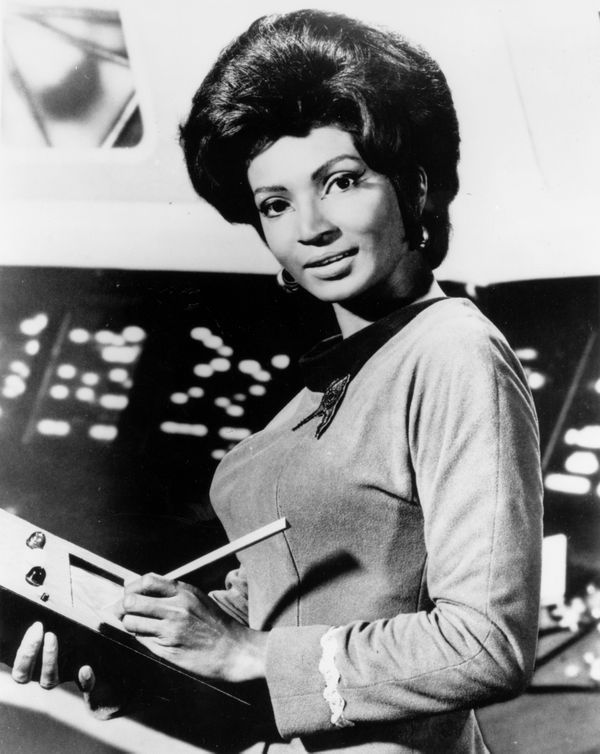 At age 17, Nichelle, hungry for autonomy, believed she had found it with dancer Foster Johnson, fifteen years her senior. Infatuated, she said that on stage he could make Fred Astaire look like he was standing still and felt he was so charming he could talk flowers off the wallpaper. In reality, he was a narcissist, a character trait the teenaged Nichelle mistakenly chalked up to artistic temperament. Aware her parents would veto the relationship, she purposefully became pregnant, and after their wedding, Nichelle and Foster moved to Ohio. The bloom of romance withered as Nichelle did not approve of his alcohol and drug use. Although the marriage collapsed, it produced Nichelle's only child, Kyle, who she referred to as her greatest accomplishment. When her mother called to say Duke Ellington wanted to hire Nichelle, she flew back to Chicago and performed with his band.
In 1962, Nichelle fell for Gene Roddenberry; the fly in the romantic ointment was his marital status though he offered the cliché he was only staying for the sake of his children. She felt even if he did divorce, another impediment would be a condemnation of an inter-racial couple. The situation came to a head when Gene introduced Nichelle to Majel Barrett, his other girlfriend. Nichelle refused to be the other woman to the other woman and left to work in Paris. There she received a telegram from her agent telling her to fly home immediately; there was a promising role for her in a new television series.
In a move light years ahead of its time, Roddenberry's vision for his program was a twenty-third-century world that satirized his contemporary one, and he wanted to make a key member of the Starship Enterprise a black woman. During her interview, a studio executive commented on the book she was holding entitled Uhura (Swahili for "freedom"), and Lieutenant Nyota Uhura became Nichelle's Star Trek name. Her character was not a glorified intergalactic telephone operator: she was the head of the Enterprise communications and a top graduate of the Starfleet Academy, a protégée of Spock. A black woman who had the responsibilities of a bridge crew officer-even in the fictional setting of space-was unheard of in the TV landscape of the 1960s, and the role came with collateral damage. Nichelle was thrilled with the prospect of a regular paycheck that would allow her to finally spend time with her son, buy her mother a house, and trade in her old Renault. However, when the bigwigs discovered Uhura's role was to be more than eye-candy in a mini, form-fitting red dress, whose lines were to extend beyond, "Yes, Captain!" they ordered Gene to fire her. Their concern was the network affiliates in the Deep South would cancel the show. Gene refused to comply, and the compromise was Nichelle worked on an as-needed basis. Further acts of racism occurred with slights, comments such as the studio was better off with a blue-eyed blonde, and the withholding of fan mail. Nichelle, having arm-wrestled Jim Crow for years, told Roddenberry she was disembarking the Enterprise. His response was if she did so then the racists had won; however, she took the view if she stayed to be treated as less of a person than her co-workers, the racists, had won.
The following evening Nichelle attended an NAACP fund-raising event in Beverley Hills when a man informed her a big fan wanted to meet Uhura. She was speechless when the Trekkie turned out to be Dr. Martin Luther King, Jr. who told her that Star Trek was the only show he and Coretta allowed their children to stay up to watch. When she informed him she was quitting, he used his considerable power of oratory to point out that in the streets the police were hosing African-Americans for wanting to sit down in a whites-only restaurant while she was portraying an astronaut of the legendary Star Fleet. He argued Uhura was inspirational, and hers was the only black portrayal on television in a worthwhile role. He continued, "Here we are marching, and there you are projecting where we're going. You cannot leave the show." His argument proved prescient. Caryn Elaine Johnson (later Whoopi Goldberg) remembered watching Star Trek as a nine-year-old who yelled, "Momma, there's a black lady on TV, and she ain't no maid!" Nichelle rescinded her resignation. Upon relating the event that had changed her mind, Roddenberry replied, "God bless Dr. Martin Luther King. Somebody does understand me." A month later Nichelle sang at the slain civil rights leader's funeral.
One of the most groundbreaking shows of the series was 1968 "Plato's Stepchildren" that featured a kiss where no kiss had gone before. The inter-racial smooch was between Captain Kirk (who had a girl in every port of every planet) and Uhura. To offset any repercussions in the South, the plot made the couple unwilling lovers, made to embrace because of sadistic, humanlike aliens who forced the dashing white captain to lock lips with the beautiful black communications officer. To help lessen any backlash, producers filmed the kiss with their lips obscured by the back of Nichelle's head. Asked if she enjoyed the dozens of takes the scene entailed, Uhura, ever the lady, refused to kiss and tell. The episode received more fan mail than ever, mostly positive. In her autobiography, Beyond Uhura, she quoted one of the letters that William Shatner shared with her, "I'm a white Southern gentleman, and I like Star Trek. I am totally opposed to the mixing of the races. However, any time a red-blooded American boy like Captain Kirk gets a beautiful dame in his arms that looks like Uhura, he ain't gonna fight it."
The USS Enterprise's warp speed drew to a halt in 1969, the end of a TV era. At the same time, Nichelle married Duke Mondy; however, their mutual love of music was not enough to salve their differences, and they divorced several years later.
Nichols went onto star as Uhura in the first six Star Trek films until 1991, by which time she was in her mid- 50s. Although she retired the miniscule red dress, retirement was not in the stars for its owner. In 1975, she attended a Chicago convention that had attracted 30,000 Trekkies; also in attendance was Dr. von Puttkamer, NASA's distinguished representative. In response to why he had come to an event celebrating a TV show, he answered that what made the sci-fi series so critical was the sense that, "the universe is worth living in, the equality of men and women in peaceful exploration, knowing we are better than what we think we are. It is not even that." Then he added, "What I have come here for today is to find out for myself if Miss Uhura's legs are as beautiful in person as they appear on the TV screen." In Beyond Uhura, Nichelle did not say how she reacted to the good doctor's words, but the presence of NASA led to another frontier. In the 1980s, Nichelle worked for the space program as an ambassador with her onus on recruiting minority and women astronauts. Her efforts were instrumental, and like the USS Enterprise, subsequent flights into space carried females and African-Americans. Dr. Mae Jemison, an African-American member of the Discovery Space Mission, told Nichelle that seeing Uhura when she was young had inspired her to seek a career in space, and she became the first African American astronaut.
The trajectory of Ms. Nichols' life had taken her far afield from Robbins; she had been a guest of Prince Andrew and his then wife, Fergie, graced Ebony Magazine's 1967 cover, and was a guest of Trekkie Barack Obama who posed with her as they both gave the Vulcan salute. (The Chief Executive also confessed to having a crush on her in his younger years.) In 1992, the 59-year-old Nichols became the first black entertainer to place her hands in the cement at Grauman's (now Mann's) Chinese Theater in Hollywood. However, never one to rest on her laurels, Nichelle had her eyes on another quest. Even in her 80s, she is not one to repeat her TV closing line, "This communication channel is now closed. Uhura out."
In her eighth decade, Ms. Nichols has gone up in space onboard NASA's C-141 Astronomy Observatory which analyzed the atmospheres of Mars and Saturn. She garnered praise for her role as the aging mother on the soap opera The Young and the Restless. On her 85th birthday, at a fan meet-and-greet in Los Angeles, she was asked what she wanted for her birthday, and she replied, "All I want is my two front teeth. Well, I have all my teeth…I just want to keep on keeping on. I love what I do." And to a reporter who asked if she ever planned to stop working, she responded, "Getting tired of work is like getting tired of breathing. The only time I will retire is to a casket." For integrating the USS Enterprise and NASA, for standing up to racism, let's raise our hands in the Vulcan salute in honor of Nichelle, "Live long and prosper."
The shot heard around the world started the American Revolution and the first inter-racial embrace helped change attitudes about what was permissible both on and off the small screen. The theme song of Casablanca does not apply, "A kiss is just a kiss..."