Bon Appetite (1924)
The word celebrity used to belong to the provenance of famous musicians, actors, and athletes. It later embraced celebrity chefs: the gourmets who produce Pavlovian responses in dedicated foodies. However, what has been regulated to the shadows is the female Francophile responsible for taking cooks out of the closet and into the mainstream.
As a child Judith Bailey would gladly have preferred-had they existed in the 1930s- an Easy-Bake oven over any number of Barbies. She was born with a sophisticated palette, one not satiated in her Manhattan home where meals were products of the Depression and wartime cooking. Her mother, Phyllis, ordered groceries by telephone and dinners consisted of English-style meat and boiled potatoes. Mrs. Bailey prohibited the purchase of garlic as she considered it vulgar and likewise felt conversation regarding food as crude as discussing sex. To satisfy her culinary craving, Judith took refuge in the kitchen with the family cook. At the child's urging, the cook described the food from her native Barbados: exotic fruits, hot peppers that made one sweat, and the Bailey's "forbidden fruit" -garlic. Her attorney father, Charles, indulged her with Saturday visits to a French restaurant.
Judith attended the Brearley School in New York City and Bennington College in Vermont, where she graduated in 1945 with a degree in her other main interest, English. She obtained an assistant editorial position with Doubleday where she worked for three years. At that juncture she persuaded her frugal father to finance a three-week trip to Paris, a city that had always beckoned. A few days before she had to return to the States she left her purse on a bench in the Tuileries; without a passport or return ticket, she had to extend her stay. Penniless, she desperately sought work when she happened to overhear another American speaking on the phone in her hotel's lobby to someone from Weekend magazine, a publication aimed at American tourists. Ironically, on the other end of the line was the editor of Weekend, the very person Judith had been futilely trying to contact. She grabbed the phone and spoke to Evan Jones.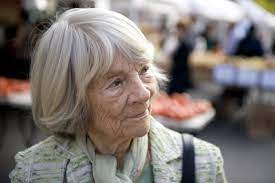 Mr. Jones and Ms. Bailey not only fell in love, they also helped each other discover the joy of French cuisine.. Judith's letters to her parents waxed poetic about her American boyfriend with whom she shared an apartment that they had turned into "a speakeasy restaurant." In one letter she wrote, "I know you didn't send me to an expensive college to have me become a cook. But you must understand that in France cooking is not regarded as demeaning. It is an art." The Baileys were not impressed with her cooking or her cohabitation.
Despite parental censure Judith had the time of her life. Too poor to be regulars at the three-star restaurants, the couple enjoyed boudin blanc at a local cafe, shopped for ingredients, and perfected their French. Unable to support herself on love and food alone in 1950, she obtained a job in Doubleday's Paris office where the 27-year-old's task was to file rejected submissions. In a 2001 interview with The Associated Press, she recounted, "One day my boss said, 'Oh, will you get rid of these books and write some letters of rejection.' He went off to have some lunch with some French publishers. I curled up with one or two books. I was just curious. I think it was the face on the cover. I looked at that face and I started reading that book and I didn't stop all afternoon. I was in tears when my boss came back. I said, 'This book is going to New York and has got to be published.' And he said, 'What? That book by that kid?'" Anne Frank: The Diary of a Young Girl became an international sensation, one of the best-selling books of all time. Judith shrugged off accolades and merely claimed to be at the right place at the right time.
Judith and Evan were married in 1951 in Vienna; she became step-mother to his two daughters and the couple adopted two children of their own. The Joneses settled in New York where they did their best to replicate the food of France. However, finding ingredients-or even an omelet pan-proved difficult. American cookbooks were equally discouraging. In that era most American recipes required a can-opener and baking instructions were available on the back of boxes. Mrs. Jones later wrote, "The prevailing message was that the poor little woman didn't have time to cook, and, moreover, it was beneath her dignity." To their mutual disgust America lived under the dominion of Swanson's frozen dinners, a dinner staple that included the essential food groups, though devoid of nutritional value. Judith found the bread in Manhattan so tasteless she baked her own. Meals, prepared in husband and wife tandem, led critic Stanley Kauffmann to describe their East 66th Street apartment as "the best restaurant in New York."
Because of her acclaim with The Diary of Anne Frank, in 1957 Alfred A. Knopf hired Judith, not a typical 50s stay-at-home mother, as a junior editor. She started off primarily as a translator of French writers such as Jean-Paul Sartre and Albert Camus, as well as English literary lions John Updike, Anne Tyler, and John Hershey, which aligned with her love of literature. Publishing lore holds it that she wielded her green editing pencil like a knife. And, one day, on her desk landed a submission that involved her other great love. Judith Jones was again "at the right place at the right time."
A decade after bringing to light the world's most famous diary a shopworn 800-page manuscript by three unknown women with no literary credentials appeared on her desk. Several editors had rejected the book as overly long and had the uninspired title French Recipes for American Cooks. Judith was intrigued by its chief writer who she felt was a kindred spirit: both were die-hard French foodies who had fallen in love with their American husbands in Paris. (One difference- Julia Child was 6'2 and Judith Jones was described as a waif). Judith wrote of its discovery, "From the moment I started turning its pages I was bouleversee, as the French say, "knocked out." She took it home and tried some of the recipes, and they proved a love connection. The cookbook's appeal was it took the mystery out of coq au vin and boeuf bourguignon and hundreds of other dishes long believed too daunting for the American cook. Although she was still too junior to make a pitch to her editor, Jones was astute enough to realize it was the book she had been searching for; she renamed it Mastering the Art of French Cooking. When she showed the revised title to Mr. Knopf, he scowled and said, "Well, I'll eat my hat if that title sells." In her memoir, The Tenth Muse book Judith responded, "I like to think of all the hats he had to eat." Jones was convinced if the cookbook was something she needed to replicate the taste of France in America, others would feel the same. In 1961, with its release, Mrs. Jones envisioned what others could not: that cooking was an art cooking and that chef celebrities would one day be lionized.
The classic cookbook sold more than a million copies and shifted the culinary landscape of a country raised on canned vegetables. It also launched Child on a long-running, public television career as host of The French Chef. In 2009 the book received a resurgence of interest due to the book and movie Julie & Julia (Erin Dilly played Ms. Jones and Meryl Streep played Ms. Child.) Encouraged, Judith changed her editorial roster to dealing exclusively with culinary writers. Jones had a longstanding interest in regional American writers such as Edna Lewis, the granddaughter of a former slave. The eventual book, The Taste of Country Cooking, involved Ms. Jones culling through Edna's notes penned on a yellow legal-pad, one page at a time. Another of her authors was Joan Nathan, an eminent Jewish-cooking authority, who travelled with Judith to Israel while working on The Foods of Israel Today. Joan recalled Judith was exacting, and when the editor "put a green "nice" on anything you had written you would fly through the sky." Marion Cunningham, another client, reminisced about the time she went to Ms. Jones's Episcopal Church. Cunningham was a lapsed Catholic, but she was still mindful that Catholics should take communion only from a Catholic priest. Once communion commenced, Judith had turned to Marion and told her to go and take communion with her. Marion had to decide who she was more afraid of: God or Judith Jones. She took communion. Jones turned her roster of writers into stars at a time when home cooking and those who practiced it were looked down upon in a male-dominated publishing world. Ruth Reichl of Gourmet magazine, stated, "Food started getting serious respect largely because of her. When you walk about the cookbook revolution, she was the revolution."
At age 72, Judith lost her best friend, her husband, Evan, who died from injuries sustained in their Manhattan home. Even then the grieving widow determined not let his absence deter her from continuing their favorite ritual. From this experience came her book, The Pleasures of Cooking for One. Her cookbook was a blend of kitchen advice and encouragement for people who live alone in their final years. Julia Moskin wrote in The Times, "Ms. Jones is an evangelist for the psychic, spiritual, physical and intellectual benefits cooking can bring old people: the math and concentration required for following a recipe, the exercise of kneading bread or whisking eggs, the self-regard that shows in setting a place and sitting down for a meal."
Two years later Jones wrote, The Tenth Muse: My Life in Food (the allusion in the title is to the French epicure and gastronome Brillat-Savarin who wrote of the tenth muse, Gasterea, goddess of the pleasures of taste.) In the memoir Judith shared many of her coveted recipes. Her final book, Love Me, Feed Me, a guide to making food that a cook could share with a dog-hers was named Mabon, was penned at age 90. Included in her writing were anecdotes from her life, many from her rural summer home, Ryn Teg Farm, in Walden Township, Vermont. One story entailed skinning, brining, and frying the tail of a beaver causing a nuisance.
At a discussion group in a bookstore in Washington, Judith quoted an old Italian saying, "At the table, one never grows old. Isn't that enough reason to come home at the end of the day, roll up one's sleeves, fire up the stove and start smashing the garlic?" Where Jones came home from at the end of the day was Knoph; she retired after half a century at age 89. Reminiscing over her long career she stated what irked her for many years was when people assumed she was a secretary rather than an editor.
Judith Jones passed away in Walden at age 93 from complications from Alzheimer's. Tributes poured in for the woman who gave the world Anne Frank's Diary, Mastering the Art of French Cooking, and who illustrated that eating alone need not be a lonely endeavor. She deserves a posthumous toast-from a bottle of French wine-with Julia Child's sign-off words from The French Chef, "Bon appetite."