No Time to Die  (1953)
Bond. James Bond. While people the world over are familiar with the world-famous spy, what is far less known is that Ian Fleming based his protagonist's name on an esteemed birdman.
A child of privilege, Ian Fleming grew up in impressive zip codes where guests included Winston Churchill and Benjamin Disraeli. At age nine, his father, Major Valentine Fleming, died fighting in the Battle of Somme. After working as a Naval Intelligence Officer during World War II, Ian purchased a home in Jamaica, christened Goldeneye after the codename of his wartime mission: Operation Goldeneye. He lived in his Caribbean retreat with his girlfriend, Ann, with whom he shared the commonalities of Peerage pedigree, and his love of sadomasochism. Their seaside home became a Mecca for writers such as Truman Capote and Graham Greene.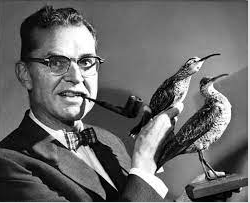 What threw a monkey wrench on their hedonistic lifestyle was when Ann became pregnant, (their child, Caspar's, nickname was 003-and-a half) and her husband filed for divorce. Although Fleming dreaded domestic anchors, the couple married in 1952 where neighbor, Nöel Coward, served as best man.
Extremely anxious about trading whips for nappies, Anne suggested that Ian write a novel to serve as a distraction. Eager for an outlet, he ordered a gold-plated typewriter from London. In Walter Mitty vein, Fleming created a spy in the employ of the British Secret Service, who seduced sexy women, drove exotic cars, and defeated evil. His codename, 007, designated a license to kill. Fortified with gold-tipped cigarettes, alcohol, and plot, Fleming needed to come up with a name for his fictional alter ego. And, no, Bond was not an allusion to bondage.
Fleming's first impulse was to christen his character with something upper crust-sounding, such as "Peregrine Carruthers;" however, it did not resonate. At this point, he noticed a 1936 book, Birds of the West Indies, penned by his American neighbor, James Bond. The flesh-and-blood James Bond, a world-famous ornithologist, never had to worry about hired assassins, never toted a gun, never insisted his martini be shaken, not stirred. He spent his time spying on birds, not babes. The author, born to staggering wealth in Philadelphia, had moved to England with his father after his mother's death when he was twelve. After attending Cambridge, Bond joined an expedition to the Amazon, sponsored by the Academy of the Natural Sciences in Philadelphia. He became the organization's curator of ornithology.
Fleming's books were wildly popular in Britain-Prince Philip was a fan; they gained popularity in America a decade later when Life magazine reported that From Russia with Love was on Preident John F. Kennedy's night table. When Mary Fanning Wickham Bond discovered the author had "borrowed" her husband's name, she wrote him a letter, "It came to Jim as a surprise when we discovered in an interview in Rogue magazine that you had brazenly taken the name of a real human being for your rascal!" The novelist responded that he did it in tribute as he viewed Bond's field guides as one of his bibles. Fleming invited the Bonds to Goldeneye and offered his explanation, "It struck me that this brief, unromantic, Anglos-Saxon and yet very masculine name as just what I needed, and so a second James Bond was born." He added, "In return, I can only offer you or James Bond unlimited use of the name Ian Fleming for any purposes you may think fit. Perhaps one day your husband will discover a particularly horrible species of bird which he would like to christen in an insulting fashion by calling it Ian Fleming."
Both authors-with vastly different subject matter-passed away. However, the multi-billion-dollar James Bond franchise remains wildly popular. Due to its enduring popularity, it can be described by the latest spy thriller movie, "No Time to Die."