"It's Swell!"      (1959)
Who-in the vein of Cher, Madonna, and Giselle-is known only by first name? Who is approaching her sixth decade without a hint of celluloid, loss of pigment, nary a wrinkle? Who has enjoyed a half century long dalliance with her boy-toy?
In the early 1950s, Polish immigrant Ruth Handler observed her daughter, Barbara, playing with paper, teen-aged dolls that she dressed with cardboard clothing with flaps. The scene led to Ruth's eureka moment, "little girls just want to be bigger girls." Mrs. Handler took her revelation to the all-male design team of Mattel-a company she co-owned with her husband Elliot-who informed her that mothers would never buy their daughters a toy with breasts.
On a European vacation, in Lucerne, Switzerland, Barbara spotted a doll in a store window. She wanted the toy and accompanying outfits, but the store owner informed her that separate clothes could only be acquired with the purchase of another doll. Ruth ended up buying Bild Lili, a German gag gift based on a promiscuous cartoon character. The caption on her box stated she was "the star of every bar." One might have wondered why a Jewish mother would buy her daughter a German sex doll, and the answer is because Mrs. Handler had a vision, one that made her family Forbes worthy.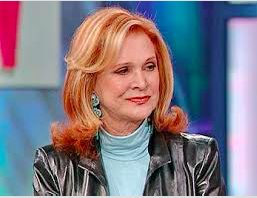 Under Ruth's direction, Mattel transformed Bild Lili into Barbie, the nickname for Barbara. On March 9, Barbie's official birthday, wearing a zebra striped bathing suit, Mattel marketed her at the New York Toy Fair under the name: Barbara Millicent Roberts. Currently, a billion of the pink hued, pop culture plastic princesses have flown off the shelves. The anatomically impossible molded lithe lady became an American idol, immortalized by Andy Warhol. With her runaway success, the Handlers created a significant other for the first lady of Mattel; the couple christened him Ken, the short form for their son, Kenneth: surname, Carson.
Barbara Handler married Alan Segal at age 18; the marriage produced two children and ended in divorce after eleven years. The namesake of the doll, ironically, was not her fan, though she made her a multimillion-dollar fortune. In 1987, Barbara said she was nothing like the 11 ½ inch teen titan. However, Mrs. Segal is grateful for Barbie who bankrolled her leisurely lifestyle that entailed golf at the posh Los Angeles Riviera Country Club. Whether at the Club or a tony dinner party, someone inevitably comments that she is Barbie. In the past, she walked away; later, she swallowed hard and smiled. Interestingly, Barbie never took up residence at Segal's Brentwood home. Her daughter, Cheryl, never cared much for dolls. Although she shuns the limelight, Barbara appeared on television where she presented Oprah with a one of a kind Oprah Barbie, dressed in a Vera Wang red gown. The talk show host gushed, "Look at her waistline!"
Never one to rest on her stiletto heels, Barbie kept up with the times. During Camelot, she sported a Jacqueline Kennedy bouffant hair and pillbox hat; during the civil rights movement, Mattel created Barbie's first black friend, "Colored Francie." Alas, into a pink hued kingdom some rain must fall. In the 1970s, Barbie's obsession with materialism and her thin, busty physique came under attack by feminists. Hence her outfits and her career changes evolved: she was a doctor, an astronaut, and a veterinarian, along with dozens of other careers.
Depending on your perspective of the leggy legend, one may agree or disagree with Mattel's tagline, "If it's Mattel it's swell!"