Immortal Beloved (1961)
The lil' folk who inhabit the Peanuts universe are beloved comic characters: Charlie Brown with his tree-hugging kite, Lucy with her curbside psychiatry- stand, Linus with his security blanket. Less well-known is the Little Red-Haired Girl, the artist's lost love.
Charles Shultz was born in 1922, in St. Paul, Minnesota, the only child of a barber father and home-maker mother. At two days old, his family nicknamed him Sparky after the horse, Spark Plug, in the comic strip "Barney Google." His childhood angst served as fodder for his famous alter ego, Charlie Brown, who failed four classes, whose yearbook staff rejected his sketches.
After serving in the navy, Charles taught at the Art Instruction Inc. where he fell for the twenty-one-year-old, red-head, Donna Mae Johnson who worked in the firm's accounting department. His variation of a love note was to leave doodles on her desk calendar. Donna joined the Bureau Cats, the firm's softball team, despite having no talent for the sport, as Shultz was the coach. They socialized with co-workers Charlie Brown, Linus Maurer, and Frieda Rich. On their first date, Shultz took Donna to an ice-skating show, and later gave her a piano-shaped music box that played Émile Waldeufel's "Les Patineurs," "The Ice Skaters." (Schulz admitted a crush on ice-skater sensation Peggy Fleming.) On Monday nights they dined at the Oak Grille. Donna recalled, "When it came time for a tip he would write on the placemat, 'Early to bed, early to rise," and that was his 'tip.'"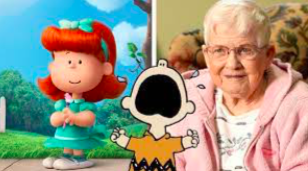 Schultz left for New York City where he signed a five-year contract for his comic strip. He gave Donna a statue of a cat and told her to put it on his desk at work to show she accepted his proposal. Donna chose firefighter Al Wold who she had known from middle school; they reconnected when Al saw Donna singing in a church choir. Al called hundreds of Johnsons listed in the telephone book until he landed on the right one. She explained her decision, "I guess I chose Al because I knew Al's friends, who became my friends." Donna also felt Al would be the better partner with which to have a "plain, decent Lutheran life." The couple married at Holy Trinity Church in 1950 and had four children and dozens of foster-children, (many named after Peanuts' characters.) Schultz' "good-grief" pain never disappeared. Eleven years later, Charlie Brown said, "Valentine's Day is over. I'd give anything if that little red-haired girl had sent me a Valentine." A flame-haired Godot, she always hovered in the wings.
Schulz married Joyce Halverson, with whom he had five children. His explanation for their divorce after twenty-one years, "I don't think she liked me anymore, and I just got up and left one day." What the evangelical Christian Shultz did not reveal was the breakdown of his marriage was his affair with the twenty-five-year-old Tracey Claudius. He sent her innumerable love letters, populated with Peanuts characters, signed, "Sparky." In one Charlie visited Lucy's psychiatric stand and asked, "Do you think marriage is possible for humans, given how we're wired?" Tracey later placed the cache with Sotheby's for auction where they estimated they would sell for $350,000. His second wife was Jean Forsyth Clyde who he had met at an ice rink.
One could image that Donna would have been seeking assisted suicide and screaming "Augh!" for choosing the firefighter over the cartoonist who went on to earn $30 to $40 million dollars a year, appeared on the cover of TimeMagazine, and whose books sold throughout the world. However, Donna stated, "I've had a good life. A very happy life."
Even in his twilight years, Schulz dreamed of being back at the Art Institute with Donna. Just as Gatsby forever longed for his golden-girl, Schulz pined for her his red-haired one, his own Immortal Beloved.