How Long?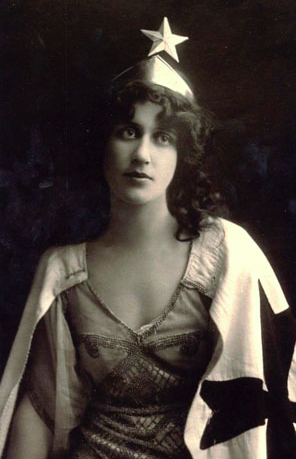 The pink hat with pussy-cat ears was so iconic during the 2017 Women's March on Washington that Time Magazine featured the knit head covering on its cover alongside the caption: The Resistance Rises. A century before another women's movement converged on the capital where a woman in flowing robes appeared astride a white horse. The rider, however, became a forgotten footnote in feminist history.
The cornucopia upended itself for Inez Milholland; she was the recipient of a genetic lottery, the family had estates in New York and London, and her progressive parents offered their two daughters the privileges customarily reserved for sons.
Inez enrolled in Vassar, and on a trip to London during her junior year, she marched with Emmeline Pankhurst, the militant leader of Britain's Women's Social and Political Union. Upon her return, Inez wrote an essay about her time with the English suffragettes who were far ahead in their struggle for gender equality. Vassar's president, James Monroe Taylor, a Baptist minister, locked horns with the upstart student as he felt females and politics were incompatible. She further did not endear herself to the dean when she pointed out the hypocrisy of Vassar educating females while silencing their activism. Undeterred, the firebrand invited Harriot Stanton Blatch, the daughter of Elizabeth Cady Stanton, to the first meeting of the Vassar Votes for Women Club which took place in a cemetery adjacent to the campus.
After rejection from several Ivy League schools based on her sex, Inez gained admittance to New York University where she studied law. Post-graduation, she joined a Manhattan law firm and took as a client twenty-three year old Elizabeth Gurley Flynn who was contesting her arrest during a textile strike.
By the time Inez graduated in 1909, she was a formidable, feminist force. She disrupted a campaign parade for President Taft, shouting on a megaphone from an upper story window, "Votes for women!"
However, Inez' greatest public act occurred in 1913, the day before Woodrow Wilson's inaugural parade. On that auspicious day, Ms. Milholland, age twenty-seven, sat on a white horse, in a white, flowing, Joan of Arc robe, near the U.S. Capitol. Her goal was to lead a parade of 5,000 supporters of suffragettes. Although the route was straightforward-fifteen blocks up Pennsylvania Avenue-the day would not be. As soon as the demonstrators set off, (black women were allowed to march at the rear) crowds of men in bowler hats surged from the sidewalks onto the street, blocking the procession. Fellow organizer Alice Paul was thrilled as well-behaved protests seldom made headlines.
In 1913, Inez married Dutch coffee importer Eugen Jan Boissevain, to whom she proposed, and with whom she shared an open marriage. However, Inez did not live long enough to enjoy her marriage, or live to see the passage of the 19thAmendment, granting women the vote. At age thirty, she passed away from an infection. Eugen remarried; his second wife was the poet Edna St. Vincent Millay.
Reportedly, Inez' last words were, "Mr. President, how long must women wait for liberty?"