"Hai-yah!" (1974)
The porcine with the most pulchritude is Miss Piggy, a diva who dresses for excess, never gives an oink about her extra pounds, participated in a cross-species romance. Miss. Peggy Lee, rather than originating from the same imaginative cloth as her fellow Muppets, (Muppet is a blend of marionette and puppet,) was the alter ego of entertainer Miss Peggy Lee.
A pink celebrity with come-hither blue eyes, Miss Piggy has danced with Rudolph Nureyev and Rita Moreno, performed with Raquel Welch, sung with Paul Simon. The star was born -she will not disclose the year-above Becker's Butcher Shop in a small town. Her father lusted after extra-marital sows; innumerable piglets overwhelmed her mother. The ticket out was the Miss Bogen County beauty pageant; destitute, Miss Piggy starred in a bacon commercial.
The diva started life as a gleam in the eye of Muppet designer Bonnie Erickson. Bonnie recounted that her mother adored jazz performer Peggy Lee who sang at her local North Dakota radio station. Both in tribute and as a joke, Bonnie christened her porcine puppet Miss Piggy Lee. However, as her star began to rise, Peggy Lee was not amused with her association with a pig. Privy to the fact Peggy had won a 42.5 million award from the Walt Disney Company over The Lady and the Tramp, (in which she had starred as Peg, the sultry Pekinese,) the pink hued star-as with other great divas- would be known by one name.
Like Miss Piggy, Peggy Lee was a megalomaniac, zaftig blonde singer who had undergone a name change. She was born the seventh of eight children in North Dakota in 1920, as Norma Deloris Egstrom. At age four her mother, Selma, died, her father, Marvin, was an alcoholic, her stepmother, Minn, was of the Grimm Brother's variety. Radio helped ease her blues and she performed chores to Count Basie. The first time Peggy sang in public was at church; paralyzed by stage fright, she performed while facing a wall.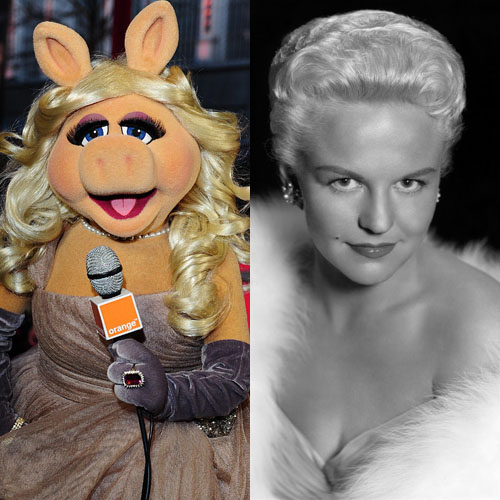 In her teens, Peggy was working for a radio station in Fargo, where her boss changed her name to Peggy Lee. With $18.00, she headed for Hollywood where she took a job as a carnival barker on a 'hit the wino with the baseball' stall. One of the 20th century's most memorizing voices spent her days calling out, "Three for a dime! You break one, you win!"
The proverbial break arrived when Peggy became the protégé of legendary big band leader, Benny Goodman. In 1942, they recorded Why Don't You Do Right? that sold one million copies. After becoming pregnant with the orchestra's guitarist, David Barbour, the couple married, but Peggy was not Suzy Homemaker. When her husband came home, she would tell him that dinner wasn't ready, but her song was. The marriage floundered due to David's alcoholism; while Miss Piggy might have committed to a frog, Peggy desired more. Her three subsequent marriages were likewise brief, and she had affairs with Frank Sinatra and Quincy Jones. A press release stated, "Peggy puts more sex into a song than most girls could put in a striptease." The girl who had grown up in a home with an outdoor toilet lived in a marble-floored mansion.
Immorality arrived with Is That All There Is? by the song-writing duo who had composed Elvis' Jailhouse Rock and Hound Dog. The anthem to existentialist angst had been inspired by Thomas Mann's 1896 story, Disillusionment. Peggy told them, "I will kill you if you give this song to anyone but me. This is my song. This is the story of my life." Despite her success, Peggy masked her heartache behind sequined armor, and in her last lonely years she was more Norma Desmond than Norma Egstrom. Her philosophy was the answer to the question posed in the song's title, "Then keep on dancing." Her counterpart, Miss Piggy, made of stronger stuff, response to life's vicissitudes: "Hai-yah!"