Going Home Alone (1943)
"I'm saving the bass player for Omaha."
"Freedom's just another word for nothing left to lose...." The song lyric, the paean to anguish, serves as the existential cry of Janis Joplin, the poster child for angst. The singer blazed across the sky: a comet whose brightness illuminated the darkness before disappearing into the night.
The spotlight of fame rested on Janis Lyn Joplin, born the eldest of three children in the conservative, Texas oil town of Port Arthur; her mother's aspiration for her two daughters was for them to become Miss Suzie Homemakers. Janis' pariah status partly stemmed from her appearance that was the antithesis of her era's prom queen ideal. As a teen, she was self-conscious over her weight, acne, hook nose, and untamed hair. Alienation increased when she started hanging out with what passed in Port Arthur for a bohemian crowd; in a town that viewed xenophobia as a virtue, and had an active chapter of the Ku Klux Klan, Janis had the gumption to speak out against racial segregation. Her differences made her a target amongst her classmates, many of whom were card-carrying rednecks. Later the legend recalled, "They laughed me out of class, out of town, out of the state." In later years, reminiscing about the Lone Star state she recalled, "Texas is OK if you want to settle down and do your own thing quietly, but it's not for outrageous people, and I was always outrageous." She sneaked over the Louisiana border with a group of male friends to drink and listen to bands that led to her town's consensus that Janis was a harlot. To add to Joplin household tensions, at age seventeen, after a midnight jaunt in New Orleans, Janis crashed her father's car. A school football player nicknamed her "Beat Weeds," a reference to her pubic hair. Among the jocks was Jimmy Johnson, the future coach of the Dallas Cowboys. In 1993, he told Sports Illustrated, "Beat Weeds...never wore any panties." When Sports Illustrated pressed for details, Johnson admitted the information was not based on based on primary research. No one asked Janis to prom although she would have accepted a date with a male or female as she was democratic in her choice of sexual partner. She took to heart her song "Get It While You Can" and had sex with sailors, musicians, fans, and members of the Hell's Angels.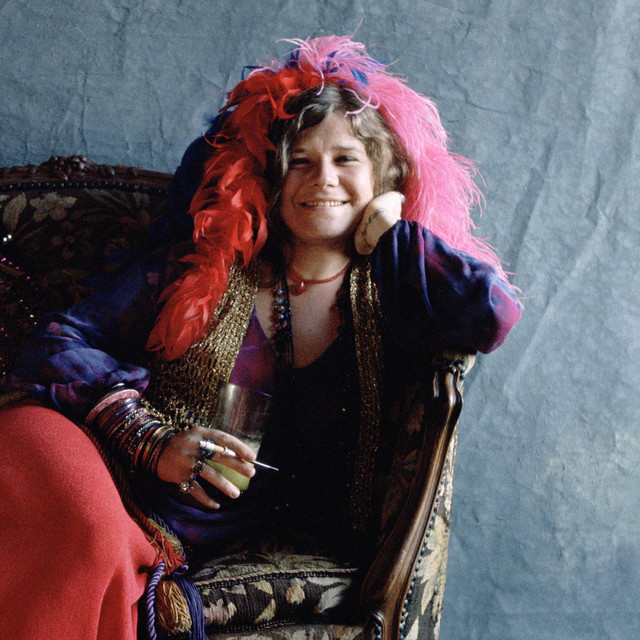 To appease her parents, Janis enrolled at the University of Texas, socially high school all over again. A fraternity pronounced her the "ugliest man on campus." Bullies profiled her in the student newspaper with the damning headline: "She Dares to Be Different!" The article read, "She goes barefooted when she feels like it, wears Levi's to class because they're more comfortable and carries her Autoharp with her everywhere." To mock her, the mean kids plastered posters of her around the school.
Janis spent her teenage years on the road following in the footsteps of her literary hero, Jack Kerouac. Hitchhiking from one Beat haven to another-Venice Beach, Palo Alto, Greenwich Village-she hooked up with a revolving group of male and female lovers, autoharp or pool cue in hand. To get by, she performed at coffee houses and hootenannies, worked as a waitress in a bowling alley, panhandled, and turned tricks. Her sojourn came with a price: an arrest for shoplifting, a street fight, an abortion in Mexico. Always a heavy drinker, she began injecting methamphetamine. Her addiction led to her return to Texas, where she dried out and promised to stay clean. She enrolled in a sociology course at Lamar University, avoided illegal substances, and sported a beehive hairdo. However, she rebelled against the straitjacket of conformity. Looking back, she described herself as "a plain overweight chick. I wanted something more than bowling alleys and drive-ins. I'd've f---ed anything, taken anything. I did. I'd take it, suck it, lick it, smoke it, shoot it, drop it, fall in love with it."
Music served as an antidote to pain, and Janis collected Leadbelly and Bessie Smith records, but she never sang professionally until 1966. An old friend, Travis Rivers, had formed a band in San Francisco, Big Brother and the Holding Company, and he was on the lookout for a female lead singer. Janis left Port Arthur in the rear-view mirror as she headed for the Haight Ashbury section of San Francisco, the hippie Mecca. Of the city where she finally felt at home, she stated, "I couldn't believe it, all that rhythm and power. I got stoned just feeling it, like it was the best dope in the world." She said she was in nirvana, "getting laid, getting stoned."
Her raspy blues-rock became the soundtrack to San Francisco's summer of love. Performances followed at the Psychedelic Supermarket in Boston, the Kinetic Playground in Chicago, the Whiskey A-Go-Go in Los Angeles, the Fillmore East in New York. Her big break arrived when her band performed in front of tens of thousands at the Monterey Pop Festival that turned her into a star. "Mama" Cass Elliot, watching from the audience, mouthed "wow" as Joplin electrified the crowd with her raw, wailing vocals. In 1969, Janis stated in a New York Times interview, "You better not compromise yourself, it's all you got....I'm a goddam living example of that...People aren't supposed to be like me, sing like me, make out like me, drink like me, live like me, but now they're paying me $50,000 a year for me to be like me." Being like her entailed cursing, dispensing with undergarments, and being on the prowl for sexual conquest. She had relationships with Ron "Pigpen" McKenan of the Grateful Dead, Kris Kristofferson, Joe Namath, Jim Morrison, Jimi Hendrix, Dick Cavett. When Bruce Springsteen's band opened for Joplin in Jersey, he told his guitarist, "Help! She's after me!" Leonard Cohen used her as his muse in "Chelsea Hotel No. 2." The flip side of fame was she rued it was not easy living up to Janis Joplin. Her surging popularity was all the more remarkable as she made it big at a time when the expected norm for female performers was to look feminine. While Janis wailed into the microphone, face pouring sweat, dancing as if she were a rainmaker, the Supremes were wearing sleek sexy gowns, crooning love songs to Mr. Right. The girl from small town USA made her niche in the very male world of dope and drink, guitars and groupies.
Janis invited her parents and two siblings to San Francisco to watch her perform in the hope the black sheep would at last be redeemed. The Joplins were more upset by the hippie scene than they were impressed by their daughter's onstage gyrations. Her letters home made it achingly clear that despite her breakout popularity, Janis continued to crave parental approval. Always susceptible to the depression she referred to as the "kozmic blues," she remained anguished by her family's condemnation of her lifestyle. To anesthetize her pain, she turned to her old stand-bys: alcohol and drugs. A failure to form a lasting relationship exacerbated her downward spiral.
The raw sensuality of Janis' voice and her uninhibited moves transformed the ugly duckling of Port Arthur to the peacock of Haight Ashbury. Her album, Cheap Thrills, sold more than a million copies, and Ms. Joplin belting out, "Take another piece of my heart, baby" became the auditory equivalent of the painting, The Scream, for a disenfranchised generation. Her signature style consisted of colorful boas in untamed hair, over-sized round glasses, endless bracelets. Because of her signature drink-an omnipresent bottle in hand during her concerts-in appreciation of the publicity, the Southern Comfort distillery gifted her a fur coat. With the wild abandon she derived from song, sex, and illicit substances, Janis drove her Porsche through the hills of San Francisco, a car she decorated with psychedelic butterflies. Big Brother and the Holding Company gave the Bay Area acts, Jefferson Airplane and the Grateful Dead, a run for their money.
As outrageous offstage as she was on, Janis decorated her San Francisco home in Rococo Bordello style. She shared space with her dog, George, and a Siamese fighting fish, Charley, whose aquarium was a wine bottle. Her behavior-fueled by alcohol, drugs, and inner demons-was explosive. In 1996, after a concert in Florida, she screamed obscenities at a policeman who tried to stop audience members from dancing, an act that that led to her arrest.
Due to tensions, Janis split from the Holding Company and started the Janis Joplin Full Tilt Boogie Band and adopted the name Pearl. The first year she struck out on her own. Joplin appeared at Woodstock, performing for an hour until her voice gave out. She was a television guest for Ed Sullivan and Dick Cavett, appeared on the cover of Newseek, and toured Europe. At London's Royal Albert Hall with the force of her oversized personality, she was able to bring a normally staid audience to their feet. When friends warned her that her voice and heath could not withstand her demands, she replied, "Man, I'd rather have ten years of super-hype than live to be 70 by sitting in some goddam chair watching TV."
Janis Joplin's last public appearance occurred when she showed up in Port Arthur for the 1960 Thomas Jefferson High School 10th annual reunion. The town's Prodigal Daughter wore blue and pink feathers in her hair, an outfit of purple and white satin and velvet with gold embroidery, sandals that revealed her painted toes, and an overabundance of rings and bracelets. Port Arthur had never seen the like. No doubt, the most oft used expressions that night: "a spectacle of herself." The pop princess said of returning to her blue-collar town that had made her life hell, "It makes me happy to know I'm making it and they're back there, plumbers just like they were."
Janis gave a little piece of her heart to her fans, friends, and lovers until there was nothing left. In 1970, she wrote to her parents, "I guess that's what ambition is-it's not all a depraved quest for position or money, maybe it's for love. Lots of love!" Indeed, most of her life was driven by a deep loneliness that even astronomical success could not alleviate.
In 1970, after a hard night of drinking with her band, Joplin returned to her room at the Landmark Hotel that was the preferred hangout for visiting musicians. The walls sported psychedelic designs, but its greatest draw was the management's attitude. One night a guest called about the noise coming from the rooms where members of the Jefferson Airplane were hosting a party. The person who complained was asked to leave- definitely Janis' type of place.
John Cooke, a manager for the Full Tilt Boogie Band, went to check on Janis after she did not answer her phone, and he became concerned when, though her car was in the parking lot, she did not come to the door. The management agreed to let him in where they discovered Janis had joined the 27 Club, famous musicians who had passed away at that age. The rock star was lying on the floor with fresh heroin needle marks on her arm. She was never to enjoy nights of bliss with "Bobby McGee." The core of Janis' despair can be traced to a proposed song title she was composing shortly before her death, "I Just Made Love to 25,000 People, But I'm Goin Home Alone."