Flakes of Confetti (1945)
The world's jubilation upon learning World War II had ended is exemplified in the famous image of a sailor and a nurse locked in an embrace. Formally known as "V-J Day in Times Square," the photograph is one of the most famous depictions of a kiss in history. For decades, the identities of the couple remained shrouded in anonymity until the revelation that the woman was Greta Friedman.
Greta had started life as Grete Zimmer in Wiener Neustadt, a city south of Vienna, on June 5, 1924. Her family consisted of father, Max, owner of a clothing store, mother, Ida, a homemaker, and her three sisters. As conditions worsened for Austria's Jews, Max and Ida sent their eldest child to the British mandate of Palestine, while the three youngest joined relatives in the United States. After arriving in New York City in 1939, Grete changed her name to Greta. Her mother and father perished in the Holocaust.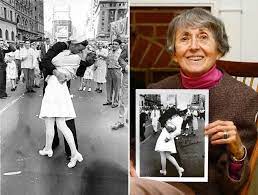 During the war, Greta worked as a dental assistant though her aspiration was to become a theatrical dress designer. On August 14, 1945, the twenty-one-year-old glanced out her office window and noticed an unusual number of people. Curious, Greta walked to Times Square where she saw a lighted billboard: V-J Day! V-J Day! In the surging crowd—one that grew to 2,000,000—was George Mendonsa, a sailor from Rhode Island, on leave before his return to the Pacific. He was at Radio City Music Hall, watching the Rockettes, in the company of his future wife, Rita Petry. The show stopped abruptly to play an announcement, "The Japs have surrendered!" The audience rushed into the street to join the celebration. In Brooklyn, residents strung up effigies of Emperor Hirohito.
Elated with the surrender, and fortified with alcohol, George spied Greta whose white uniform reminded him of the nurses who had tended to the injured on his ship, The Sullivans, a destroyer named after five brothers who perished in the Battle of Guadalcanal. Caught up in the hysteria, George grabbed Greta and planted a kiss on her lips. She later recalled she was in shock at suddenly finding herself caught up in the arms of a stranger. Alfred Eisenstaedt, a photographer for Life magazine, captured the sailor and 'nurse' in their impromptu embrace. In the background Rita looks on, her face registering shock. As an old lady, she groused that George had never kissed her like that. On August 27, Life featured the photograph of George bending Greta backward as her white uniform rode up her thighs. The accompanying caption stated, "In New York's Time Square a white-clad girl clutches her purse and skirt as in uninhibited sailor plants his lips squarely on hers." Viewers assumed the photograph captured the reunion of a sailor and his girl, rather than a kiss between two strangers. The coverage inspired a 25-foot sculpture entitled, Unconditional Surrender.
In 1956, Greta married Dr. Mischa "Mitty" Friedman, a U.S. Army scientist, and moved to Frederick, Maryland. A graduate of the Fashion Institute of Technology in New York, she worked as a designer for dolls' clothes, and later, as a book restorer. In 1981, she received a bachelor's degree from Hood College, the same year her son and daughter graduated from university. As a hobby, she owned a studio where she painted silk-screen prints. When interviewed about the world-famous photograph, Greta answered, "It was a wonderful coincidence, a man in a sailor's uniform and a woman in a white dress…and a great photographer at the right time." Greta passed away at age ninety-two from pneumonia. A moment, one destined to last forever, placed Greta in a twentieth century snow globe that, if shaken, releases flakes of confetti