Five Stone Lions (1883)
If the amber-hued liquid inside a classic bottle could speak, it would tell the tale of the convergence of an American sex symbol, a German officer, and a French legend. The black lettering on the bottle holds an eponymous name and a lucky number, and a story as extraordinary as the woman who willed it into existence.
For Coco Chanel, the Duchess of Windsor's declaration, "You can never be too rich or too thin" was holy writ. The icon who became synonymous with high couture started life in poverty. Gabrielle Bonheur Chanel, the second daughter of an unmarried couple, hailed from the small town of Saumur, France. Her father, Henri-Albert, was an itinerant peddler, and her mother, Jeanne DeVolle, worked in the poorhouse where Gabrielle was born. When Gabrielle was 12, her mother passed away from either tuberculosis or destitution coupled with back-to-back pregnancies. Albert, (as he was known,) left with five offspring, took to travelling permanently. Gabrielle found herself in an orphanage where joyless nuns taught her to sew.
When Gabrielle made her escape, she found work as a cabaret singer where her trademark song, a favorite of the soldiers, was Qui qu'a vu Coco. She shed her name Gabrielle, (she was christened after the nun who had delivered her), and became Coco, from the lyric and because it was the shortened version of 'cocotte,' French for 'kept woman.' Escape beckoned with the patronage of Etienne Balsan, a textile heir and riding enthusiast, who released her from the cabaret by setting her up in a shop on 31 rue Cambon to pursue her "little hat hobby." She lived in his grand manor, and he introduced his friends to her chapeaus, (the antithesis of the flower-themed ones then in vogue), and they became wildly popular with the reigning actresses. During this period Coco made the acquaintance of a friend of Balsan, Arthur Capel, nicknamed 'Boy,' an English polo- playing businessman who became the love of her life.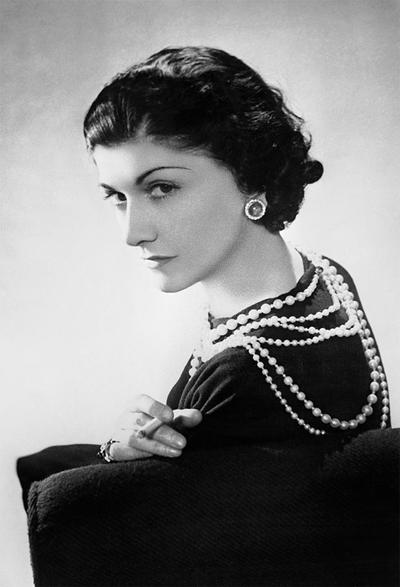 Coco became a fashion force to be reckoned with because of a black dress she designed from an old jersey in order to stay warm on a chilly day; previously the material had been used solely for men's underwear. In addition to warmth, it allowed liberty of movement, something the tight - fitting, corsets, garters, and whalebone of the day did not. The demand for the LBD (little black dress) was overwhelming; she explained her clothing philosophy as "Luxury must be comfortable; otherwise it is not luxury." She had taken a color associated with mourning and transformed it into the height of fashion for evening wear. Her philosophy: women should dress for other women-and undress for men. Chanel had accomplished the unthinkable; she made the once male-only attire part of female fashion's landscape. She said of the restraining garments that she made a thing of yesteryear, "How can a brain function under those things?" She also, through a mishap, introduced the flapper-styled bob when, preparing for the opera, her gas heater blew up and singed her long, lustrous locks. She cut off a foot of her damaged tresses and the style inspired the 'garcon' boyish style that became de rigor for flappers.
Boy married an aristocratic English beauty; however, the C's in Coco Chanel never stood for 'conventional,' and she continued the affair. In 1919, in route to their rendezvous, he died in a car accident on the Cote d'Azur. She erected a roadside memorial on the site of the fateful crash where she forever placed flowers. Chanel stated, "In 1919, the year I woke up famous and the year I lost everything."
After Boy there were other lovers such as the second Duke of Westminster, Hugh "Bendor" Grosvenor, the richest man in Europe. Through him Coco made valuable connections with such heavy-weights as David Lloyd George, Charlie Chaplin, and Winston Churchill. She refused her lover's marriage proposal with the pronouncement, "There have been several Duchesses of Westminster-but there is only one Chanel."
Chanel conquered the world of haute couturier and became the first female to head a fashion house, maintained a permanent suite at the Ritz, vacationed on the Riviera, (which she popularized as a holiday destination), befriended Pablo Picasso, and had an affair with composer Igor Stravinsky. Her shop with its logo of mirror-image C's became a mecca for those who desired to sheathe themselves with the ultimate status label. As the Queen of the opulent castle on 31 rue Cambon, Mademoiselle, (as her staff of 300 called her), became the mother of reinvention- a French equivalent of Gatsby. She claimed her father had left for America to make his fortune; in truth Albert's days ended in the bars of rural French towns. She would fondly reminisce on her reinvention how her doting dad had used 'coco' as a term of endearment that birthed her moniker. She also altered the date of her birth to make herself ten years younger and changed the locale of her birth. Through steely determination she trod the road from ambitious courtesan to the doyenne of high society, from seamstress to celebrated couturier. Yet her crowning achievement was her empire's greatest jewel: the eponym that made her name iconic.
The genesis of the amber-hued perfume was the result of the coupling between Chanel and the former Russian court perfumer, Ernest Beaux, who she met through her lover, the Grand Duke Dmitri Romanov. Her directive: a scent which would evoke memory as well as desire. The perfume's design was a master of classic elegance; its glass cap inspired by an antique mirror in her Ritz home, its label, (the first to feature a designer's name) followed by No. 5 to which she had a superstitious attachment. A fortune-teller had told her it was her lucky number. She said of its elixir, "It is the unseen, unforgettable, ultimate accessory of fashion…that heralds your arrival and prolongs your departure." When a young woman inquired where one should use perfume, Chanel replied, "Wherever one expects to be kissed." In a similar, sensual vein, when a reporter asked Marilyn Monroe what she wore to bed, the sex symbol responded, "Three drops of Chanel No. 5." This comment began the tradition of the perfume's association with the world's most desired women. In the 1970s Catherine Deneuve, caressing a super-sized bottle purred, "You don't have to ask for it. He knows what you want: Chanel." Coco herself was enamored of her eponym's scent: her assistants sprayed it in her spiral staircase whenever she made her entrance so she could waltz into a haze of her signature scent. Chanel No 5 made its entrance in pop art history when Andy Warhol produced its images dozens of times on canvass. Jacqueline Kennedy was wearing a pink Chanel suit at her husband's assassination. When Lady Bird asked her why she kept the blood-splattered garment on for the Inauguration aboard Air Force One, the widow replied, "Let them see what they have done."
World War II was the event where Coco's talisman 5 deserted. It proved the time when the creator of the world's best-selling fragrance came away smelling not so sweet. During the Occupation she embarked on an affair with a Nazi officer, Baron Hans Gunther von Dinklage that carried the fringe benefit of allowing her to remain in her suite at the Ritz. For the privilege the once homeless orphan was willing to become the 'cocotte' once more. She served as a willing agent for the German high command, partly driven by anti-Semitism. In return she was granted favors that included the release of her nephew from a German prisoner-of-war camp. Moreover, under the laws of Vichy France, she sought to dispossess the Jewish Pierre Wertheimer who held ninety percent ownership of Les Parfums Chanel. She argued the company should be Aryanized, and she assume ownership. However, before Pierre fled to New York City, he transferred his shares to the Christian industrialist Felix Amiot. After the war he bought back the company and currently his two grandsons' fortunes are valued at 19.2 billion.
However, the degree to her involvement with the enemy is shrouded in the gray arena of conjecture. Her defenders argue her transgression was solely on a horizontal level, driven by love rather than avarice. Her detractors view her as a master manipulator, flawed, hard and pitiless, as were the nuns who had raised her. She had become rich by catering to the rich, and at fifty her fortune was worth the equivalent of almost $ 1 billion in today's currency. Her success stemmed from her Golden Rule of never following anyone else's rules. Coco was always able to land on her feet-or someone else's, and move on to the next man, the next collection, or the next patron.
After the War, female collaborators had their heads shaved and were paraded through the streets; through Churchill's intervention she was spared the indignity. However, she could not elude the court of public opinion that condemned her for sleeping with the enemy, and Chanel retreated to her Elba - self-imposed exile in Switzerland.
After eight years, in homing bird fashion, she returned to the country where she had achieved her dazzling highs and spectacular low. Ensconced in her suite at the Ritz, the place she had conducted affairs with the most celebrated men of the 20th century, at the end was alone. Her greatness, besides her legacy, was she proved she did not define herself by the many men who had desired and deserted her. She remains as enduring as her signature black dress, pillbox hat, and strings of pearls. Chanel's personal tragedy was her life never delivered the unalloyed sweetness of her iconic scent.
The grand doyenne of fashion passed away at age eighty-seven, to the end hard at work-designing, controlling, dictating, inspiring equal parts admiration and fear in Madame's employees. Her last words were to her maid Celine, "You see, this is how you die." On her casket lay a spray of white flowers in the shape of a tailor's shears. The attendees at her funeral were clad in Chanel and internment was at the Cimetiere du Boise-de- Vaux in Lausanne. Her tomb bears the name Gabrielle Chanel-and five bas-relief stone lions-a nod to her astrological sign and her immortal scent.