Don't Forget Me
"I am happy to be alive as long as I can paint." – Frida Kahlo
Museo Frida Kahlo (opened in 1958)
Londres 247, Colonia del Carmen, Coyoacán, México
In the early and mid-twentieth century, Coyoacán was Mexico City's Montparnasse, Greenwich Village, and Haight Ashbury as artists congregated in its free-spirited enclave. And the queen of Boho, Frida Kahlo, reigned from her eclectic blue Casa Azul, (the blue a nod to the cultural tradition that it wards off evil spirits), now the Museo Frida Kahlo.
A cult of Fridamania sprung from the artist whose image appeared on fridge magnets, a movie starring Selma Hayek, a Barbie doll, (that came without a black unibrow brow or moustache and was far too thin for verisimilitude), a carton skeleton in the Pixar movie Coco, and endless Etsy tchotchkes. One thousand fans gathered at the Dallas Museum of Art in Frida-drag. Posthumously, she has garnered more than 800,000 Instagram followers.
Artists are known for their tortured psyches, and the patron saint of suffering was Magdalena Carmen Frida Kahlo y Calderón. At age six, Frida contracted polio that made her right leg shorter than her left that led to her classmates' taunt, "Peg-Leg-Frida." At age eighteen, a tram collided with the bus where she had been a passenger that left her with life-long injuries. Confined to a full body cast during a yearlong convalescence, she turned to painting. She filled her canvasses with self-portraits, images of violence and vulnerability, and the blending of gender norms. Her father, a German-Jewish photographer who adopted the name Guillermo, took a picture of Frida wearing a three-piece man's suit. A revelatory canvass portrays the artist as a deer pierced by arrows, wearing a crown of thorns, hemorrhaging from a pregnancy. Over the course of her lifetime, Frida underwent thirty operations including the amputation of her right leg. Transforming pain into art, Frida decorated her prosthetic leg and boot in red ribbon and silk.
Frida met her destiny at the Escuela National Preparatoria when its directors commissioned Diego Rivera to paint a mural above the stage of her school's auditorium. The sixteen-year-old Frida became infatuated with the thirty-six-year-old Mexican Michelangelo. She confided to her friend she planned to have Diego's baby "as soon as I convince him to cooperate."
Two years later, he paid her a visit at Casa Azul where they shared their first kiss. After obtaining a divorce-his second-he proposed. While Guillermo was pleased with his daughter's match to the acclaimed painter who, after Matisse, was the second artist to have a solo exhibition at the Museum of Modern Art-her mother was against her marrying a divorced man twice her age, the father of three. She refused to attend their 1929 wedding.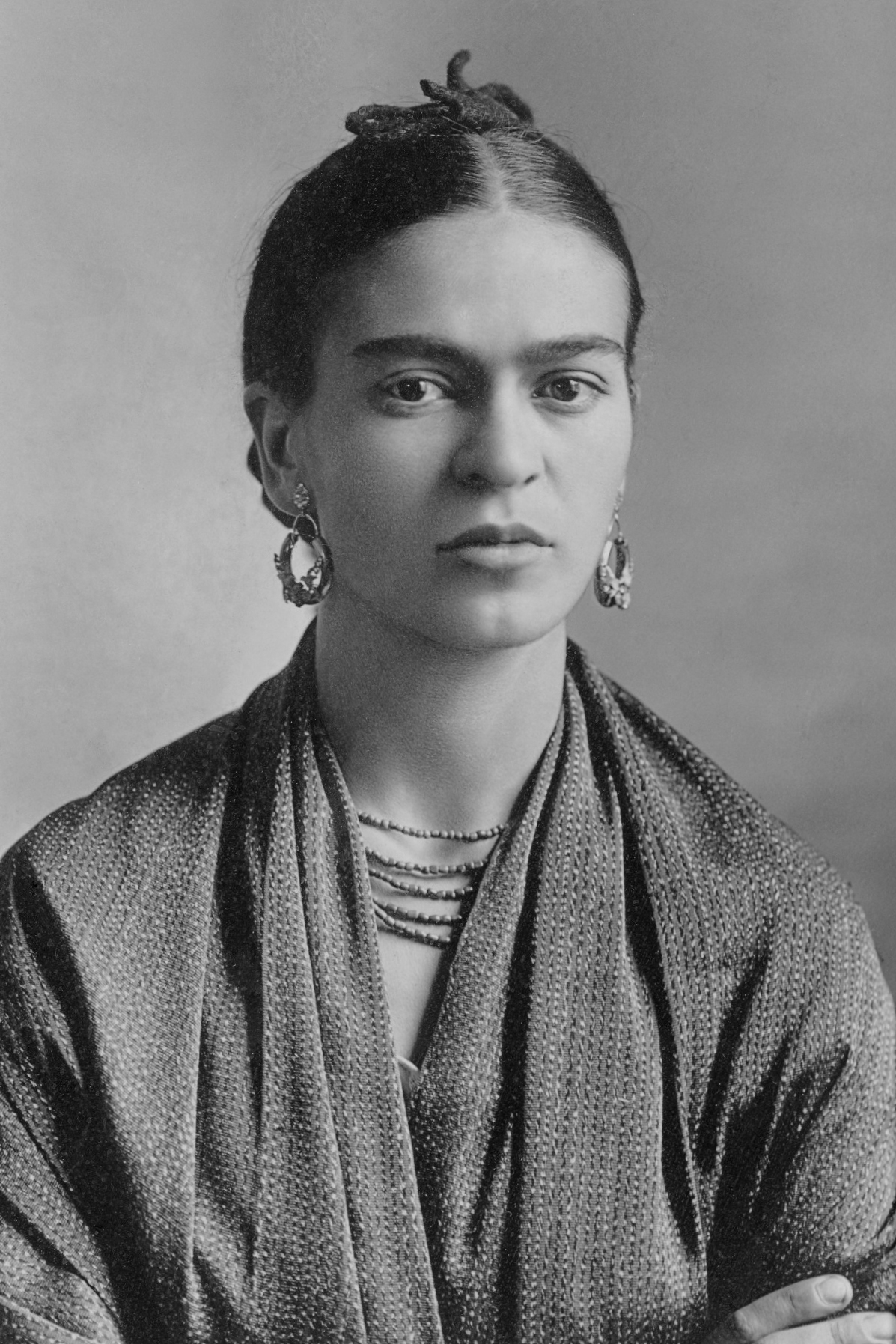 Diego's 300-pound frame dwarfed his diminutive wife, but she held her own. While dining in Detroit in 1932, she turned to car czar Henry Ford, known for his virulent anti-Semitism, and asked, "Mr. Ford, are you Jewish?" Eschewing designer clothes, Frida wore floor-sweeping skirts and blouses fashioned after the women from the matriarchal Tehuantepec region of Oaxaca, (where her maternal family had roots). The long flowing skirts hid her wasted leg and camouflaged her limp. Diego was pleased with her choice of clothing that served as a rebuke of the rich who emulated Parisienne couture. A Vogue magazine spread helped alter "Madame Diego Rivera" status from the wife of a prominent artist to one in her own right.
In 1941, the couple moved into Frida's childhood home. While Guillermo had modeled his residence in a European style, Frida and Diego transformed it into an ode to Mexico's past. They filled their home with folk art, paper Mache skeletons, and Mesoamerican sculpture. Through their door came fellow Communist Party members, his and her lovers, artists, wealthy art collectors, and movie stars. To help ease the pain of infertility-the result of injuries sustained in the accident- Frida filled her garden with a menagerie of pets including monkeys, a deer, and Xoloitzcuintli, (hairless dogs). From the courtyard, her tequila-imbibing parrot squawked, "No me pasa la cruda - I can't get over this hangover." Art historian Luis-martin Lozano wrote that La Casa Azul was not just Frida's cobalt compound, but served as the "artistic and aesthetic universe that nurtured Kahlo's work."
A thorn in their marriage was Diego proved productive with more than his paintbrush. Frida's younger sister, Christina, began appearing in her brother-in-law's murals and in his bed. Wounded after the dual betrayal, Frida claimed custody of their spider monkey. Of her heartache, she stated, "I suffered two grave accidents in my life. One in which a streetcar knocked me down and the other was Diego. Diego was by far the worse." The blue walls did not deter the evil spirits. The couple divorced in 1940; they remarried the following year in San Francisco. She explained her forgiveness, "I do not think the banks of a river suffer by letting the water run." Refusing to placidly accept the role of the woman scorned, Frida embarked on affairs of her own-with men and women- and professionally became more than the wife of Diego Rivera. She was the first Latin American woman to have a painting in the Louvre. Her last self-portrait, "Diego and I," depicts her shedding three teardrops while her forehead bears the image of husband. Sotheby sold the painting for $34.9 million, the highest sale for a Latin American artist.
In a life of surreal proportions, it would have been hard to lower the bar of bizarre; Frida managed. When the Soviet Revolutionary Leon Trotsky arrived in Mexico, he and his wife, Natalia, stayed at the Casa Azul for seventeen months. Aware that hosting the fugitives put them in danger, Frida and Diego covered their windows with brick and erected a security tower. The live-in arrangement ended when Diego had enough of his wife's affair with Leon. The Trotskys moved to a nearby home where an agent of Stalin's secret police assassinated him with an icepick blow to his head. The address is now the León Trotsky Casa Museo.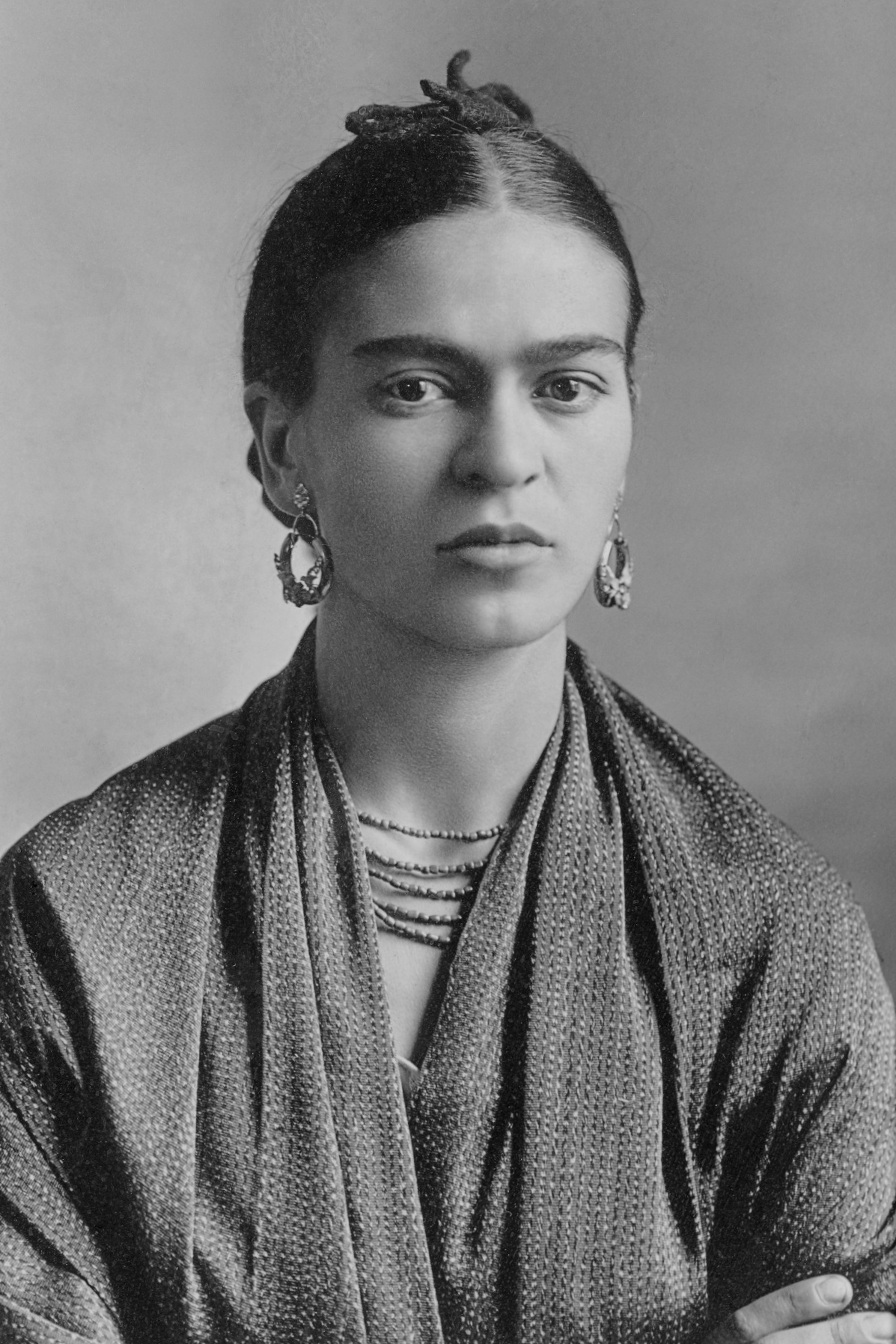 Relying on tequila and painkillers, Frida held her first Mexican solo exhibition where she attended on a stretcher. Eleven days before her death, sitting in a wheelchair, Diego by her side, she made an appearance at a rally to protest American intervention in Guatemala. Frida passed away at the Casa Azul, officially of pneumonia, though there were rumors of suicide. A Soviet banner covered her coffin on its way to the crematorium. Such were the times that in her 1954 obituary the New York Times' headline stated, "Frida Kahlo, Artist, Diego Rivera's Wife."
Catherine Earnshaw's soul was as intertwined with Wuthering Heights as Frida Kahlo's was with Casa Azul. And while the former was a gray fortress, the latter consists of bright colors such as the red letters that proclaim the Museo Frida Kahlo. An inscription on a wall gives Frida's year of birth as 1910; she changed it from her actual birthdate so that it would coincide with the start of the Mexican revolution. Thousands make pilgrimages to Coyoacán to learn about the woman behind the movie, the magnets. Scattered throughout the house are retablos, (holy pictures representing salvation), dozens of paintings on tin that line the staircase, masks, and ceramic animals. Glass cases display Frida's elaborate folkloric wardrobe; an address book is open to "Marcel Duchamp," 14 Rue Hall, and his painting hangs on the museum's wall. The dining room's floor is painted bright yellow. The kitchen's centerpiece is a blue and white stove; miniature pots spell out Frida and Diego with an outline of two doves tying a love knot. The master bedroom, on the ground floor, took on single occupancy status when marital discord seeped in. Diego's His hat remains on the coat rack. In Frida's upstairs room, the bed holds a plaster corset decorated with images from her crippling afflictions. The mirror under the canopy of her bed allowed her to paint self-portraits. A portrait of a dead child hangs above the headboard juxtaposed with a frame that holds photographs of Marx, Mao, Stalin, Lenin, and Trotsky. A lace-trimmed pillow bears the embroidered words, "No me olvides amor mio - Don't forget me, my love."
A View from Her Window
Gazing out her studio's window. That overlooked her one-of-a-kind backyard, Frida lava rock paths lined with indigenous plants and vegetation. There was also a scaled rock pyramid that Frida and Diego created to showcase their collection of pre-Columbian art.
Near-by Attraction: Museo Casa de León Trotsky/ Leon Trotsky House Museum
The house where Leon Trotsky moved after leaving the Casa Azul is now his memorial museum. Unlike Frida's riotously colorful garden, his serene courtyard offered the wanted man a place of peace. The grounds also reveal the quarters in which his guards lived, and the hutches where he kept his pet rabbits and chickens. Visitors can view Leon's desk at which he was working when the Soviet assassin delivered the fatal blow from the icepick.