Diva (2006)
Just as no man is a hero to his valet, no man is a hero to his employee- if the boss sends seismic tremors into the heart of an underling. The movie, The Devil Wears Prada, centers around Miranda Priestly, a roman à clef of Anna Wintour.
How did Anna -known as Nuclear Wintour due to glacier personality- become the doyenne of high fashion? Perhaps a career in publishing was in the cards for the powerhouse born in 1949, in London, England. She is the eldest daughter of Eleanor, an American philanthropist mother, and Charles Wintour, the former editor of the Evening Standard, whose reporters dubbed him Chilly Charlie. Family tragedy occurred with the death of her brother, Gerald, from a car accident when he was a child, and her parent's divorce.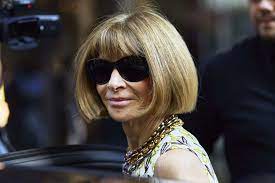 Anna attended North London Collegiate School from which she dropped out at age sixteen. She completed a training program at Harrods and landed a position as editorial assistant across the pond for at Harper's Bazaar, a position she held for several years. When she left for Vogue, its editor, Grace Mirabella, asked Anna what job she wanted. Anna responded, "Yours." Successful in her aspiration, the staff burst into tears. She replaced the standard cover girl draped in a glamorous gown with a model dressed in Guess jeans and a $10,000 bejeweled Christian Lacroix sweater. She revolutionized her magazine by featuring celebrities as well as professional models. A proud Anna boast, "Vogue is the biggest influencer of them all." No one wields more clout that Vogue's grand dame: runways shows do not commence until her arrival. She can make and break a career as easily as she can slip into a size zero sheathe.
Another feather in her trademark bob is Anna spearheads the annual Met Gala, the magnet for celebrities from across the globe who congregate for the museum's annual costume exhibition, where guests dress according to theme. In 2014, the institute's renamed the event the Anna Wintour Costume Institute. Queen Elizabeth II made Anna a dame in 2017 at a ceremony in Buckingham Palace for her contributions to journalism and fashion. For the occasion, The Dame wore Chanel.
What turned the spotlight on the high priestess of fashion occurred in 2003, when Lauren Weisberger, her former personal assistant, wrote The Devil Wears Prada, based on her eleven months Vogue apprenticeship. In the book and film Miranda-a parody of Anna-placed ridiculous demands on her staff and stirred up a tempest in a teacup, in her case, her Starbucks. With the film's release, while Vogue employees ducked for cover, Anna took it in stride. She attended the movie's premiere-dressed in Prada. As nothing seems to faze fashion's ice queen, it can be assumed the devil also wears Teflon.
Ms. Wintour (Winter) admits she has a weakness: her son, Charles, and daughter, Bee, her children with her first husband, psychiatrist Dr. David Shaffer. Her second marriage, to Shelby Bryan, also ended in divorce. Currently, Anna is single; however, with a $450 million fortune, (she receives an annual salary of $2 million,) she can indulge in her Manolo Blahnik footwear.
Anna, despite her brilliance as Tsarina of Vogue, nevertheless is regarded as Cruella in chinchilla due to her models who are strangers to carbs, her penchant for furs, her suggestion to Oprah that she lose a few pounds for her cover photo. However, perhaps part of the approbation stems from the fact that she is at the pinnacle of a hierarchy traditionally the provenance of men. Had she been the possessor of a different autonomy, she might well be described as driven, rather than diva.