An American Grand (1853)
Whether performing chopsticks or a concerto, the gold-embossed name, Steinway & Sons, tells the tale of a dynasty founded by Henry Steinway.
The surname that became synonymous with pianos began with Heinrich Engelhard Steinweg, born in 1797, in Wolfshagen, Germany, then a part of the Holy Roman Empire. In a life of operatic proportions, Heinrich's father fought in the Napoleonic Wars while the harsh winter claimed the lives of his mother and several brothers. A few years later, a bolt of lightning hit the Steinweg's mountain home that resulted in the deaths of his father, three other brothers, and two workers from his family's charcoal business. The fifteen-year-old orphan was on his own.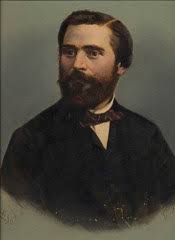 During the Battle of Waterloo, Heinrich served as a bugler; upon his discharge, he worked making pipe organs. In 1825, he established a piano business in Seesen; his guild membership stipulated he could only repair, not create, instruments. Eleven years later, in clandestinely fashioned his first piano in his kitchen that he gifted to his bride, Juliane Thiemer. Known as "the kitchen piano" it is on display at the New York Metropolitan Museum of Art.
To escape further political turmoil, in 1850, Heinrich, Juliane, and eight of their nine children immigrated to New York City. Heinrich became an American citizen and changed his name to Henry Steinway. He found a position with Bacon & Raven who made the pianos championed by Stephen Foster, composer of "My Old Kentucky Home." By 1853, Henry and his sons, Charles, Henry, William, and Albert, branched out on their own and formed Steinway & Sons. They sold piano Number 483 to the New York based Griswold family for $500. In 1867, the Paris Exhibition awarded the company the Grand Medal of Honor for excellence. A showroom opened steps from Carnegie Hall. Irving Berlin paid homage to the Stradivarius of pianos with his lyric, "I know a fine way to treat a Steinway."
In 1871, Henry passed away and his son, William, took over the reins of the family business. He solicited letters of endorsement from royalty such as Queen Victoria, Czar Nicholas, and Kaiser Wilhelm. Presidents Andrew Johnson, Harry S. Truman, and Grover Cleveland privately purchased Steinways. Franz Liszt pronounced the piano a "glorious masterpiece;" Wagner wrote he missed his Steinway grand "as one misses a beloved wife." Brilliant marketeers as well as craftsmen, the Steinways courted the superstars of the era such as Rubinstein, Rachmaninoff, Horowitz, and convinced them to only perform on a Steinway. The son of an immigrant became a millionaire, one of the 400 in New York, and bought what became known as the Steinway Mansion on Long Island Sound. His largesse did not equate to his empire: women were never allowed in high level positions, wagers were low, strikes forbidden.
The company constructed the 100th piano for President Theodore Roosevelt for the East Room and gilded the instrument with gold leaf. The lid displayed a painting, "America Receiving the Nine Muses," in which women in ball gowns posed in front of a green backdrop; an artist carved American eagles into the legs. (The piano now resides in the Smithsonian.) In 2000, the Beatles John Lennon's Steinway vertical piano sold for over $2 million to pop star George Michael. Part of the instrument's mystique is Lennon had used it when he composed the song, "Imagine."
In 2013, Paulson & Co. purchased the legendary company for $512 million. From penniless immigrant Heinrich Steinweg to piano czar Henry Steinway is truly the tale of an American Grand.