Can We Talk? (1933)
Shakespeare's clowns were the stand-up comics of the Elizabethan world. Their role: mock the pompous and puncture the pretentious. Paradoxically, the fools were the wise men of the era. As Regan observed in King Lear, "Jesters do oft prove prophets." Stephen Sondheim's 1970s song that showcases our need for humor ends, "Quick, send in the clowns/Don't bother/They're here."
One of our contemporary clowns, who became the Grand Dame of comedy, will be remembered as the woman who made jokes about oral sex, terrorists, and the Holocaust. However, she was never able to divorce herself from her childhood when she was an insecure, chubby girl who dreamed of rising above the ordinary. Joan Alexandra was born in Brooklyn, Noo Yawk, to Meyer and Beatrice Molinsky, Jewish immigrants from Russia. Beatrice never adapted to life in the States or the fact she was unable to obtain the lifestyle she had enjoyed when her wealthy family had supplied the Tsar with furs, a run that ended with them fleeing penniless from the Bolsheviks. Joan's comedic shtick was honed at a young age from her doctor dad who performed impersonations of his patients to entertain daughters Barbara and Joan. She remembered her early years as "full of domestic tension" over money and her low self-esteem.
As a "fat, ugly girl," she felt she could never fulfill her parents' expectations and that she was "outshone" by Barbara. "It made me a manic overachiever. I wanted to be better, smarter and thinner than my sister at any cost," Joan stated.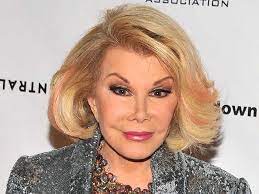 Joan attended Barnard College; however, her most memorable year at university happened outside the halls of academia. In 1951, a colleague of her father hosted a dinner party and one of his guests— others were Arthur Miller, Elia Kazan, and Lee Strasberg—was Marilyn Monroe, who was so shy the host seated her next to the student. During the evening, the star passed on her wisdom: "Honey, let me tell you a secret. Men are stupid and they like big tits."
Beatrice wanted Joan to achieve her version of the American Dream—landing a rich, Jewish husband. However, Joan had an aspiration outside the Brooklyn box: she wanted to be an actress. She had fallen in love with the theater when she had performed as a kitten in her kindergarten play and had been so enchanted with her role she wore her cat ears and whiskers to bed. The bug was cemented in high school when she saw Ray Bolger perform; standing in the St. James Theater she said, "I knew then I was in the temple." After graduation, she apprenticed at the Westport County Playhouse in Connecticut, where she suffered a bout of stage fright; humiliated, she stayed in bed, in a fetal position, for days. The reviews for the production were scathing, but even more devastating was Dr. Molinsky's comment that the show was the worst piece of garbage he had ever seen, and she was crazy to pursue acting. When she did not back down, he said it would not be on his dime and withdrew financial support. To survive, Joan worked as a fashion coordinator for a large chain, and in 1957 married the boss's son, Jimmy Sanger. The union was annulled after six months, lasting "six months longer than it should have."
Joan reverted to her original plan of becoming an actress, and she worked as a temporary clerk to finance her dream. Upon discovering that she could earn five dollars a night as a stand-up comic at a local club—fifty cents more than she was earning at her job—she never looked back. Her agent, Tony Rivers, suggested she drop her name—so she took his. However, show business success did not come easily: "I wasn't pretty, and at that time you had to be an 8-by-10 glossy, un-retouched." Self-deprecation were the cornerstones of her act. She said, "There is not one female comic who was beautiful as a little girl." Her customary self-directed barb, "My best birth control is to leave the lights on." The funny lady made jokes about sex on the linoleum floor because it was far better to laugh about it than to scrub it. Her stand-up routine closed with the punchline, "I'm Joan Rivers, and I put out!" a shocking claim in an era when women were supposed to only surrender their virginity on their wedding night.
Rivers "endured humiliation and deprivation" for almost ten years, playing in tawdry clubs, borscht-belt hotels, and Greenwich Village cabarets before "a mercy booking" appearance in 1968 on The Tonight Show Starring Johnny Carson. In a nod to there is no accounting for chemistry—Carson, the white-bread all-American boy from the Midwest—proved the perfect foil for Rivers' Brooklyn Jewish humor. Audiences reveled in her gags about her mother's struggle to marry her off, such as a sign she claimed Beatrice placed on the family lawn: Last Girl Before Freeway. When Carson asked if men ever liked her for her mind, she responded that no man ever put his hand up a woman's dress looking for her library card. Her repertoire made her a human wrecking ball, and a customary target was Elizabeth Taylor, who she envied as a natural-born beauty. Indeed, she once remarked she would have traded wit for looks. Of Taylor's increasing waistline she said, "She puts mayonnaise on aspirins;" "Mosquitoes see Liz Taylor and shout 'Buffet!'" When the host—the czar of comedy—told her on live television that she was going to be a star, it was her life-changing moment. She said, "Doors opened. Then you have to work like hell to keep them open. But they opened." In 1983, Carson made Rivers his show's first permanent guest, and she seemed the heir for his comic crown. Her signature line, "Can we talk?"
In the same year, the Brooklynite married Brit Edgar Rosenberg, and the thirty-one-year-old Ms. Rivers felt she had at last met Mr. Right. Rosenberg's family had fled Nazi Germany and had escaped with just the clothes on their backs. Four days later, they were married by a New York judge, and Joan, who had mined her personal life for her material, turned her jokes from desperate single girl to married women gags. Her routine involved telling audiences she knew nothing about sex because all her mother had told her was the man gets on top—so she bought bunk beds. Nevertheless, Edgar and Joan must have got it right—in 1968, they welcomed only child Melissa. The strait-laced Edgar provided comic foil: "When the Rabbi said, 'Do you take this man?' fourteen guys said, 'She has.' Thank goodness my husband bought the horseback riding story."
Joan stated of her role on Carson as "career Viagra," and she enjoyed sell-out tours in Las Vegas, commanding $200,000 for a five-night run and appeared on countless magazines. She presided over a Beverly Hills mansion with her husband and daughter and a flock of servants. Melissa recalled her parents tried to keep themselves grounded amidst celebrity status by having family dinners where her mom would start a meal by thanking God not only for the abundance of food but for the abundance of restaurants offering dinner within thirty minutes. It seemed as if Joan Rivers had the last laugh on all her naysayers until even her indefatigable sense of humor deserted.
The double-barrel bullets came when Rivers defected from The Tonight Show by accepting her own late-night program for the upstart Fox network, a move that earned her $15 million. Her new position made her the first female to break the glass-ceiling of male-hosted late-night talk shows. On the flip side, Carson viewed her as Judas, selling out for thirty pieces of silver, and he used his clout to make her an industry pariah. Devastated at the loss of her mentor, Joan nevertheless joked of the oft-married Carson, "I'm the only woman in the history of the world who left Johnny Carson and didn't ask him for money." Edgar served as executive producer, where his abrasive personality sewed dissension between him and Fox head honcho, Rupert Murdoch. She fared little better when she came to Britain for Joan Rivers: Can We Talk? There the assisted- blonde reinforced the British stereotype of the vulgar American and dozens of viewers called to complain about her use of the four- letter word. Rivers' offered an apology, "I'm sorry I fucking swore." Another barb came from Germaine Greer who compared her interviewing style to "spiders copulating." The producers cancelled the program after six shows; Fox pulled the plug on her as well. The failures plunged Edgar into a deep depression, and three weeks later, he took a lethal dose of Valium and alcohol. The marriage had lasted twenty-two years, and Joan went into a tailspin of depression and bulimia. She well knew Edgar had been the only man to truly love the clown-princess. Her career was in smoldering ruins, and at age fifty-four, believed she was beyond her expiration date. Melissa blamed her mother for her father's death and severed what had been their wrought- iron umbilical cord. If this were not enough, with her husband's passing, she looked into her finances and discovered she was $37 million in debt because of Edgar's mismanagement.
At the Bel-Air mansion—where five telephone lines had once relentlessly buzzed—there was a resounding silence. To add to her pain was guilt over Edgar's suicide and misery at her daughter's estrangement. As her fifty-fifth birthday loomed, Joan could no longer see any reason to keep on living. She felt it impossible to dig herself out of her hole; it was hard enough for young women to succeed in show business, let alone for an aging has-been. The words of the Sondheim song proved prophetic: "Isn't it rich? Isn't it queer? Losing my timing this late in my career..." She sat on her bed, pistol in hand, when Spike, her terrier, jumped onto her lap and sat on her gun. Suddenly a terrible thought came to mind: if she killed herself, what would happen to Spike? The diminutive Yorkie was cute, but cantankerous, and did not like anyone other than his mistress. Moreover, he was ridiculously spoiled; his favorite food was roast beef sandwich, and who would cater to him in the manner to which he had become accustomed? There was also concern about Melissa; how would she take it having both her parents succumb to suicide? Joan had once told someone the only thing she feared was a blank diary, and she realized that the epitome of that was the oblivion of death. Rivers determined to still rise on her stilettoes. After all, her credo was, "Never stop believing. Never give up. Never quit. Never!"
Joan started where she had begun and took her "merry widow tour" to tiny clubs where her gags about her husband's death met with boos—she said she had scattered Edgar's ashes around Neiman Marcus so she could visit him five times a week. But with her painted talons she clawed her way back, and in 1989 her persistence paid off with a daytime TV talk show which ran for five years and earned a nomination for an Emmy. Three years later, she also found love with Orin Lehman, a former financier who had the use of only one leg, "My Heather Mills!" which union floundered when he hobbled off with other women. Rivers' also made a financial recovery with her jewelry and clothes collection she sold on QVC where she pulled in millions annually. In 2010, she became the star of the E! show Fashion Police, where she and mini-me Melissa critiqued celebrity wardrobes. In 1998, Melissa married a horse-trainer she had met in Palm Springs, and the mother of the bride shelled out $3 million for an extravaganza at the Plaza. The marriage lasted five years but produced Joan's adored grandson Cooper. When she heard of Michael Jackson's death she quipped, "My grandson can take a walk alone again."
Rivers purchased a mini-Versailles overlooking Central Park, whose former occupant, J. P. Morgan, had replicated from a French chateau, whose décor sported swathes of pink silk murals and acres of guilt furniture, making the Donald's Trump Tower penthouse a nod to understatement. She filled it with antiques and quipped, "If Louis XIV hasn't sat on it, I don't want it."
As an octogenarian, Joan's jokes centered on her age, "The only Rivers older are the Nile and the Euphrates." Her face took on a bizarre appearance after countless plastic surgeries. She joked that her body had so much plastic that when she died she was donating it to Tupperware. Cooper called her Nana New Face.
After a twenty-six-year hiatus, Rivers returned to The Tonight Show where she told host Jimmy Fallon that she and a girlfriend got matching vagina rings to commemorate the milestone. "Mine is killing me, but apparently, I spoke to Bruce Jenner, and hers is fine." There was a collective cringe; it was classic Joan.
The comedienne had often joked funerals were a great place to meet newly minted widowers and had told Melissa she wanted her own to include Meryl Streep crying in five different accents and a wind machine so that even in her casket her hair would be blowing like Beyoncé's. At the end, the only one who could silence Joan was the Grim Reaper. She passed away in 2014 after a botched procedure on her vocal cords. A further horror was her doctor had taken a selfie while she was unconscious. A devastated Melissa said, "I'm lost as a performer right now, but I will find my own voice. I was taught by the best."
When heaven sent for the blonde bouffant clown, one can imagine her cornering the big man himself: "Gawd, can we talk?"