By the Sword (1999)
Over the six seasons of The Sopranos, audiences got to know Tony, the menacing yet engaging Mafia boss of New Jersey. Fans of the HBO classic shadowed Tony as he cut deals in the Bada Bing strip club, whacked the inconvenient, sidestepped marriage vows with his "goomahs." However, since The Sopranos was not a documentary, producer David Chase, (his original family surname was DeCesare), did not point out that he had based Tony on the flesh-and-blood mobster Anthony "Tony Boy" Boiardo.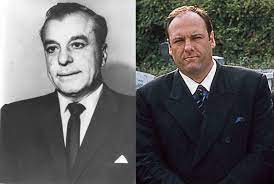 The crime dynasty began with milk. Born in Sicily and placed in an orphanage at age six, his adoptive parents named their son Ruggerio; after immigrating to America in 1901, he went by Richie. In 1915, Richie worked delivering milk in Newark, New Jersey, with a sideline in illegal betting. Acquiring a wealth far beyond that of his stonemason father, he wore a diamond-studded belt buckle which earned him the nickname, "Diamond Richie." Post Prohibition, under the guidance of John and Frank Mazzocchi, Richie produced and peddled alcohol. During this time, Richie acquired his lasting nickname, The Boot, either because he was a bootlegger or because he stomped his rivals to death. He executed the Mazzocchi brothers to eliminate competition and survived an assassination attempt by rival Abner "Longie" Zwillman. Reggie became a high-ranking capo in the Genovese family whose favorite henchman was Anthony "Little Pussy" the character who also appeared in The Sopranos.
Crime paid and Richie was the lord of a thirty-acre Livingston, New Jersey, estate constructed of imported Italian stone. Pillars held busts of Caesars, the Boiardo family, and a life-sized likeness of Richie astride a white stallion. Life magazine described it as, "Transylvanian traditional." His tomato patch held the sign: The Godfather Garden. The gargantuan pool provided the setting for weekly parties. Lore holds that the estate also held a crematorium. His acquaintances were Al Capone, Joseph Valachi, (who ratted on The Boot in 1963), and Joe DiMaggio. He harbored a deep hatred of J. Edgar Hoover but cared deeply for his son, Anthony, (Tony,) Ruggerio Jr.
Tony, who had witnessed his first murder at age fourteen, grew up with a silver spoon in the family mansion and drove the latest sports cars. His lavish wedding included 1,500 guests, one of whom was Hugh Addonizio, later a New Jersey mayor who ended up with a decade long prison sentence. Tony suffered from ulcers and saw a psychiatrist who helped him work through his issues of taking over his dad's business, a task for which he was ill-equipped. In the Boiardo headquarters, "The Barn," over expresso, the mobsters bragged about their exploits, unaware of a F.B.I. wiretap. Tony, "How about the time we hit the little Jew?' Ray "Gyp" DeCarlo, "As little as they are, they struggle." Tony: "The Boot hit with a hammer. The guy goes down and he comes up. He spit at me and said, "You f***!" Those were his dying words. On another tape, Richie bragged he stuffed a victim in a trunk and then set the car on fire. He recalled that he must have "burned like a bastard."
Left in charge by his father who was vacationing in Italy with his "goomah," Tony organized a meeting accompanied by Big Pussy. By its conclusion, Tony and Big Pussy had sustained gun-shot wounds. A very displeased Richie killed the bartender, a hapless bystander.
By the 1960s, Richie was in Leesburg State Prison with a conviction of conspiracy to violate gambling laws. Tony passed away from a heart attack in 1978 at age sixty-four; his father died six years later at age ninety-three. By meeting the Grim Reaper on their own terms, the Boiardos flaunted the biblical injunction, "Those who live by the sword shall die by the sword."