It Took a Yankee (1926)
Urban legend has it that the word golf is an acronym for gentlemen only ladies forbidden. Although the etymology is incorrect, what is true is that women and sports have often seemed incompatible. If a lady attempted to sneak in during the ancient Olympic Games, the men would throw her off Mount Typaeon. Fortunately, Gertrude Ederle merited a kinder fate, and she became the first woman to conquer the English Channel.
The Jazz Age mermaid proved what could happen when women were freed from corsets, long skirts, and stockings. Gertrude Caroline, nicknamed Trudy, was born in 1905, one of four daughters and two sons of German immigrants Henry Ederle, owner of a successful New York City butcher shop, and his wife, Anna. At the age of eight, Gertrude had her first encounter with deep water, and the result was she almost drowned. The experience encouraged her to learn to swim; her father taught her by tying a rope around her waist and throwing her into a river. She later recalled of her summers at her family cottage in Highlands, in Monmouth County, on the Jersey Shore, "I just went out the back door and jumped in the Shrewsbury River." At age five she had developed a hearing problem after a bout of measles, and though the doctor cautioned exposure to water would worsen her disability, she never heeded his advice.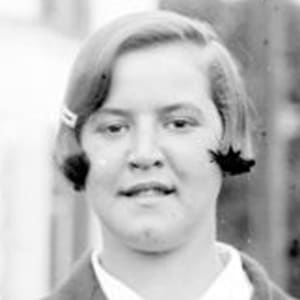 At age twelve, Gertrude joined the famed Women's Swimming Association in Manhattan and made her mark in amateur competitions. Word of her aquatic prowess spread, and she found herself representing America in the 1924 Paris Olympics. Away from home, she had the time of her life; she said of her sojourn in France, "We used to get a taxi and go around Paris. We'd stand up and go screaming around the streets. People would say, 'There go the crazy Americans.' We sure did have a lot of fun." Gertrude won a gold and bronze medal, an accomplishment more impressive as she had performed with an injured knee. Moreover, along with the other female American athletes from the United States, she had the handicap of fatigue. The girls were staying in hotels far from the center of Paris because American officials did not want them contaminated with what they viewed as the city's bohemian morals, and they travelled five to six hours each day to practice in the Olympic pool.
Gertrude's rendezvous with history began when Helen Wainright, an Olympic teammate, had been the Women's Swimming Association's candidate to attempt what no other woman had done before: swim the English Channel. After Helen sustained an injury when she stepped off a New York City trolley, the club pinned its hopes-and provided the funding- on Ederle.
Her 1925 bid to accomplish the feat terminated in failure. Her coach, a Scott named Jabez Wolffe, had grabbed her arm after he felt she was in jeopardy, a move that had immediately disqualified Ederle. Gertrude was furious at the unwanted-and what she claimed was unmerited- aid. She felt he had acted out of envy as he had tried and failed to make the crossing twenty-two times. She was also less than impressed when he told reporters, "The torments of seasickness, inflammation of the eyes, great cold and other disagreeable features may prove too much for any woman swimmer." At the time she worried, "All I could wonder was, 'What will they think of me back in the States?'"
She embarked on the same mission the following year with a new coach, Englishman Bill Burgess, who, in 1911, had been the second person to swim the Channel. Rather than ask the Association to back her yet again, she raised the requisite $9,000. With the help of her sister Margaret, (Meg) she designed a red two-piece bathing suit-something considered scandalous in the era-one that would not drag in the waves yet would be "decent in case I failed, and they had to drag me out." Ederle also created her wraparound goggles; ones kept watertight with molten candle wax. On August 6th, shortly after 7 a.m., Meg smeared her with lanolin, petroleum jelly, olive oil, and lard to protect her from both the cold and poisonous jellyfish before she waded into the water at Cape Gris-Nez, France. She saw a red ball on the French shore, a warning to small craft to avoid a sea that promised to be very choppy. "Please, God, help me," she prayed. She made her way towards England using the basic crawl and, at times, sang "Let Me Call You Sweetheart" to the rhythm of her stroke. Concerned about her well-being, the crew constantly asked, "Do you want to come out, Trudy?" Her invariable response, "What for?" The exchange led to her nickname of "What For?" The reporters on board sang "Yes! We Have No Bananas" until the weather turned nasty, and they were sick over the side of their boat. Gertrude's determination was helped by tantalizing bait. In the boat, her father and Meg held up signs which held messages such as "one wheel" "two wheels," a reference to the red roadster she had been promised if she proved successful.
As Gertrude approached her destination, thousands of spectators who crowded the shores on a beach near the white cliffs of Dover could make out her red-capped head. They realized Gertrude was on the brink of becoming a historic first, but what they did not realize was the final few hundred yards of a Channel swim are always the hardest. Dozens of hopefuls, cold and disorientated, had been driven back by the unforgiving tides and currents within the sight of shore-aquatic incarnations of Moses- able to see the Promised Land only to be denied entry. The previous year Bernard Freyberg had succumbed 300 yards from success, and he had won a Victoria Cross at the Battle of the Somme. If a World War I hero had met defeat, what was the likelihood the female teenager could beat the odds? Bookies estimated her chances of failure at six to one. In the 1926 issue of the London Daily Sketch, journalist John Hayward advised women to stop chasing an absurd dream as "no woman has ever yet been anywhere near success and wasn't likely to be." The male doom-mongers had admired the ladies pluck but patronizingly had pointed out that if only five men had ever swum the Channel, what hope was there for the fairer sex?
With nightfall descending, Gertrude approached the British coast and recalled when her foot touched the sand it "was a wonderful moment." Not only was Ederle the first woman to conquer the Channel, she also bested the previous record set by Sebastian Tirabocchi, an Italian who lived in Argentina. The statistic marked the first time in sporting history that a woman had completed an event in a shorter time than a man. If she had been able to clip along in a straight line, it would have been a 21-mile trip. Because the sea had proven so rough, she had, in actuality, swam 35 miles.
For a brief, shining moment, the endless arguments over whether the female sex could compete physically against men was suspended. A week later, Gertrude boarded the Cunard steamship Berengaria for the voyage home. As the vessel approached New York, she received a request, "Miss Ederle, would you please go to the upper deck? The planes want to welcome you. They want to drop flowers down." Her response, "You're kidding, aren't you?" They were not. "So I went up there. The planes circled around and swooped down and dropped those bouquets. They were just gorgeous. I never felt anything like that. I was proud, very, very proud, so proud." When Ederle returned to the States, an estimated two million New Yorkers lined the sidewalks chanting, "Trudy! Trudy!" and showered her with applause-and hills of confetti. Officials ushered her into Mayor Jimmy Walker's office in City Hall as exuberant crowds stormed the doors. The Mayor compared Ederle's achievement to Moses parting the Red Sea. News of her success pushed the stories of Rudolph Valentino's funeral and Jack Dempsey's training for the Gene Tunney fight off the front pages. Years later, when others had successfully swum the Channel, Grover A. Whalen, New York City's official greeter, said that of all the celebrities he had welcomed, not one made the impact of the girl from the Jersey Shore. The New York Times contented of the historic first was, "the biggest thing in athletics ever done by a woman, or a man for that matter." France's Le Figaro described her as "the most glorious of nymphs" while Germany's Nachtausgabe heralded her swim as "one of the greatest athletic achievements of all time." Heywood Broun in The World newspaper forecasted, "When Gertrude Ederle struck out from France she left behind her a world which has believed for a great many centuries that women is the weaker vessel. Much of government, most of law and practically all of morality is based upon this assumption. It may be that she will turn out to be an even greater discoverer than Columbus. It was only a continent which he found." President Calvin Coolidge invited her to the White House and pronounced her "America's best girl." Paraded before surging crowds, the shy, hearing-impaired young woman became the toast of many towns. A song written about her, "Tell Me, Trudy, Who is Going to Be the Lucky One?" referred to the cascade of marriage proposals that came her way; she accepted none. Gertrude appeared in the movie Swim Girl, Swim in 1927 for a fee of $8,000 and toured America's vaudeville stages for a reported $2,000 to $3,000 a week demonstrating her Channel-beating stroke in a specially built swimming tank. She later made cameo appearances at Billy Rose's Aquacade at the New York World's Fair in 1939.
While others might have milked fame and fortune, Gertrude never felt comfortable in the spotlight and willingly faded into the shadow while aviator Charles Lindberg and baseball great Babe Ruth astonished the world with new feats. In 1928, on the eve of a European tour, Gertrude had a nervous breakdown and retreated from public view. Five years later, she suffered a debilitating spinal injury when she tripped on an apartment stairway. She spent more than four years in a cast, and her legs wasted away from inactivity. Her hearing worsened, and her fiancé abandoned her. When reporters discovered her on the anniversary of her achievement, their columns reported her fall from fame and headlines read, "Trudy Has Swum Sea of Troubles."
Although Ederle had proved the fickleness of fate she had paved the watery way for others such as the second woman, American Mille Gade and the third, British Mercedes Glitze and a host of others.
Gertrude's final years before her death in 2003 from cardiac arrest were spent far afield from her glory days, in a nursing home in Wyckoff, New Jersey. The ninety-eight-year-old mostly watched television, legs wrapped in a red plaid blanket, unable to walk. She said she missed her adored Meg who had predeceased her. However, she retained her "What For?" pluck as evidenced when she reminisced about the day she had her rendezvous with history, "It was just that everybody was saying it couldn't be done. Well, every time somebody said that, I wanted to prove it could be done. It took a Yankee to show them how."