Black Magic (1987)
In 1973, the Doobie Brothers crooned, "I wanna get lost in your rock' n' roll and drift away." Thirteen years later the lyrics, rather than a paean to romantic fulfillment, alluded to women who had to drift away from their dream of becoming the Founding Mothers of Cleveland's newly instituted Rock and Roll Hall of Fame. The gender gap reared its head when the music emporium listed its first ten inductees: Buddy Holly, Chuck Berry, Elvis Presley, Fats Domino, James Brown, Jerry Lee Lewis, Little Richard, Ray Charles, Sam Cooke, and the Everly Brothers. Apparently, the museum did not abide by First Lady Abigail Adam's admonition, "Remember the ladies." The decision did not sit well with those consecrated to the Women's Liberation Movement. Had society not read Germaine Greer's The Female Eunuch, perused Gloria Steinem's Ms. Magazine, listened to Helen Reddy's "I am Woman"? Perhaps their struggle finally bore fruit: in 1988, Aretha Louise Franklin received her R-E-S-P-E-C-T when she became the first female inductee in the Rock & Roll Hall of Fame.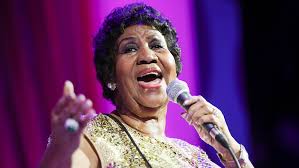 The Queen of Soul was born in Memphis, Tennessee, in 1942. Her mother, Barbara Siggers Franklin, was a gospel singer and pianist. Her father, Clarence la Vaughn, C. L., preached black-liberation theology, and his career as a pastor led the family from Memphis to Buffalo and then to Detroit. Her parents separated over C. L.'s wandering eye when Aretha was six, leaving her in her father's care. Barbara remained in contact with her children who were devastated when she passed away four years later after a heart attack. A rock star among preachers, C. L. was known as "the man with the golden voice." His sermons, often delivered beneath a neon-blue crucifix, were broadcast on radio and released on vinyl. With his celebrity status, he charged $4,000 for appearances. Dr. Martin Luther King, Jr. stayed with the family when he visited Detroit, and C. L. helped him organize the historic Walk to Freedom.
The Franklin household door was always open to musicians such as Mahalia Jackson who served as Aretha's music mentor. Future Motown artists such as Smokey Robinson and Diana Ross lived nearby. After hearing Clara Ward perform at her aunt's funeral, Aretha taught herself to play the piano before she was ten and emulated songs from the radio and her records. Proud of his daughter's magnificent voice, C. L. placed her on a chair in his church, and she became a star soloist. C. L. told her with her God-given talent she would one day sing for kings and queens. At age twelve, Aretha became pregnant and had son Clarence two months before her thirteenth birthday. His father was Donald Burk, a boy she knew from school. At age fourteen, she had a second son, Edward, whose father was Edward Jordan. She dropped out of school after having her children and ditching diaper duty went on tour with C. L., leaving Big Mama, her grandmother, with baby rearing responsibilities.
Aretha left for New York City at eighteen, hoping to become a star in the music industry. John Hammond, the Columbia Records executive who had championed Billie Holiday and would one day bring Bob Dylan and Bruce Springsteen to his label, signed Aretha in 1960. The following year she met and married Ted White, who became her manager and the father of their son, Ted Jr.
In 1967, after her contract ended, Aretha moved to Atlantic Records. For her first session, Ms. Franklin travelled to FAME Studios in Muscle Shoals, Alabama, to record a smoldering blues ballad with an all-white group of studio musicians. Their song, "I Never Loved a Man the Way I Love You," detailed a woman's devotion to a no-good man. Ted got into a drunken fistfight with the trumpet player, and husband and wife returned to New York. The song recorded that evening went on to sell a million records and launched Aretha's reign as the Queen of Soul. On Valentine's Day, Aretha recorded "Respect," a demand to be treated with dignity and the instruction to "give it to me when you get home." The daughter of the preacher man's song caught on with the black-power movement, feminists, and human rights activists across the world. In 2018, it became a symbol of the #MeToo Movement. Ms. Franklin stated, "I think women have to be strong. Some people will run all over you." The signature song surged to Number One and garnered Aretha her first two Grammy Awards for best R & B and for the best R & B performance (an award she won each succeeding year through 1975). By the end of 1968, she had made three more recordings for her label including the wildly popular "I Say a Little Prayer" and "You Make Me Feel Like a Natural Woman."
Janis Joplin said of Ms. Franklin that she was, "the best chick singer since Billie Holiday." Ray Charles's take, "I don't know anybody that can sing a song like Aretha Franklin. Nobody. Period." Time magazine billed the eighteen- time Grammy winner as "The Sound of Soul," and she graced its 1968 cover. The feature article stated that Franklin's music channeled her own pain, sorrow, and resilience in a way that aligned with soul music's past. Her soaring notes also encompassed a nation's sorrow when she sang at the memorial service for the Reverend Dr. Martin Luther King, Jr.
Despite her runaway success, Aretha's personal life was in upheaval. The extremely private woman lifted the curtain of the confessional when she admitted, "I've been hurt-hurt bad." White, rather than make his wife feel like a natural woman, roughed her up in public, and the lyrics of her song "I Never Loved a Man the Way I Love You" took on a personal significance, especially with the line, "You're a no-good heart breaker." Before their 1969 divorce, she dropped White as her manager and filed a restraining order against him. She took to self-medicating with alcohol and went through a period of heavy drinking before she attained sobriety. In 1972, she had an affair with her road manager, Ken Cunningham, and had son, Kecalf. His name was an acronym of Ken E. Cunningham and Aretha Louise Franklin. Having reclaimed her life, she released her blockbuster "Amazing Grace" that sold two million records making it one of the best-selling gospel albums of all time. Aretha branched out to film in her appearance as a waitress in the movie The Blues Brothers where she revived her former hit "Think." The song was Ms. Franklin's feminist anthem that delivered an unprecedented voice to women. A fourth trip down the aisle was with her marriage to actor Glynn Turman that spanned the years 1978 to 1984. The split was amicable enough for her to sing the title song for his television series A Different World. The soul singer lamented, "Falling out of love is like losing weight. It's a lot easier putting it on than taking it off."
Despite Aretha's demanding schedule, she became an activist, well aware that she would be stepping on conservative toes. In 1970, Franklin offered to post bail for Angela Davis, a member of the Communist Party. Davis had been charged with conspiracy, kidnaping, and murder. C. L., concerned about the repercussions for his daughter's career, advised her to avoid any association with the radical. Despite his advice, Aretha continued in Davis's support and offered to post her bail of $250,000.
With Aretha's childhood loss of her mother, absences from her sons, and her two failed marriages, her one constant was her father. In 1979, robbers shot C. L. during a home invasion, and he remained in a coma until his death in 1984. During those pain-laden years, Aretha shuttled between her residence in California and her childhood home in Detroit-where she eventually relocated-to be at his side.
With the disco era, her popularity waned, but Aretha recorded duets with Elton John, Whitney Houston, and James Brown. She also rallied with televised triumphs such as a noteworthy appearance at the 1998 Grammy Awards where she substituted at the last minute for the ailing Luciano Pavarotti by performing a Puccini aria. On Divas Live for VH1, she steamrolled fellow stars Mariah Carey and Celine Dion. Part of her appeal was, unlike these divas or Diana Ross, Ms. Franklin, with her considerable girth, looked like every woman, a fact that made her more relatable. If she were concerned about body image, she never let it show. Onstage she often wore tube tops and leotards, unapologetic for her weight. In her later years, she favored strapless gowns and upon occasion slapped her ample backside.
Aretha donned a primmer and proper demeanor when she sang "My Country 'Tis of Thee" at President Barack Obama's inauguration. The auspicious occasion was one of the first times Ms. Franklin was EVER upstaged-by her hat-adorned with a giant, angled bow ringed with Swarovski crystals that ended up on display in the Smithsonian. (Ms. Franklin, a clotheshorse, had a favorite milliner and a preferred furrier. She also travelled with a valet who carried the singer's designer purse on and off the stage at concerts.) The diva had traversed this presidential path before: she had performed at pre-inauguration concerts for Jimmy Carter and Bill Clinton. Ever since Franklin's star had appeared in the music firmament, every powerhouse songstress- worth her weight in sequins-has been measured against the Queen of Soul. In addition to all her awards, the girl who had been a college dropout garnered several honorary degrees from Yale, Princeton, and Harvard. In 2005, Aretha received the Presidential Medal of Freedom.
Though Franklin's career cooled in the 1970s as Roberta Flack's star ascended, she rebounded in the mid-1980s. Even in her later years, Ms. Franklin never became a museum fixture. In 2014, Aretha recorded "Aretha Franklin Sings the Great Diva Classics" that included her take on Adele's "Rolling in the Deep." In 2015, she entertained Pope Francis and brought down the house at the Kennedy Center when she sang "You Make Me Feel Like a Natural Woman." Carole King almost fell from her balcony in exuberance; President Obama wiped away a tear. Two years later, she appeared at the Cathedral of Saint John the Divine in New York City during Elton John's 25th anniversary gala for his AIDS Foundation.
The New York Times reporter, Rob Hoeerburger, met Ms. Franklin for lunch and asked if Dennis Edwards, the lead singer of the Temptations, who had been the final performer at her 69th birthday bash, had been the love of her life. She coyly responded, "The love of my life? I'm much too young to answer that question."
Aretha Louise Franklin opened the door of the Rock and Roll Hall of Fame thereby allowing other women to enter: the Supremes, Janis Joplin, Joni Mitchell. Currently, in the seesaw of gender, only 43 of the 317 inductees have been female. However, in the words of Dylan, "The times they are a changing," and the museum is becoming ever more open to the fact that women have a voice. For being the first possessor of estrogen to enter the emporium, Aretha deserves undying R-E-S-P-E-C-T. Because of her courage and indomitable spirit, she put a new spin on the term Black Magic.