THE MAN WITH THE GOLDEN PEN
Bond. James Bond. This was the classic greeting of the most dashing member of Her Majesty's Secret Service. However, if people knew the biography of his creator, Ian Fleming, they might have thought of him as Bondage. James Bondage. And he was met, lash for lash, by his ladylove.
When one thinks of the British peerage the image is often of impeccably dressed aristocrats conversing in the Queen's English. The customary term to describe this breed is 'stiff upper lip' but stiff, when it came to Ian Lancaster Fleming, only referred to an overworked part of his anatomy. His father was Valentine Fleming, killed in the Western Front when his son was nine. The former Member of Parliament was held in such high esteem his obituary was penned by Sir Winston Churchill. Ian was raised by his uber-domineering wealthy mother who constantly humiliated him and whose clutches left such an imprint he equated a walk down the aisle with one down the green mile. He quickly bored of his lovers-chiefly those married to other men- (his pick-up line was asking if a woman cared to sleep with him.,), confiding to a friend that females were like pets, men the only real human beings. However, he changed his mantra when he met a fellow member of the peerage who shared his sexual persuasion; it was a union made in sado-masochistic heaven.
Ann Geraldine Mary Charteris was born at Stanway, Gloucestershire, on June 19, 1913, but after the death of her mother lived with her grandparents in the Cotswolds. In the upper-class milieu plays were penned for her and her siblings by the author of Peter Pan, Sir James Barrie. In 1932 Ann married her first suitor, Baron Shane Edward Robert O'Neil, a wealthy man with a position in the capital. She subsequently became London's leading hostess. However, despite her marriage and children, Raymond and Fionn, she was not satisfied with a life of servants and baronial halls and began a love affair with Esmond Cecil Harmsworth, heir to Lord Rothermere, owner of the Daily Mail. She was not the least bit ruffled when her two men played bridge together.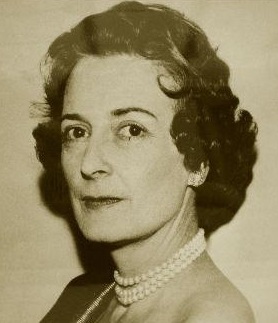 When her husband went to war in 1939, bored with only one sexual partner, she simultaneously began seeing Ian Fleming, an influential assistant to the director of naval affairs who she first met at a swimming-pool in the chic French seaside resort of Le Tourquet. She was immediately drawn to the twenty-eight-year-old who she described as a "handsome, moody creature" with his Grecian-Roman profile and crooked nose, a result of a football injury. After living on the Continent, Fleming could seduce women in four languages, something that delighted Ann. When her husband was killed in Italy in 1944, she wanted to become Mrs. Fleming but as Ian explained marriage was not on his radar.
Ever practical, she became the wife of Viscount Rothermere instead, with whom she lived in great luxury at Warwick House, off Green Park. In their mansion she battled post war austerity by throwing sumptuous parties whose guests included Sigmund Freud's artist grandson, Lucien. She also busied herself as the power behind the throne of the Daily Mail and serving as mother to her children. However, the multi-tasking and free-thinking Ann continued her affair with Ian, who had become a journalist at the Sunday Times. Independently wealthy, he spent three months a year at his beloved seaside home in Jamaica, Goldeneye, christened after the codename of his wartime intelligence project. When he was gone, they wrote letters of yearning to each another; in one Ann declared, "I long for you to whip me because I love being hurt by you and kissed afterwards. It's very lonely not to be beaten and shouted at every five minutes." Equally sentimental, Ian responded, "All the love I have for you has grown out of me because you made it grow. Without you I would still be hard and dead and cold and quite unable to write this childish letter, full of love and jealousies and adolescence." Desperate for Ian's company- or flagellation- she told Esmond she was leaving for a vacation in Jamaica to visit her friend Noel Coward and Ian and Ann resumed their affair against a Caribbean backdrop. What put a crimp in their passion was Ann's pregnancy, (fathered by Fleming,) Baby Mary passed away after eight hours. Upon learning of the affair, Rothermere magnanimously forgave his errant wife with the caveat she never see Fleming again. For Ann, that was akin to telling Niagara's waters not to fall; she left home and estate and became the mistress of Goldeneye.
Their home became a Mecca to esteemed guests such as Truman Capote, Graham Greene and Evelyn Waugh who often walked down the steps to the beach where they speared their lunch. Visitors were surprised how their hosts managed to go through so many wet towels, always piled Babel-fashion in the laundry room. If those sodden towels could speak, what a tale they would tell. They were used to relieve the stinging burns of whips, slippers, and hairbrushes with which the lovers routinely beat one another-Ian inflicting pain more often than Ann.
Their guests began to get an inkling of the usage of the towels when they noticed an abundance of books strewn about whose spines were emblazed with the word 'flagellation' replete with illustrations of men and women standing over one another, whips posed. The sado-masochism came to a grinding halt when Ann once more became pregnant, and her long-suffering spouse finally filed for divorce. Fleming decided to bite the bullet and do the chivalrous thing by asking Ann to be his wife. After all, she was carrying his child and could match him lash for lash. They were married in 1952 in Port Maria's Town Hall; Noel Coward served as best man.
It was the impending baby which also gave birth to the most dapper spy since Sherlock Holmes. Ian, a commitment-phobe, was wary of his impending nuptial, and yet desired to do right by marrying the woman he loved. To stave off his angst, he took Anne's suggestion he write a novel. He later recalled, "I was just on the edge of getting married and I was frenzied at the prospect of this great step in my life after having been a bachelor for so long and I really wanted to take my mind off the agony and so I decided to sit down and write a book."
He ordered a gold-plated typewriter from London and his first order of business was to name his protagonist. As he pondered the moniker, his face was wreathed in smoke from his personalized cigarettes-a Balkan and Turkish mixture made especially for him-ensconced in a Dunhill holder. He brushed aside his original impulse of calling his fictional creation something upper class and stuffy, like 'Peregrine Carruthers;' exotic things would happen to and around his high-living spy so in contrast, he wanted his name to be as dull as possible.
It was at this point his eye was caught by a book, Birds of the West Indies, penned by his American neighbor, James Bond. The idea behind "007" came from a prefix that appeared on British intelligence files during the War. The character was the wish fulfillment alter ego of the author though they shared similarities: love of scrambled eggs, gambling, golf, and women. His opening line of Casino Royale set the tone for the rest of its pages, "The scent and smoke of a casino are nauseating at three in the morning." As with his relationship with Ann, sex and cruelty went hand in hand in his novels.
Before shipping it off for hopeful publication he offered Ann to dedicate it to her; she refused as she said her name was too aristocratic to be associated with a work she deemed pornographic. Fleming threw himself into the marketing of his fictional child but the key to its success was when America's new President, John F. Kennedy, announced it was among his bedside books. He was said to have been reading Bond the night before he was assassinated, as was his killer. The novel became wildly successful-but the same could not be said of the Fleming marriage.
It was not Goldeneye's transformation from a haven of S&M to a haven for a child, (whips replaced by nappies,) which curbed Fleming's lust for Ann, as he doted on son Caspar, nicknamed 003-and-a-half. Indeed, he was the inspiration behind Bond's childhood classic Chitty Chitty Bang Bang. Rather, it was Ann's Cesarean which left disfiguring scars on her stomach that cooled Ian's ardor. He had a horror of physical abnormalities. Ann admitted it put the death knell on intimacy. And soon other cracks appeared on the marital horizon.
While Bond found a casino at three in the morning nauseating, Ann began to feel a similar sensation after extended periods in Jamaica and began spending time in their Regency house in Victoria Square, London, where she again became the nucleus of the glitterati such as Evelyn Waugh. Ian felt these events stuffy and preferred dinner and bridge at Boodle's Club when he was in London promoting his series of books and stayed at another of their homes in Sevenhampton, near Wiltshire. A 1962 letter from Ian depicts their mutual misery, "In the present twilight we are hurting each other to an extent that makes life hardly bearable." Their increasingly separate lives led to a series of affairs: Anne with Labor Party leader Hugh Gaitskell and Ian with innumerable women. Apparently, his habitual pick-up line was even more potent when he became the writer with the golden arm. However, while Ann was comfortable with her husband's foray into infidelity, she felt entirely different when the physical adultery became an emotional one.
Fleming, who had always served as a sexual magnet became the one smitten when he met Blanche Blackwell, scion of an old Jewish Jamaican family. His habitual pick-up line was altered upon their first encounter when he inquired if she were a lesbian. The answer became apparent when they embarked on a love affair sprinkled with affection rather than blows. Ann was devastated when the spy who loved her began to love another. In tribute to his new dark-haired muse Ian immortalized her in the character of Pussy Galore, the lesbian gang leader in Goldfinger. In a nod to a mea culpa, when the Flemings were in England, Blanche planted flowers in the garden at Goldeneye. Ann, not appreciating the neighborly gesture, tore up the shrubs and hurled them into the sea. To a visiting friend Mrs. Fleming pointed out Blanche's estate and remarked, "On the left is the house that belongs to Ian's Jamaican wife. You may look, but I cannot."
The tug-of-war between mistress and wife ended after Ian's heart-attack which failed to curtail his seventy cigarettes and bottle of gin a day habit. Fleming lived as hard as his fictional creation, one whose central preoccupation was a determination, as the spy had stated, "not to waste my days in trying to prolong them. "The title of his novel, Nobody Lives Forever came to pass when Fleming died in a Canterbury hospital in 1964, on Caspar's twelfth birthday. Blanche, suffering from the ostracism of a mistress, was not welcome at his funeral services. However, she became the owner of Goldeneye which she shared with her son Christopher, who helped make reggae music and singer Bob Marley word famous. Ann was bereft by the death of the man whose life had shadowed her own for thirty years. Caspar was equally devastated and began acting out. Ann wrote Evelyn Waugh, "Caspar hates me and talks of little but matricide. What should I do?" Caspar died from a drug overdose at age twenty-three, plagued by the same demons which had pursued his father; his mother had to be sedated when she received the news. Ann never recovered from the deaths of husband and son and became a reclusive alcoholic. In 1981, after succumbing to cancer, she was laid to rest beside Ian and Caspar in Sevenhampton.
Although Ian Fleming and his idealized alter ego have become world-renowned icons, Ann has been lost in the shadow of the Bond beauties. However, without her, Ian never would have become the man with the golden pen.