Behind Every Great Man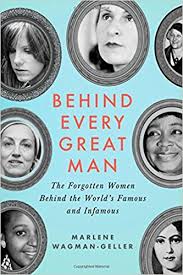 "For most of history, Anonymous was a woman."
–Virginia Woolf
The idea for Behind Every Great Man was the result of serendipity-and it arrived through the unlikely person of former First Lady Laura Bush. In a White House roast, she likened herself to a character from Desperate Housewives. "I am married to the president of the United States and here is our typical evening: nine o'clock, Mr. Excitement here is sound asleep, and I am watching Desperate Housewives. Ladies and Gentlemen, I am a desperate housewife!"
After reading this, I rolled my eyes-she was married to the president, her daughters look like they posed for a Norman Rockwell painting, and her wealth was as vast as her native Texas. A lot she had to be desperate about! However, her words started me wondering about the real desperate housewives of history, those who lived and died with their lives forgotten.
It suddenly donned on me that though I was knowledgeable about the men who left their fingerprints on the face of time, I knew nothing about their significant others. Behind Every Great Man was born.
The women profiled are not those who commandeered time in the spotlight themselves, as their biographies and stories are already part of our cultural psyche. The criteria for inclusion entailed marriage/relationship to a famous spouse who outshone them- narcissists tend not to give spousal credit. While Oscar Wilde is known as the literary great imprisoned for "the love that dare not speak its name," few know of Constance (an apt metaphor for Oscar's Semper Fidelis wife) who found herself wed to Europe's most infamous homosexual.
While everyone is familiar with Germany's notorious Nazi dictator and his trademark mustache, few know much about his mystery woman, Eva Braun-Hitler's consort for fourteen years and wife for forty hours. Their relationship leaves lingering questions: was she the first Lady of Nazism or just an apolitical blond who lived in his Bavarian mountain retreat, oblivious to the genocide of which her lover was architect?
Can one love a monster and yet not be evil oneself?
The women were chosen by the following process. First, I thought of a famous colorful man, and if his wife dwelled in the shadows, I investigated. If her life were an intriguing one and shone light on a hitherto unknown aspect of her husband, she merited a chapter. During the process, I discovered fascinating, strange, and sometimes romantic new information.
For example, when Warren Buffett's wife, Susan, departed for San Francisco to become a "geriatric gypsy," she asked Astrid Menka, a middle-aged, never-married, Latvian immigrant to look after her husband. Soon, Christmas cards were signed "Warren, Susan, and Astrid." After Susan passed away, Buffett married his mistress, making her the spouse of the world's second richest man. This certainly offers hope to all middle-aged Latvian cocktail waitresses.
Once I had decided on the wife, I delved into her biography. Just as diamonds were Marilyn's best friend, for the writer it is the Internet. My process was to google her name, and then I turned to the most reputable sites, those aligned to the world's leading newspaper and magazines such as The New York Times, The Washington Post, the New Yorker, Newsweek, Vanity Fair, as well as British media The Daily Mail, the Observer, and The Telegraph.
However, because some of the women had been relegated to a historical footnote, I often had to go to secondary sources. This was especially true of Kasturba Gandhi whose story is not even well-known in India. After an investigation, I realized how hard life was as Mrs. Mahatma. She bore him four sons who she single-handedly raised as hubby was too busy fasting and fighting the British. She also suffered incarceration in both South Africa and India for her part in passive nonresistance. She died in Aga Khan Prison; the English had arrested her to put pressure on her husband.
In the course of my research, I was able to communicate with people who knew the women profiled and provided valuable insights. Valerie Leveroni Corral, who runs the Santa Cruz Women's and men's Alliance for Medical Marijuana, reminisced she was, "Laura Huxley's devoted friend and humble servant."
She was with Laura at the end and read to her the same passages Laura had read to Aldous from the Tibetan Book of the Dead. Denis Berry was Rosemary Leary's friend and housemate in Aptos, California. Denis descried her as "bright, funny, and warm" and recalled the 'high'-lights of when she hung out with the Learys. Mirandi Babitz, a therapist in Torrance, California, once had the unique experience of sharing a home with Pamela and Jim Morrison. She recalled the period as "very stoned times."
By casting light on the wife (or girlfriend) behind the famous man, we can begin to understand these "better halves" who left indelible lines on the visage of history through their husbands and their own works. In the feminist essay, "A Room of One's Own," Virginia Woolf stated, "A woman must have money and a room of her own if she is to write fiction." Behind Every Great Man explores the biographies of those who never received a room of their own to shine. Ms. Woolf's pronouncement has proved true, "For most of history anonymous was a woman."

Originally Published on Books by Women