"Artist Laureate" (1930)
The painting, American Gothic, is as emblematic of America as the bald eagle, the stars and stripes, and the Statue of Liberty. Yet many would be stumped as to the identity of the man and the woman who stand in front of the country's second most famous white house.
The artist, Grant Wood, kept his heart in a zip lock bag; the only two women he let enter were his mother, Hattie, and his sister, Nancy Rebecca, (Nan). Nan was born in 1899, in a farmhouse in Anamosa, Iowa, the fourth child and only daughter of devout Quakers. When Nan was sixteen-months old, Francis, her father, died; as a result, Hattie sold their farm and took her family to Cedar Rapids.
Nan aspired to attend art school; however, her Aunt Sallie –with whom she lived along with her mother-sent her to the Cedar Rapids Business College, explaining one artist in the family was enough. Later, Nan remarked that she became "the world's worst stenographer." While Grant was in Europe, in 1924, Nan married Edward Graham, a real estate investor. As Grant had no head for business, he trusted Nan with his finances. When he returned, he asked how much money he had in the bank. After Nan told him there was a $100.00, he replied that would be her wedding gift.
In 1930, Grant was teaching an art class in Eldon, Iowa, and chanced upon a small, white farmhouse with a Gothic window. He planned to use the structure in a painting that he would enter into the Art Institute of Chicago's 43rd annual exhibition. For the figures in the foreground, he chose his dentist, Dr. Byron H. Mckeeby, someone he visited often as Grant had a life-long habit of putting sugar on everything he ate-who he included holding a pitchfork. For the woman, he used Nan, who wore their mother's cameo, her only adornment. The only item out of place in the perfectly ordered scene was a curl that escaped from Nan's no-nonsense bun. He painted the two figures in his nearby studio; the models never posed side by side. The Art Institute purchased America Gothic for $300.00, quite the bargain as a 2005 Wood landscape sold for $6.96 million.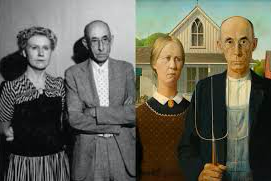 The painting initially provoked an uproar as some people felt that Nan Graham's dour expression was making fun of the local ladies. One critic wrote that she looked like the missing link, another that, "Her face would sour milk." However, the canvass eventually found favor, and Nan said of her inclusion as half of the American Gothic couple, "Grant made a personality out of me. I would have had a very drab life without it." American Gothic also became the subject of endless parodies: Bill and Hill Clinton, Barbie and Ken, Kermit and Miss Piggy.
Nan and Edward moved to Riverside, California, where her passions included creating collages and working as a fierce defender of Grant's legacy. In 1977, Nan told reporters that she almost had a heart attack when Larry Flynt's Hustler magazine ran a "topless" version of American Gothic. She sued Flynt for defamation of character and asked for $10 million in damages; a judge ruled in Flynt's favor. In 1984, widowed and blind, Nan died at age ninety-one in a nursing home.
There are divergent opinions of American Gothic: Does it criticize the Heartland or affirm its values? However, there is no doubt as to the high esteem a sister held for her brother. She wrote of her mother's words, "It's better to be born lucky than to be born rich. 'I was born lucky, for I was the sister of Grant Wood, the Artist Laureate of the nation.'"