A Tale of Two Cities   (1835)
Only under one roof can guests rub elbows with the game-changers of history: the artists and activists, the saints and sinners. And fascinating as the lives of these individuals may be, the most intriguing member of the gathering is its hostess.
It is said that on his deathbed, King Louis XV of France made the prophetic statement, "Apres moi, le deluge." The flood arrived fifteen years later with the revolution that sounded the death knell of the Bourbon dynasty. The woman who had a front-row seat to the blood-strewn tapestry was Marie, born in Strasbourg, in 1761, to Anne Marie Grosholz who had to endure the twin challenge of becoming a mother and a widow when the Franco-Prussian war claimed the life of her German soldier husband, Joseph. As her spouse's salary had been her sole means of support, Anne worked as a maid for Dr. Philippe Curtius. The physician grew so fond of Anne-he was a big fan of her casseroles-he took her and Marie to his native Switzerland.
Marie grew up in a household where random body parts were lying around, not because Phillipe was a serial killer, but as he made wax figures as aids in medical research. A brilliant protégée, Marie surpassed her Phillipe in skill, and upon their return to France she did so as his adopted niece and apprentice. News of the woman who wrought wonders in wax spread, and the royal family hired her as an art teacher for Princess Elizabeth. While Marie worked in Versailles, her uncle plotted with the agitators committed to depose the royal family. The situation imploded when a mob stormed the palace and arrested King Louis XVI, Marie Antoinette, and Marie. In La Force Prison, Marie, her mother, and their cellmate, Josephine de Beauharnais, had their heads shaved for their appointment with the guillotine. In vain, Marie reasoned with her captors that she had been an employee, that she was a daughter of a maid, that she was the niece of their supporter. However, when the revolutionaries realized she was the go-to gal for making wax models, they offered her a Faustian bargain; her release for fashioning death masks of her former royal hosts. One assignment was to take a cast of the decomposing body of Jean-Paul Marat who had been stabbed in his bathtub.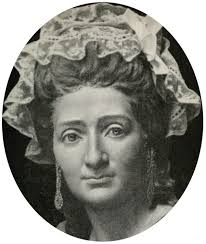 Marie survived the terror by keeping her head when others were literally losing their own. She married the younger Francois Tussaud with whom she had sons Joseph and Francois. Her husband squandered Curtius' inheritance and, at age forty, Marie left for England with a trunk of wax aristocratic heads and her eldest child. In an era when the only independent businesswomen were those who sold their flesh, Marie peddled another form of flesh, one made of wax. Madame was to make a business from beheadings.
Madame Tussaud's currently has branches from Bangkok to Berlin and receives 2.5 million annual visitors; the Merlin Group purchased Tussauds for a billion pounds, and it remains the crown jewel in British tourism. On display are several of the death masks and an original blade from a guillotine displayed in the Chamber of Horrors, along with English murderers; there are other original works such as a reclining Madame du Barry, her chest still moving up and down thanks to a clockwork device.
In the entrance of the English emporium is the last wax figure Marie fashioned, a self-portrait of her at age eighty-one; she is so life-like one is tempted to ask the price of admission. The little lady's storied life, like Charles Dickens' classic novel, encompassed the best and worst of times, her own tale of two cities.