Who Shot J. R.? (1936)
Dynasty, the 1980s soap opera, reflected the glitz and greed of an oil-rich family from Denver. Catherine Oxenberg, who played the role of Amanda Carrington in Dynasty is a real-life princess. She hails from a nonfictional European dynasty that makes the Carringtons seem like the Waltons.
Catherine's grandfather, Prince Paul of Yugoslavia, while a student at Oxford, was friends with the Duke of Kent, his future brother-in-law, the Duke of York, later King George VI, the latter of whom served as his best man when he married Princess Olga of Greece and Denmark. Along with his studies, Paul indulged in his hobby of acquiring canvases bearing signatures such as Titian, Monet, and van Gogh.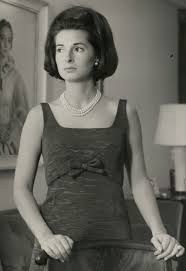 After the Italian dictator, Benito Mussolini, orchestrated the assassination of Paul's first cousin, King Alexander I, in Marseilles, France, the prince served as regent for Peter, the king's eleven-year-old son. Paul erected the Palladian-style White Palace where his youngest and only daughter, Jelisaveta Karađjorđjević, known as Princess Elizabeth of Yugoslavia, was born.
World War II proved the Regent's version of Sophie's choice: Hitler summoned Paul to Berchtesgaden, and during a five-hour meeting, stated that unless the prince signed the Tripartite Pact, a non-aggression pact with Germany, the Nazis would invade Yugoslavia. A damning photograph showed Jelisaveta's parents, elegantly attired, lunching with the Goebbels family. Reluctantly, Prince Paul acquiesced.
Infuriated, the Serbians took to the streets shouting, "Better a grave than a slave!" Peering from the windows of the White Palace, the four-year-old Princess saw tanks and a frenzied mob. Within two weeks, a British-backed coup ended the rule of the regent. Branded a war criminal, Paul's sentence was incarceration in Kenya; the family had four hours to ready themselves for exile. To distract Jelisaveta, her brother read her a story that permitted her nurse time to pack. En route, the Karađjorđjevićs were permitted a stopover in Athens where they had a brief respite with maternal grandmother, Grand Duchess Elena Vladimirovna of Russia. The reunion was bittersweet as Elena was cold towards her son-in-law who she felt had delivered his family and country into the abyss. As Jelisaveta stated, "I've never been in therapy, but I probably should have-it was all so dramatic and frightening."
The African incarceration was bleak for Jelisaveta; her brothers were in boarding school, her mother was often in Greece or England, leaving her alone with her deeply depressed father. For three years, the Karađjorđjevićs lived in the dilapidated house of the recently murdered Lord Errol. In 1943, General Smut allowed the family to move to the Cape, and Jelisaveta found herself in the novel situation of attending school. At age ten, the Princess struck a classmate for taunting her with the words, "her father had been friends with Hitler." Another child, after bullying her for the same reason, held Jelisaveta's head underwater in a swimming pool. In her new locale, the princess remained "dislocated," "I remember thinking if I shut my eyes long enough and tight enough, and walk around a tree, I'll open them and be back home."
After the war, Marshal Tito's communist regime stripped the Karađjorđjevićs of their citizenship, forbade them from ever returning to Yugoslavia, and confiscated the White Palace, and other real estate holdings-worth $2 billion in contemporary currency. The princess without a country later stated, "I didn't represent anything. I had this stupid name,,,Who was I?" Four years later, when King George VI and Queen Elizabeth visited South Africa, over official objections, the royals showed support for their friend that lessened the family's social pariah status. At age thirteen, Jelisaveta's parents enrolled her at Tudor Hall, a "horrible boarding school" in England. The child tried to deflect her pedigreed background by dropping her title of princess and traded Jelisaveta for Elizabeth, Karađjorđjević for George.
In 1949, upon Paul's release, the family moved to Paris. There, the Karađjorđjevićs once again became a lightning rod for tragedy; while a student at Oxford, Nicholas died in a car crash. He had been her favorite brother, and Jelisaveta was further grief-stricken when her grandmother and her aunt passed away soon afterwards. She mournfully recalled, "There was a deep feeling of gloom and doom in our home. No music was played, and for three years only black was worn. I had no social life, and in fact I think I had no friends. The future looked bleak." As a respite, she wanted to attend Oxford, but her father refused. Instead, she remained in Paris and studied piano and art history, "neither with much enthusiasm," and grew more and more depressed. Desponded, Jelisaveta stated, "I was nobody, and nothing. I didn't belong anywhere, and was burdened with a stupid, antiquated title. Every morning when I woke up I dreaded having to see and live through another day." The princess felt she was "headed for the nuthouse."
During a ski trip, Jelisaveta met Howard Oxenberg, seventeen years her senior, with whom she shared few commonalties: he was American, Jewish, and a dress manufacturer. They married in 1961, and through her title, she associated with Andy Warhol and John F. Kennedy. Jelisaveta remains close with her first-born daughter, Catherine, and helped her through the ordeal when granddaughter, India, became embroiled in the NXIVM sex-slave cult. However, she is estranged from her second child, Christina, who insists she is the love child of JFK. Christina refers to her mother as "Genghis Khan," and her sister as "a veritable drooling sinkhole of want-" the latter a jab at Catherine's nine-day marriage to producer Robert Evans. Their relationship, one that the princess described as a disaster, imploded after six years. Second husband, Neil Balfour, was an English banker with whom she had son, Nicholas. In 1974, after actor Richard Burton's divorce from Elizabeth Taylor, the son of a coal miner and the princess announced their engagement. His alcoholism led to their breakup. Her take on Burton, "He was charming and entertaining but not when he's had an entire bottle of gin." Richard rebounded by remarrying his first Elizabeth. The princess's third husband, a former Peruvian prime minister, Manuel Ulloa Elias, was instrumental in returning a royal to her roots.
Through her connection to Manuel, in 1987, Jelisaveta obtained diplomatic status that allowed her to visit the country of her birth. She said of the occasion, "I felt like a ghost. No one knew I existed. I cried for 24 hours. And then we left." Her homeland remained a siren, and she returned, first for three days, and then for two months. What caused her great distress was the communist regime had erased her family's history, and the Serbs only knew her daughter from her Dynasty days. During a visit to a monastery at Studenica, a monk exclaimed, "You're Amanda's mother! Please write in the visitors' book that you're Amanda's mother!" The princess added to the anecdote, "The previous night's episode had been particularly raunchy."
Although her relationship with Manuel became "irrelevant," he provided her with her life's raison d' etre: to restore the Karađjorđjević reputation. Her concerted campaign bore fruit: seventy years after Prince Paul's downfall, the Serbian Supreme Court ruled he had not been an enemy of state. Of her twenty-year long crusade, the Princess effused, "I cannot believe it. My father would have been over the moon. I am just sorry I cannot tell him myself." The royal who had lived in Africa, Paris, Greece, England, and the United States, moved to an apartment in Belgrade, surrounded by family photographs, and decorated with mementoes that bespoke a storied history. In 2004, Jelisaveta ran for the presidency of her native country where she placed sixth of sixteen candidates.
Further vindication arrived when the Serbian government granted permission for Prince Paul, Princess Olga, and their son to be removed from their graves in Lausanne, Switzerland, for reburial in the land of their ancestors. Accompanied by Catherine and Nicholas, Jelisaveta watched as soldiers, dressed in medieval costumes of red tunics and chain mail, Karađjorđjević swords at hips, bore the coffins, draped in Serbian flags, to Topola, the small town where King Peter I had built a family mausoleum. After their internment in the royal crypt, Jelisaveta said, "After so many years of pain and alienation, I knew that now the three of them would be together for eternity in their home country."
Jelisaveta Karađjorđjević, who has lived in far-flung capitals, who has had three husbands and three children, remains the enigmatic Yugoslavian princess. The royal with the storied past remains as mysterious as the one posed in the cliffhanger from season two of Dallas, the rival of Dynasty, "Who shot J. R.?"