We Two (1819)
A British woman, watching Sarah Bernhardt's performance in Antony and Cleopatra, stated, "How different, how very different, from the home life of our own dear Queen." The comment attested to the high approval rating of Queen Victoria and to the belief she led a life of propriety. In truth, her biography makes contemporary soap opera stars seem staid.
The woman who ruled over an empire on which the sun never set, whose descendants shaped world history, bore a name synonymous with the nineteenth century. Princess Victoria Hanover was the daughter of Edward, the Duke of Kent, the fourth son of George III and the widowed Princess Victoria, the mother of two. The couple had moved from Victoria's native Germany to England, where their home was Kensington Palace, partially designed by Christopher Wren. The Archbishop of Canterbury and the Bishop of London officiated at Victoria's baptism with a gold font borrowed from the Tower of London. Among the guests was her maternal uncle and benefactor, Prince Leopold, the future King of the Belgians.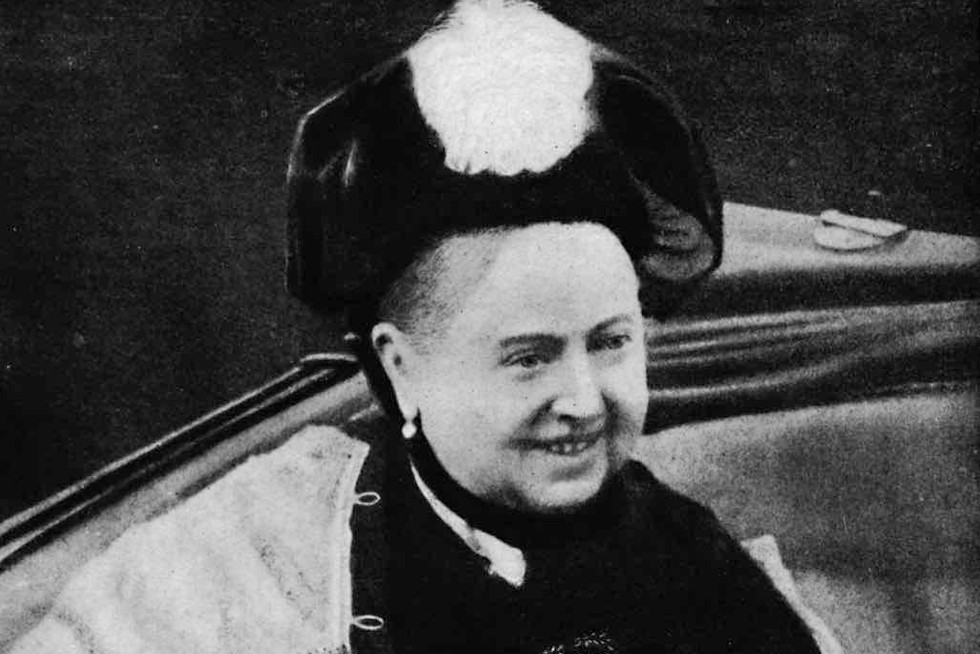 When Victoria was eight months old, Edward fell ill and died after doctors bled him six times with leeches. Once more a widow, knowing only a few words of English, Victoria made her daughter the focus of her world. A German tiger mum, her parenting style put the letter 's' before the word mother. She raised Victoria in a Draconian manner-the Kensington System- wherein she made her share her room, read her diary, and forbid her to walk downstairs unless someone held her hand. Despite the austerity of her youth, the princess possessed a sense of entitlement as manifested when she informed a girl, "And I may call you Jane, but you must not call me Victoria."
At birth, Victoria had been fifth in line to the throne; however, various deaths and illegitimate heirs pushed her further along the line of succession. When her governess told the twelve-year-old that one day she might inherit the throne, Victoria responded, "How many a child would boast, but they don't know the difficulty. There is much splendor and there is much responsibility."
Upon the passing of William IV, the Archbishop of Canterbury and the Lord Chamberlain made haste to Kensington Palace and knelt before the eighteen-year-old newly minted queen. She recalled that after hearing the life-changing news, "I cried much on learning it and ever deplored this contingency."
In 1837, a crowd of 4,000 lined the streets of London to catch a glimpse of Victoria as she headed to her coronation at Westminster Abbey. With her newfound status, Victoria demanded the luxury of an hour alone, followed by her decree that her mother be banished to a distant room. The princess reacted to her daughter's behavior by presenting her with an edition of Shakespeare's play King Lear. The crown made Victoria one of the wealthiest and powerful women in the world, but the scepter of heading a global empire carried a heavy load: London suffered from labor unrest, Ireland was undergoing the Potato Famine, war raged in the Crimea-and that was just in the first two decades of her reign.
The image tattooed in world history regarding the empress is of a heavy-set dowager, whose dour expression echoes her famous phrase, "We are not amused." Legend-though currently discounted- holds she was obsessed with modesty and that her marital advice to her daughters was, "Lie back and think of England." The truth paints a far different portrait.
Along with his royal duties, King Leopold had doubled as matchmaker when he introduced his teenaged niece and nephew: Prince Albert of Germany and Princess Victoria of Britain. Three years later, Albert returned for another visit that proved love at second sight. The adoring Victoria gushed, "My dearest, dearest, dear." As she had become queen, Victoria had to be the one to propose, which she did a few days later.
The wedding captivated the world, partially as royal unions had traditionally been affairs of state rather than of the heart. Charles Dickens, caught up in the frenzy, wrote, "Society is unhinged here by her majesty's marriage, and I am sorry to add that I have fallen hopelessly in love with the Queen." When Albert gifted his fiancée an engagement ring-a novel gesture at the time-he ushered in a worldwide ritual. Victoria was likewise a trailblazer when she chose white for her wedding dress as well as those of her twelve bridesmaids. Previously, brides wore brightly colored gowns that could be worn again for other occasions. She accessorized with Turkish diamond earrings, a sapphire and diamond brooch from her groom; Albert's wedding band bore the date Victoria had proposed. Their subjects lined the streets as the couple rode to their ceremony in a golden carriage bound for the Chapel of St. James's. The nine-foot wedding cake weighed 300 pounds, topped with figures of the bride and groom-a nuptial touch that ushered in another wedding ritual. (Their figurines were dressed in ancient Greek robes).
Victoria lay back-not only for royal heirs-but because she enjoyed carnality. The queen also initiated the use of chloroform for labor pains, (in defiance of the belief that the agony of delivery was women's punishment for Original Sin). Delight in receiving the drug for her eighth baby, Leopold, led to his nickname, Anesthesia. After her ninth delivery, physicians advised the thirty-eight-year-old queen against having more children. Victoria responded, "Can I have no more fun in bed?" An 1858 letter to her pregnant daughter, illustrated the downside of procreation, "What you say of the pride of giving life to an immortal soul is very fine, my dear, but I own I cannot enter into that; I think much more of our being like a cow or a dog at such moments."
The Queen's daughters became the consorts of various European royals, and her grandchildren were rulers of various countries. Along with properties and titles, Victoria passed along the hemophilia gene that played a role in the destruction of her granddaughter, the Tsarina of Russia, and brought down the curtain on the Romanov reign.
As testimony to Shakespeare's admonition, "uneasy lies the head that wears the crown," there were eight assassinations attempts on Victoria's life, one when she was pregnant. She endured the loss of three of her children-Princess Alice, Prince Leopold, and Prince Alfred. However, the most devastating blow was the death of her adored Albert who she had lovingly called "Bertie." In 1861, the man she had deemed "pure perfection," came down with typhoid. As he lay dying, he agreed to her offer of "ein kuss," "one kiss," before he passed away. Beside herself with grief, Victoria preserved his room as a shrine. Albert's final resting place was in the magnificent mausoleum the Queen erected at Frogmore; over the entrance, Victoria had inscribed the words, "Farewell best beloved, here at last I shall rest with thee, with thee in Christ I shall rise again." In his coffin, Victoria placed a "sultry" portrait of herself. For years, Victoria-dubbed the Widow of Windsor-refused to appear in public, and for the rest of her life dressed only in black.
The man who ultimately wrested Victoria from her grief was John Brown, (not the one who raided Harper's Ferry). He was the Victorian Lady Chatterley's lover, gamekeeper, and servant at Balmoral Castle, with whom she enjoyed a twenty-year relationship. Always in his Majesty's service, he aborted an assassin's attempt on her life. A disapproving public referred to John as the Queen's Stallion and the Empress as Mrs. Brown. Evidence of Victoria's high regard for John was she banished her son, then the Duke of Edinburgh, from Buckingham Palace over his refusal to shake "that servant's hand." Despite condemnation, John was able to accomplish what all the queen's horses and all the queen's men could not: he put Victoria together again.
Upon her return to public life, Victoria expanded her empire, the world's most powerful, that included 400 million subjects. In 1877, Victoria became Empress of India-a country she referred to as "the jewel in my crown." Victoria's Golden Jubilee feted her fiftieth year on the throne and ushered in celebrations throughout the empire. For the grand occasion, fifty kings and princes, along with the governing heads of Britain's overseas colonies and dominions, paid homage. A decade later, on her Diamond Jubilee, the Empress embraced the new technology by sending out a telegram thanking her subjects for their devotion.
In 1901, an era ended with the passing of Queen Victoria. As she lay on her deathbed, she whispered that her Pomeranian, Turi, be brought to her bed. Victoria had scrupulously micromanaged her realm and did the same with her funeral. She requested she be buried in a white dress, with her wedding veil placed on her head. Just as Victoria had carried Albert's photograph with her since his passing, she instructed one be buried with her, alongside a cast of his hand. She also had mementoes of John buried with her. A lock of his hair rested in her hand, and she wore a ring that had belonged to his mother. Whatever love affairs the queen may have had, her final word was "Bertie." After his passing, she had longingly referred to their relationship as the time of "We two."