Touch Touch (1932)
"I do not sing politics. I merely sing the truth."
Nelson Mandela, who endured twenty-seven years in South Africa's brutal Robben Island, was instrumental in shaking off the yoke of apartheid. For his life-long arm-wrestle against the Afrikaner regime, he became a beloved icon, the father of his people. Another freedom fighter against colonialism was the woman known by the epithet, "Mama Africa."
Destined to travel long and far from her ancestral home, Zenzile Miriam Makeba's given name originated from the Xhosa language and translates to "you have no one to blame but yourself." Miriam was born the youngest of six children in the black shantytown of Johannesburg to a Xhosa father, Caswell, and Swazi mother, Christina, both tribes hailing from the Eastern Cape region. When Miriam was eighteen days old, local authorities arrested her mother-accompanied by her baby--for a six-month jail term for brewing and selling homemade beer, an illegal activity for Africans. The family later moved north to Transvaal, where Caswell worked as a clerk for Shell; Christina was an Isangoma (a healer and diviner possessed by spirits) who also worked as a maid for white families. Despite the racism and poverty, the Makeba home resonated with the joyful cadence of music: Christina played traditional instruments, and Caswell belonged to a group, the Mississippi 12. After sneaking into church choirs where her sister, Mizpha, sang, Miriam became a member. Her brother, Joseph, introduced her to American great Ella Fitzgerald. Caswell passed away when Miriam was six; poverty necessitated her to later following in her mother's domestic footsteps.
Music, which Miriam described as "a type of magic," provided solace, "Who can keep us down as long as we have our music?" The teachers at her Methodist Training School in Pretoria praised her talent, and she performed "What a Sad Life for a Black Man" with fellow students for King George VI's visit. After Miriam and the other students waited in the rain for the royal, he drove by without stopping. During her teen years, apartheid became the law of the land, and life was even more oppressive for South Africa's indigenous population.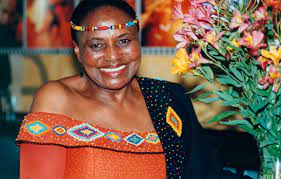 At age seventeen, Miriam began a relationship with James Kubay, with whom she had her only child, Sibongile, (Bongi). After the birth, her doctor advised her to undergo a breast removal after he detected a cancerous growth. Miriam credited her recovery to her mother who treated her with tribal medicine. The couple married, but the union was short-lived: Kubay beat her senseless and slept with her sister.
What helped combat her illness and broken marriage was Miriam's burgeoning artistic success. Since the turn of the century, American jazz and ragtime had blended with Anglican Church hymns in a new genre termed "mbube," one for which her voice was well suited. Makeba's big break arrived in 1954 when she joined the country's 1950s superstar band, the Manhattan Brothers. On tour with her new group, she visited Rhodesia (Zimbabwe) and Congo where her powerful vocals earned her the nickname "The Nightingale." In 1957, Miriam became a soloist in the African Jazz and Variety review that toured Africa for eighteen months. Afterwards, she landed the female lead role in King Kong, a legendary South African musical about the life of a boxer. The show spread her reputation to the white world. The feisty township singer was already a celebrity when she had a cameo in a controversial film, Come Back, Africa, covertly filmed by the American director Lionel Rogosin that he smuggled abroad to broadcast the angst of apartheid. In 1959, Miriam married African Indian balladeer Sony Pillay; it ended the same year. Miriam accompanied Rogosin to the movie's screening at the Venice film festival which appearance earned her international acclaim. Her signature song was "Pata Pata" –that she explained was "the name of a dance we do down Johannesburg way." Audiences were enthralled by the exotic performer in leopard skinned dresses, hair fashioned into corn rolls decorated with large white beads.
While Miriam's songs made her famous, her politics made her infamous to the Afrikaner regime. After making plans to return home upon her mother's death in 1960, she reported to the South African Consulate in Chicago; an official stamped her passport: invalid. Weary of her resistance, her homeland blocked her re-entry, making her a stateless individual. In solidarity, other countries such as Tanzania, Cuba, and Guinea, issued her honorary passports. She became a wandering symbol of her nation's brutality, but it failed to silence their songbird: after the Sharpeville massacre, she recorded "Soweto Blues." When she sang "Pata Pata," audiences swayed to her music and swayed against the regime she consistently denounced. Of her exile, she stated, "No pain matches the pain of not having a country." She said her agony would never abate until she could return to the land that formed the bedrock of her soul.
Calypso singer Harry Belafonte-who she called Big Brother- had been her fan since viewing Come Back, Africa arranged for bookings in the United States. Their album, An Evening With Belafonte/Makebo, garnered a Grammy Award. Through Belafonte's connections, Makeba was a guest on The Steve Allen Show and The Ed Sullivan Show where the latter introduced her as "magnificent." She performed at the Village Vanguard jazz club, Manhattan's hottest night club; in the audience were celebrities Sidney Poitier, Miles Davis, and Bing Crosby-as well as detractors. As Miriam recalled, "At the end of one show, two men come to see me. I can tell right away by their Dutch looks, and by the way they look at me as if they own me, that they are Afrikaners. One of them says, 'We came here because we thought we'd hear music from home. Why don't you sing any lietjies?'"When you start singing in my language," I tell them, "I will start singing in yours." On a positive note, Time Magazine ran a feature on Makeba, and she met her idols Sarah Vaughan, Ella Fitzgerald, and Nina Simone. The African nightingale had an appearance in Carnegie Hall and The Newport Jazz Festival. The mind boggles at the juxtaposition of two women who performed for President Kennedy's 45th birthday celebration at Madison Square Gardens. One was Marilyn Monroe in a sequined figure-hugging gown who purred, "Happy burrthay, Mr. President," and Miriam Makeba in a tribal themed dress who belted out "Pata Pata." Suffering from a fever, Miriam did not go to the after-show party; however, as President Kennedy insisted on meeting her, Belafonte arranged transportation, and she shook the leader of the free world's hand. She said of the encounter, "I was very happy to have met a president of the United States-little me!"
Unlike other entertainers, Miriam did not concern herself with royalties or fame; her onus was to rid the world of the stench of racism. Her arrival in America coincided with the country's civil rights struggle, and Makeba performed at the Reverend Dr. Martin Luther King Jr.'s marches. At the United Nations General Assembly, she followed Belafonte's advice to not be a tornado but to be a submarine when she denounced apartheid; in retaliation, South Africa banned her records. Shortly afterwards, she was the only singer invited by Emperor Haile Selassie to perform in Addis Ababa at the inauguration of the Organization of African Unity.
A third walk down the aisle was with Hugh Masekela, a South African trumpet player; his addictions and her cervical cancer contributed to the demise of their two-year relationship. Her most scandalous marriage took place in 1967 when Miriam wed the militant Stokely Carmichael despite her manager warning her that people were not going to feed the hand that was going to slap them. Carmichael was responsible for designing the Blank Panther logo and the slogan Black Power. Stokely-who went by his adopted name of Kwame Touré- and Miriam moved to Guinea where the leader of the African Marxist state, Sékou Touré, provided sanctuary to enemies of the capitalist west. They lived in a seaside villa where Stokely greeted visitors wearing the green uniform of a Guinean soldier, a pistol at his side. Eschewing anything as prosaic as "Hello," he answered their phone, "Ready for the revolution!" As the wife of Carmichael, Miriam became a double exile: unable to return to the land of her birth and unwelcome in America who turned against her for her guilty by association with the black power radical. Promoters cancelled her concerts; her record company did not call when it was time to release her new album. She became a persona non grata in the United States where the FBI harassed her, and Jamaica, the Bahamas and elsewhere removed their welcome mats. Her unabashed response to the ending of her American career, "I didn't care about that. He was somebody I loved, who loved me, and it was my life."
And that life was not peaceful in her adopted country; in 1970, Portuguese mercenaries launched an invasion. During the year of her 1974 divorce, she sang at the festival that accompanied "The Rumble in the Jungle" in Zaire between Muhammed Ali and George Foreman. Her love of performance was expressed, "The concert stage: This is the one place where I am most at home, where there is no exile." The greatest heartache of her life was the loss of her beloved Bongi who died after a miscarriage and the grieving mother succumbed to a "spiritual madness." Her fifth bid for marital happiness was with Belgium airline executive Bageot Bah that also came with an expiration date. Miriam said of her peaks and valley days, "My life has been like a yo-yo. One minute I'm dining with presidents and emperors, the next I'm hitchhiking. I've accepted it. I say, 'Hey, maybe that's the way it was written, and it has to be.'"
After two decades of obscurity, Miriam returned to the spotlight when she joined Paul Simon's Graceland World Tour. Being part of his entourage thrust her into the eye of a storm as the event went against the United Nations cultural boycott of South Africa, a ruling she had ironically instigated. Although Graceland went against the letter of the ruling, its spirit was born from integrity as the album offered a universal message of brotherhood that transcended politics.
When Nelson Mandela left prison in 1990 and apartheid was in its death throes, Mama Africa could at last end her thirty-one-year exile. She told a crowd of well-wishers who had gathered at the airport, "My umbilical cord is buried in this soil." South Africa reinstated her citizenship. In her ancestral home, she did what she had always done: use music as a balm for healing. Two years later, along with actress Whoopi Goldberg, she starred in the film Sarafina! that revolved around the Soweto youth uprisings.
In 2008, Miriam was performing in Italy at a concert in support of Roberto Saviano, an author who had received death threats after writing about organized crime. She collapsed as she was leaving the stage; Miriam died as a result of cardiac arrest. Mandela said of her passing, "Her music inspired a powerful sense of hope in all of us. She was South Africa's first lady of song." While apartheid translates to "apart," the last song she performed was a plea for unification: "Pata, Pata-Touch, Touch."