The Very Best (1910)
Card aisles appeal to occasions from cradle to grave including those involving weddings, baby showers, and birthdays. Most bear the name Hallmark, a nod to founder Joyce Clyde Hall.
While Johnny Cash sang about a man named Sue, Joyce also lashed back at those who laughed at his feminine name but rather than fists he used words. The king of an empire built on warm fuzzies was born in David City, Nebraska, in 1891, the third son of George and Nancy Hall. His parents christened him Joyce as a Methodist bishop, Isaac W. Joyce, happened to be in town the day of his arrival. His older brother came up with Clyde; Joyce went by J.C.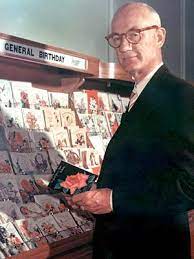 An itinerant preacher, George told his family, (which grew to include two daughters), "the Lord will provide." His youngest son's response, "It's a good idea to give the Lord a little help." When Joyce was seven years old, his father took off; he referred to the hungry years as "the gift of poverty" as it provided a backbone. The times when food was scarce his mother lost her appetite. At age nine, Joyce sold door-to-door products for the California Perfume Company.
While attending high school, Joyce worked for his brothers in their Norfolk, Nebraska, shop for $18.00 a month. The Halls pooled their savings of $540.00 and founded the Norfolk Postcard Company. In 1910, Joyce left for Kansas to establish their enterprise. He had set his sights on that city as Marie Tracy, who had been the prettiest girl in his class, had moved there six months before. He rented a room at the YMCA where he stashed his box of postcards under his bed. His mail-order business allowed him to save $200.
Understanding that the pitfall with postcards was limited space, and messages were not private, Joyce originated greeting cards with pre-printed statements for the word-challenged. In 1915, Joyce had ordered Valentine's Day cards and was $17,000 in debt when his store burned down. He immediately found a new locale and ordered an emergency supply from his engravers who agreed to wait for payment. With a bank loan of $25,000, he reopened. The first card bore a quotation from the poet Edgar Guest, "I'd like to be the kind of friend you are to me." Other contributions were from Walt Disney, Winston Churchill, and Shakespeare. He brought on board artists such as Grandma Moses, Andrew Wyeth, and Winston Churchill. After Ann Jarvis created Mother's Day, the holiday card became a best-seller. During World War I, customers bought record numbers of his product to send overseas. The Halls-his brother had followed him to Kansas-introduced gift-wrapping paper. Another innovation was Joyce changed the name of the company from The Hall Brothers to Hallmark after the hallmark symbol used by goldsmiths in London in the fourteenth century. The name represented quality and incorporated his surname. A gold crown became the corporation's logo.
A high school dropout, Joyce created a program based on the classics and his network, the Hallmark Hall of Fame, broadcast Hamlet, the first time a Shakespeare play was aired on television. Some of the early actors were Katherine Hepburn, Paul Newman, and Sidney Poitier.
Joyce married Elizabeth Ann Dilday who had attended school with his sister Marie. They drove to Quebec City for their honeymoon and enjoyed fifty-five years together. Their first daughter, Elizabeth Ann, was named after Marie's mother. When his wife wanted to name their son Joyce, they compromised with Donald Joyce.
At age sixty-eight, Joyce worked seven days a week where he supervised his 5,000 employees. He remarked, "Work is how I have fun." Home was a Georgian mansion situated on 700-acres. His activities were attending church, reading biographies, and vacationing in Malibu, California. He died in his mansion at age ninety-one, leaving more than a $100 million to charity.
A salesman had penned the company motto on a napkin, a keepsake displayed at Hallmark headquarters, "When you care enough to send the very best."