A Deep Breath (1960)
In Friends, Ross, his ex-wife, Carol, and her partner, Susan, participated in a Lamaze class. The birthing method allowed expectant parents to be active participants in labor, rather than the mother lying helplessly on a hospital bed, the latter handing out cigars in the waiting-room. The prenatal program would not have existed without Dr. Fernand Lamaze.
Born in 1891, in Nancy, in rural Lorraine, France, Fernand was the son of Berthe and Prosper Lamaze. True to his name, Prosper was proud that, as a descendant of peasants, he had become a teacher. His aspiration was Fernand would follow in his professional path.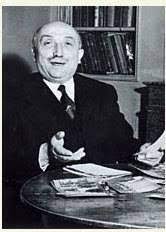 Prosper admired that his son could recite passages from Balzac and Flaubert though he was not a fan of Fernand's trysts with prostitutes on rue des Moulins. In a letter Fernand wrote, "My member came out of the cathouse in a great mood, but my heart is at half-mast."
In 1910, Fernand departed for Paris to study neurology where he took part-time jobs as a waiter and undertaker. He also found lodging and a position at the Institute for the Deaf and Dumb. His job entailed keeping his eye on the students during his night shift. The dormitory reeked of disinfectant and urine, and the abbot doled out corporal punishment in the conviction, "Physical pain is still the only way to stamp out sin and steady the soul." The only luxuries of which Fernand indulged was drinking absinthe and frequenting brothels.
In 1914, Fernand served as a field medic in World War I and took refuge from the horror by recording poetry in his journal. Three years later, after a shell pierced his left thigh, he convalesced in a Parisienne hospital where he fell in love with his nurse, Louise Hunebelle. She had impressed him with how much she could eat. For their 1919 honeymoon, they borrowed bicycles and cycled around Alsace. The bride's wedding present: a case of syphilis.
While Louise was in labor, Fernand spent the night drinking at a bar named the Ship of Fools. At daybreak, he stumbled home to find both a healthy six-and-a-half-pound daughter-and his vocation. The obstetrician had told him, "Your hands give you away." After his first delivery, in 1924, Fernand confided to his diary, "Have finally lost my virginity." Within a decade, Fernand became Europe's most sought-after obstetrician. He also proved a domestic tyrant. Fernand informed the long-suffering Louise that Mme François, his mistress, had to be a dinner guest every other day. François committed suicide in the Seine after Ferdinand refused to divorce Louise. He forbid his daughter, Anne-Marie, to attend the Conservatory of Music, as it was not fitting she become an entertainer.
In 1951, on a trip to the Soviet Union, Fernand observed a thirty-five-year-old Russian deliver a baby in six hours without drugs or pain. Fired with enthusiasm, Fernand returned to Paris to promote the "psychoprophylactic" breathing technique he had observed in Leningrad. A novel approach was the father, rather than handing out cigars in hospital waiting rooms, be present during the delivery. Three years later, a national radio station broadcast a Lamaze delivery. Pope Pius XII gave the method his blessing.
In 1957, the Communist Bluets Hospital, dismissed Fernand as he was unpopular due to claims he was a proponent of Soviet propaganda, that he defied the biblical injunction, "In sorrow thou shall bring forth children." The following day, Fernand passed away from a heart attack. The doctor's burial was in a cemetery in Grosrouvre where his grave is graced by a marble statue. The Communist party sent a wreath. Because of Dr. Lamaze, expectant parents follow his mantra-one Louise abided by as well, "Take a Deep Breath."