Rose is a Rose is a Rose is a Rose
The girl power chant, 'Behind every great man' had a variation in 1920s Paris: 'Behind every great woman is a woman.' Indeed, this proved true for the high priestess of modern art and her consort, who provided a salon in 1920s Paris which served as a Mecca for the leading lights of the Lost Generation.
Gertrude Stein had remarked of her Oakland, California childhood home, "There is no there there." Alice Babette Toklas, whose life was to be forever knitted with Stein, felt the same about her native San Francisco. This was not an indictment of the city, rather a commentary on her mundane existence. As a teen she had studied music at the University of Seattle and displayed such talent she considered a career as a concert pianist. Her dreams dissipated at age twenty when her mother passed away and she took over her role of running a household which consisted of an Orthodox Jewish grandfather, wealthy Polish immigrant father and ten-year-old brother. They appreciated her outstanding cooking but, finding her odd, (for one, she sported a moustache, ) treated her as if she were merely a housekeeper.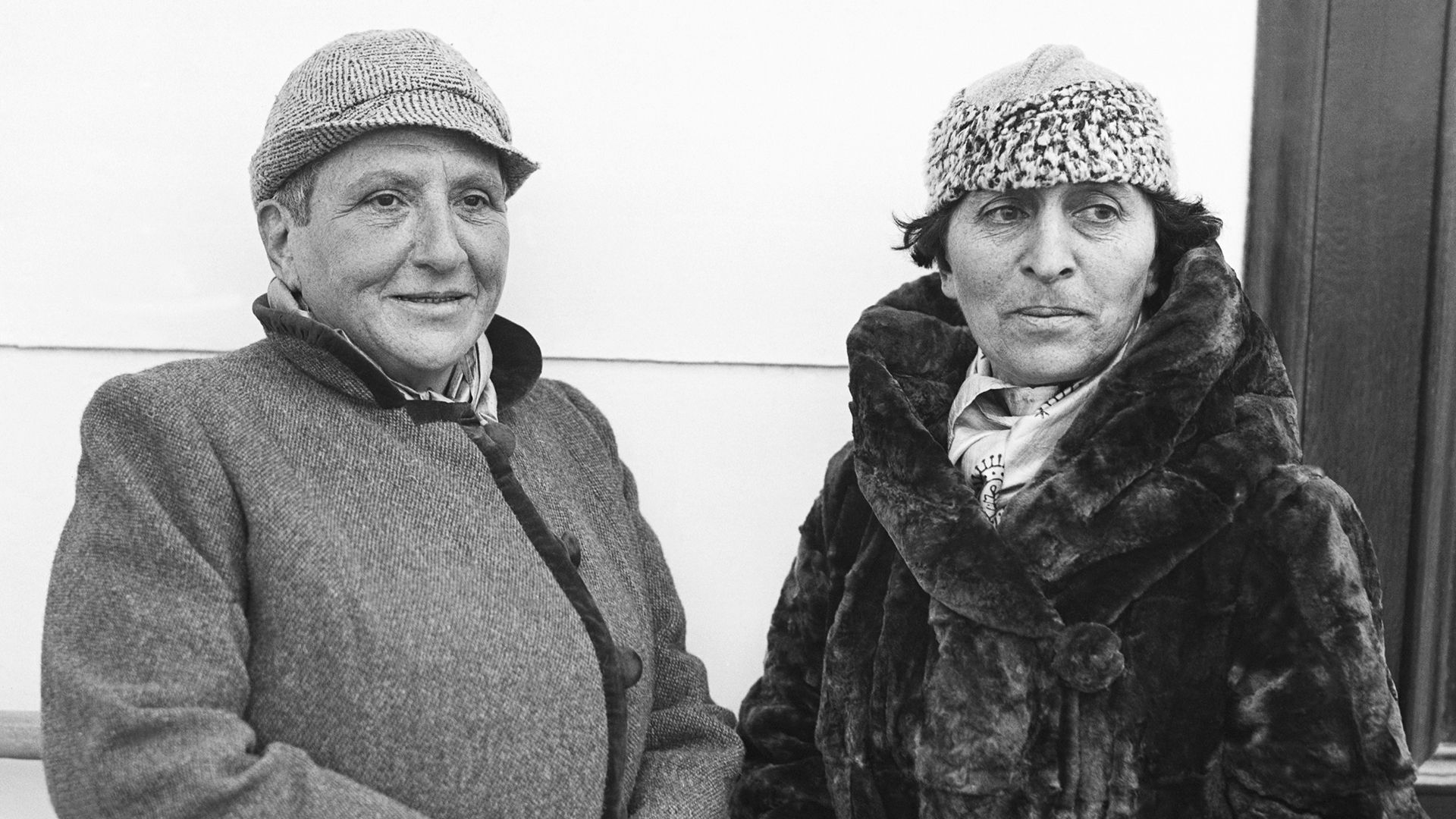 Alice's salvation was the devastating San Francisco earthquake of 1907. Through her neighbor, (and possibly lover,) Harriet Lane Levy, Alice made the acquaintance of Michael and Sarah Stein, who had relocated to France but were in San Francisco to assess damage to their properties. Alice proved a rapt audience; her favorite author was Henry James, the American novelist who penned Portrait of a Lady, and she was intrigued to hear of the places his characters roamed. Michael further piqued her interest when he showed her a portrait by Henri Matisse which showcased the French painter's wife with green stripe running down her nose. Toklas, who possessed an Avant garde nature, related far more to the modernist portrait than to the Old Masters. When Sarah invited the girls to visit if they ever came to Paris, Harriet and Alice commenced packing. They were determined to get there-to escape to a world less conventional than their own. Little did Alice know when she departed, she was to become not merely a permanent Parisian, but one half of the most celebrated lesbian couple in history.
In her 1963 memoir Alice wrote of meeting the one on whose axis her world was to revolve, the very day she arrived in France, "She was a golden brown presence, burned by the Tuscan sun and with a golden glint in her warm brown hair." Alice was immediately smitten by Paris and Gertrude Stein, (Michael's sister,) and the two instantly were joined at far more than just the hip. She adopted the role of cook, muse, confidante to her life companion and beloved. In Cecil Beaton's photographs of the pair, Toklas is always behind Stein, content to dwell in her shadow. But it was a common consensus among their circle that without Alice, Gertrude would not have been Gertrude. One of the foremost feminists of the day, she nevertheless needed a soulmate, one who would be willing to worship at the skirt of her genius.
The couple, although both vertically challenged, were a study in contrasts. Stein, rotund, wore her hair in a Roman emperor cut and favored mannish outfits; Alice, rakishly thin, favored couture attire, though her appearance proved far from what their designers had envisioned. In a nod to 'out of the mouths of babes,' Michael Stein's three-year-old son remarked he liked the man, but why did the woman have a moustache? Two years later Toklas moved into what was to become an iconic address-27 Rue de Fleurus, and her own niche in the pantheon of modern art-as core member of her Gertrude's charmed circle.
The new living arrangement did not sit well with Gertrude's eldest brother Leo whose eclectic taste did not extend to his sister's lifestyle and selection of companion (whom he would never describe by the name of Henry James' novel)- and he took his departure from the home they had shared since moving to Paris Although Leo had been the first to champion the unknown Picasso, Gertrude kept his canvasses while Leo opted for the Cézannes. Delighted at having their own domicile, Alice and Gertrude scattered love notes around their home, signed DD and YD (Dear Dear and Your Dear.) The women strolled the streets of their adopted city and browsed flea markets, walking their enormous white poodle, Basket, who, upon his passing, was replaced by Basket II. In 1908, in a country setting, Gertrude proposed and presented 'wifey' with a ring. Stein wrote of the day, "It happened very simply that they were married. They were naturally married."
Alice would have been content to live in the fringes of French society, but Gertrude needed to be lionized. Hence, they opened their door to soirees which became a Mecca for the modern-minded. On a typical evening one would have found Gertrude, swathed in brown corduroy, sitting in a high-backed Renaissance chair, feet dangling. Guests included Picasso with his latest mistress, Matisse and wife, (sans green stripe running down her nose,) Hemingway, who remarked he and Gertrude were "just like brothers." While Stein dominated in the drawing room, Toklas held court with the geniuses' wives where she engaged in her favorite pastime of gossip. She also held reign in the kitchen and was acknowledged as one of the finest chefs in Paris of her time. Her palette was her kitchen, and all ingredients were purchased from Fauchon, the city's' elite greengrocer. Picasso was smitten with her bass, poached in wine and butter and rewarded Alice's artistry by designing a needlepoint pattern which she used to make a tapestry for a footstool. In a more grandiose gesture, he created a canvass of Ms. Stein; when someone commented she did not look like her portrait, Picasso replied, "It will."
Despite Alice's diminutive stature she was a fierce guardian of the gate and held veto power over entry. One of the exiled was Hemingway, who, though Alice and Gertrude were godmothers to his son John, (whom they had nicknamed Goddy, as they were his godmothers,) became person non gratis when Toklas felt he was getting too chummy with Gertrude. In his memoir, A Moveable Feast, he recounted an argument between the two hostesses, "I heard Miss Toklas speaking to Miss Stein as I have never heard one person speak to another, never, anywhere, ever."
The true apotheosis of Stein, however, began in 1933 with The Autobiography of Alice B. Toklas, actually penned by Gertrude writing in her lover's voice--a paean to hubris. One vignette recounted Alice's first meeting with Stein, "I must say that only three times in my life have I met a genius, and each time a bell within me rang and I was not mistaken, and I may say in each case it was before there was any general recognition of the quality of genius in them. The tree geniuses of whom I wish to speak are Gertrude Stein, Pablo Picasso, and Alfred Whitehead." Each page dripped anecdotes of their famous friends, and because it was not written in the odd cubist-style of her earlier works, (Verses like "Rose is a rose is a rose is a rose",) it became a best-seller and was followed by an enormously successful American tour. The ladies made the front pages of major newspapers and a revolving billboard in Times Square spelled out in lights: Gerty Gerty Stein Stein is back back back. Alice, described as the writer's "constant companion," appeared in outfits topped with a feathered chapeau while Gertrude wore a deerstalker cap. Other highlights in the country from which they had been self-exiled for thirty years was tea with Eleanor Roosevelt in the White House and cocktails with Charlie Chaplin in Beverley Hills. Gertrude had once stated, "I always wanted to be historical, from almost a baby on, I felt that way about it…" The tour cemented her wish.
When World War II broke out, friendscautioned Toklas and Stein to return to America; after all, as Jews and lesbians they were prime targets of the Nazi bull's-eyes. Gertrude refused, "America is my country, but Paris is my hometown." However, they did escape Paris and fled to their country retreat in Bilignin in the south of France. They managed to evade deportation through the aid of Bernard Fay, ironically a Nazi collaborator, who nevertheless used his influence and the Stein wealth to buy them immunity. Post liberation, Stein wrote to Toklas, "I love you so much more/every war more and more and more." When they returned home Alice was devastated that in a Gestapo raid their Picasso petit-point footstool and a pair of Louis XV candlesticks were gone. The Nazis had not taken the art, believing it degenerate. Gertrude comforted her saying they still had their paintings and each other.
In 1946, Stein experienced abdominal pain and was diagnosed with stomach cancer. When the end was near, she left for the American hospital in Neuilly-sur-Seine. Alice sat up on tearful vigil, already grieving the remaining empty years. As Gertrude lay dying, Alice listened to her "deep, full, velvety, contralto's voice for the last time ask, "What is the answer?" followed by "What is the question?" Alice mourned, "I am but a memory of her. I wish to God we had gone together as I always fatuously thought we would-a bomb-a shipwreck-just anything but this." There had been a Basket II to replace Basket the Poodle, but there would be no replacement for Gertrude.
Stein always loved words, but they fell short in her will. She bequeathed all her paintings to Toklas and after her lover's own passing to her nephew Allan. However, through a legal loophole the Stein attorney, Edgar Allan Poe, (the author's great-nephew,) arranged for their removal to a Paris vault when Toklas was in Italy taking a mud cure for arthritis. When she returned all that remained on her walls was the haunting imprint of the masterpieces. If Gertrude has been privy to this horror she would have bemoaned- a thorn is a thorn is a thorn is a thorn. Alice was evicted from the apartment where she had lived and loved with Gertrude and relocated to an austere flat. Destitute, in 1954 she penned The Alice B. Toklas Cookbook which mixed reminiscences and recipes, the most famous for hashish brownies, "In the menu, there should be a climax and a culmination. Come to it gently. One will suffice." The delectable dessert gave rise to the vernacular 'toke-' the inhaling of marijuana.
Stein had once noted, "Life is funny that way. The ones that should naturally should offer do not, and those who have no reason to offer it, do, you never know you never do know where your good-fortune is to come from." In old age, Alice languished in a nursing home, dribbling on a dirty house-robe, when she was befriended by Doda Conrad, a friend from the old days. He took over her upkeep and brought her groceries from the local market, deceptively wrapped in a bag from Fauchon. He took her out to dine despite the fact when she ate oil coagulated on her whiskers. Ironically a stranger came to the aide when her lover's family would not. Life is funny that way.
Gertrude never believed in an afterlife: 'there was no there there.' However, Alice, in a desperate hope to be reunited with her lost love, converted to Catholicism. She asked her priest, "Will this allow me to see Gertrude when I die?" When Alice passed away in 1967, she was interred next to Gertrude in the Pere-Lachaise Cemetery. As Alice had instructed, 'Toklas' was inscribed on the back of their shared tombstone. Even in death she stood aside so her lover could shine.