Om (1949)
Airports have their own DNA and Chicago's O'Hare International Airport, called the "busiest square mile in the world," has an intriguing one. Passengers needing a zen moment can visit terminal 3's yoga room, the famished, head to Gate 8 for the renowned Chicago hotdog, paleontologists can migrate to Terminal 1 to gawk at the 72-foot model skeleton of a brachiosaurus. And hovering over the 7,600-acre airport is the shade of Edward H. "Butch" O'Hare.
In a nod to irony, the man immortalized in the name of an airport garnered his renown by shooting down planes. Butch, the nickname Edward O'Hare went by, was born in 1914, in St. Louis, Missouri, the older brother to Patricia and Marilyn. With little money, the family lived in an apartment above their grandfather's grocery store. Finances picked up when his father, Edward, (E. J.) became an attorney and was able to send his son to the Western Military Academy in Alton. With the O'Hare divorce, Edward took off for Chicago where, to borrow from a Harry Potter book, he could have stated, "I solemnly swear that I am up to no good."
By 1931, Edward had joined the mob and was known as Easy Eddie, the attorney and accountant for Al Capone. For his services, Edward lived in a mansion that held a swimming pool and skating rink. Conscience overcame cash, perhaps stirred by the St. Valentine Day Massacre, perhaps to help his son enter the Naval Academy. Edward gave the Internal Revenue Service Capone's financial records that led to Capone's eleven-year-incarceration in Alcatraz for tax evasion. Easy Eddie's life ended with two shotgun blasts as he drove his new Lincoln down a Chicago Street. The hit had the calling card of the mob. Butch was at the Naval Air Station Pensacola in the Florida Panhandle when he received the news of his father's murder. He took an emergency leave to attend the funeral.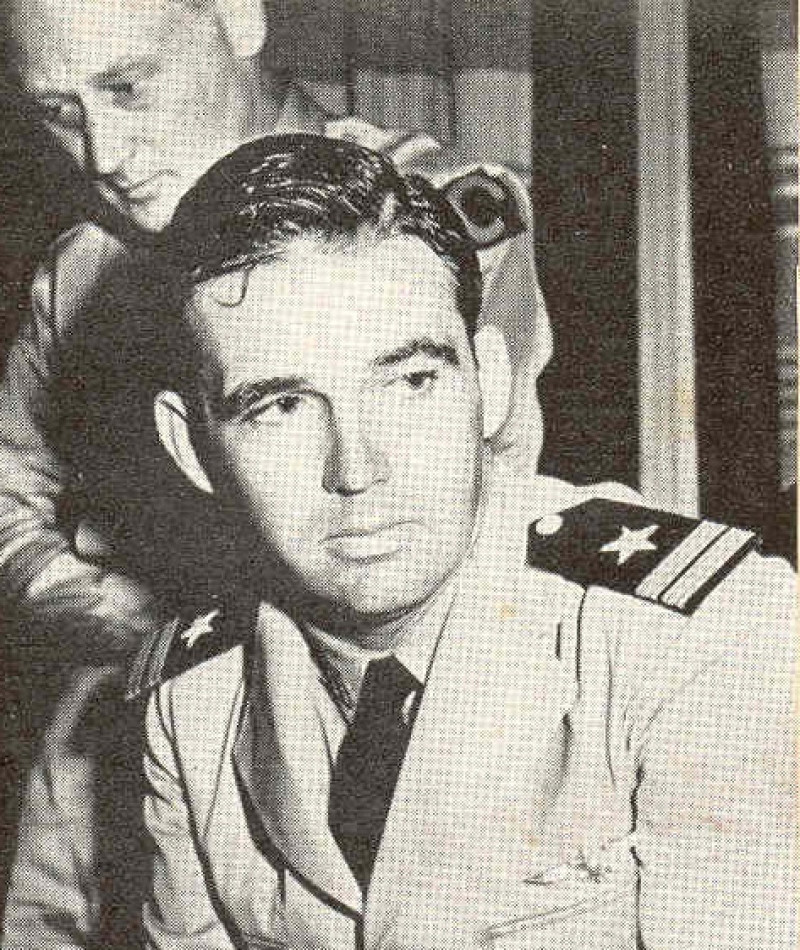 In St. Louis to visit his mother, Butch was introduced to Rita Wooster, a nurse, and asked her to marry him the day they met. Six weeks later, the couple married in St. Mary's Catholic Church in Phoenix. The bombing of Pearl Harbor put the kibosh on their honeymoon as Butch headed to Hawaii. His downing of five Japanese bombers made front page coverage across America, and President Franklin D. Roosevelt summoned Butch to the White House. Rita hung the navy's first Medal of Honor on her top gun husband-the newly decorated Lieutenant Commander- and sat beside him on his hometown parade that drew thousands. The Grumann Aircraft Corporation who made his plane gifted him 1,150 cartons of Luck Strike cigarettes, (a grand total of 230,000 smokes.)
On a November night in 1943 in the South Pacific, Butch led one of the first nighttime fighter missions. A Japanese bomber in a torpedo plane fired at him from behind, and his plane disappeared into the ocean where it forever disappeared in its depths. In 1945, the United States Navy christened a destroyer USS O'Hare in tribute.
Although Butch's connection to Chicago had been his mobster father, the publisher of the Chicago Tribune came up with the idea to name the airport after the fallen war hero. In Terminal 2 is a replica of his F4F Wildcat plane, based on the craft retrieved from Lake Michigan where it had fallen during training. In 1963, President John F. Kennedy presided over a wreath-laying ceremony at O' Hare to honor its namesake.
The story behind the name O'Hare International Airport weaves a seemingly fictional fabric: Presidents Roosevelt and Kennedy and mobster Al Capone; the St. Valentine's Day Massacre and Pearl Harbor, a criminal father and a saintly son. The interplay of good and evil leaves one wanting to go to Terminal 3's Yoga room to escape reality in the monosyllabic "Om."