Of Them All
Juliette Gordon Low Birthplace (opened 1956)
10 East Oglethorpe Avenue, Savannah, Georgia
"The only way we can kill for a moment our pain is by unselfishness." Juliette Gordon Low
"The cookies are coming! The cookies are coming!" so sounds the annual cry that leads to Thin Mints, Tagalongs, or Caramel deLites. Girl Scout cookies satisfy a sweet tooth and supports a charitable cause. Troops around the world take "the midnight train to Georgia" to visit the Juliette Gordon Low Birthplace to salute their founding mother.
Girl Scout season comes and goes, but in Savannah their spirit lives year-round. The movement originated in the Wayne-Gordon House located on Oglethorpe Avenue. A Savannah mayor and Justice of the Supreme Court, James Moore Wayne, built the 1821 Regency style estate. The street name is an allusion to the British James Oglethorpe, the founder of Georgia. His creed for Savannah, "No Liquor! No Slaves! No Lawyers! No Catholics!"
The 1821 four story mansion became the marital home of Eleanor, (Nellie,) and William Washington Gordon II, scions of wealthy families. The second of their six children, Juliette Magill Kinzie, was born in the Gordon home on October 31, 1860. The name Juliette was in honor of her maternal grandmother; her nickname, Daisy, originated with an uncle.
Six months after Juliette's birth, the Civil War erupted. As the owner of the Belmont Plantation in Jefferson Country that depended on slave labor, William served as a Confederate officer. Eleanor's three brothers fought for the North. Relatives took refuge in the Gordon home and Juliette was hard pressed to feed her children, extended family, and household slaves.
In 1864, the Northern general, William Tecumseh Sherman, arrived at the Gordon home to hand-deliver letters from his friend, Elanor's mother. As William had referred to Sherman as the devil, Juliette inquired as to the whereabouts of his horns. The general advised Eleanor of the danger in remaining in Georgia, and she left for Chicago where her family had erected its first residence. With the end of the fighting, the Gordons reunited in Savannah.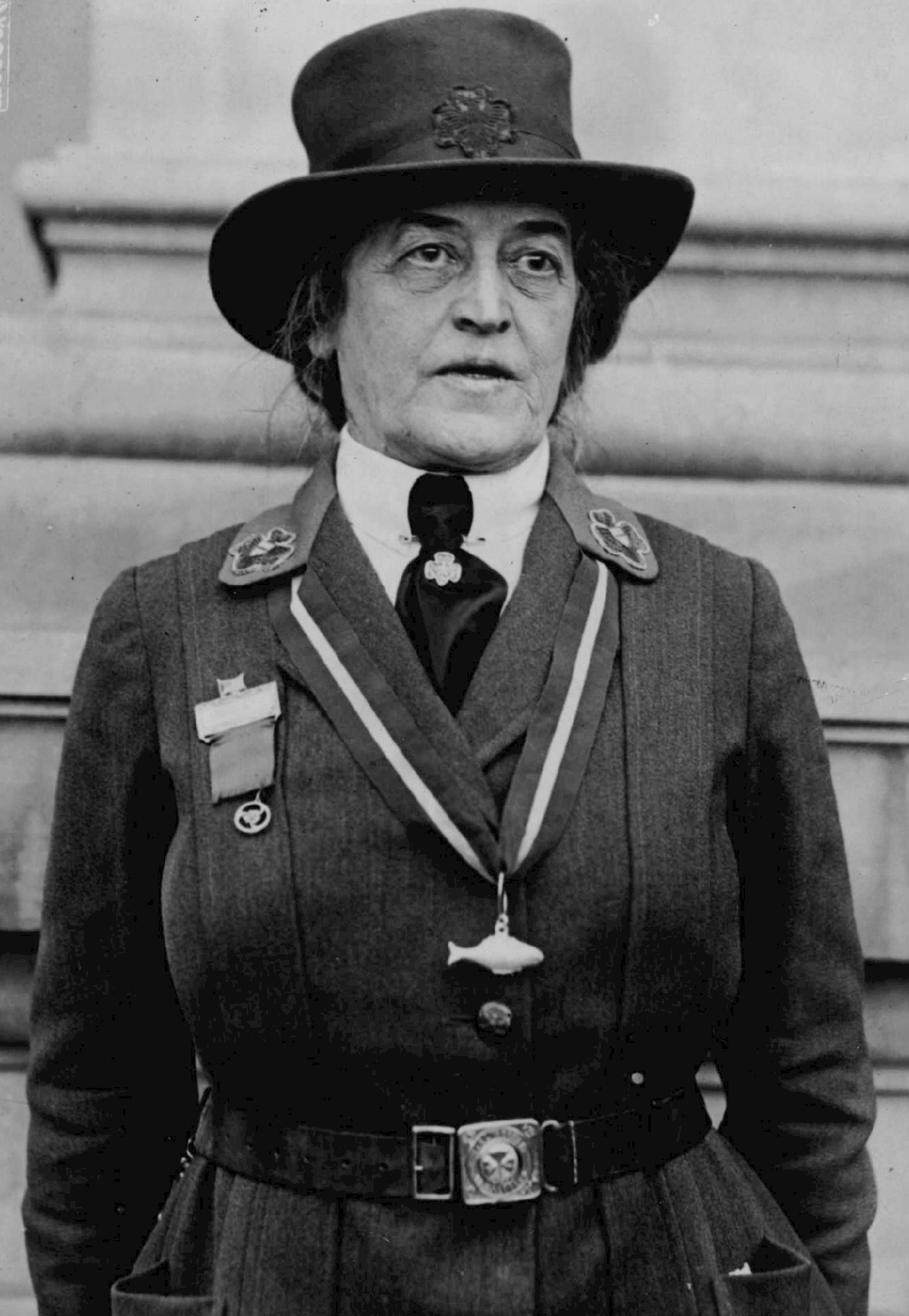 Due to her mischievous nature, Daisy became known as Crazy Daisy. As a child, her cousin, Randolph Anderson, braided taffy into her hair to see if they were the same color. An animal lover, Daisy had a dog, Bow-wow, and a cat, Kittle. Tragedy struck with the scarlet fever death of her sister Alice.
Not far from the Wayne-Gordon House was the Andrew Low House, (currently a Savannah museum) owned by a Scottish immigrant who had made a fortune in cotton. High on the southern hierarchy, Andrew entertained guests such as General Robert E. Lee and writer William Makepeace Thackeray. Andrew moved his family to Britain; during a visit to Savannah, his son, William Mackay Low, became reacquainted with Juliette. William was enamored of the belle's beauty that Edward Hughes captured in a painting that showcased her Scarlett O' Hara waist and auburn hair, (free of taffy). Daisy and Billow, (his nickname,) bonded over a love of animals, horseback riding, and travel. When letters failed to arrive after William returned to Oxford, Juliette embarked on a European tour. Unable to arrange a meeting, Juliette sent him a telegram before her departure, "Goodbye, I sail on the Gallia." His return telegram, "Cum optimo amore." (With the best love.") Goodbye and don't forget W. M. Low."
During a whirlwind of family and social activities, Daisy suffered an agonizing earache that a doctor treated with silver nitrate that resulted in hearing loss. What lifted her spirit was a marriage proposal. The Christ Church ceremony took place on December 21st, the date of her parents' wedding anniversary. Her bridal bouquet held lilies of the valley, a nod to Alice's favorite flower. The eight bridesmaids wore white dresses adorned with a broach designed by the groom. The pin was of a daisy with heart-shaped silver petals encrusted with forty-four diamonds. The stem bore the year: 1886. As the newlyweds waved from their carriage, a grain of rice/confetti landed in Juliette's good ear. The pain necessitated the end of their honeymoon on Saint Catherine's Island. The extraction left her deaf in that ear.
Their British home, Wellesbourne House in Warwickshire, encompassed fifty-acres, three wine cellars, stables for forty horses, and twenty bedrooms. In 1895, the Lows threw a party where the Prince of Wales engaged in only one dance-with Juliette. After a dinner at Rudyard Kipling's home, in evening attire, she went fishing with the author.
For all Wellesbourne House's grandeur, what it lacked was happiness. As a strict Episcopalian, Juliette disapproved of William's excessive drinking, and he looked down on his wife's charitable activities. After Juliette injured her back, William travelled to Albania, India, and Africa, and Japan on his own. For company, Juliette turned to her pets: Polly Poons, her parrot, and Blue Bird, her South American macaw. Motherhood would have provided a balm, but gynecological problems precluded children.
During the outbreak of the Spanish-American War, Juliette returned to Savannah to organize a convalescent hospital. Upon her return, William suggested she live in a wing of Wellesbourne while he and his mistress, Anna Bridges Bateman, occupied another. During their divorce, William passed away. His will left everything to his mistress; Juliette fought for her share and came away with $500,000 as well as the Savannah Andrew Low home.
The Girl Scout motto is, "Be Prepared," but those words did not describe the middle-aged Juliette who was miserable at the way "her cookie" had crumbled. She had counted on a life that involved a husband and children, and she was at an emotional low ebb-until serendipity stepped in. In 1911, at a luncheon, she sat next to Sir Robert Baden-Powell, the founder of the Boy's Scouts that had 40,000 members in France, Germany, and the United States. When 6,000 girls clamored for inclusion, Robert's sister, Agnes, initiated the Girl Guides. Their pledge: "I promise on my honor that I will do my best to do my duty to God and the King."
The evening Juliette arrived in Georgia, she called her cousin Nina Pape, principal of a girls' school, "Come right over. I've got something for the girls of Savannah, and all America, and all the world, and we're going to start it tonight!" The initial meeting took place on March 12, 1912, in the carriage house of the Andrew Low home that became the organization's headquarters. The first of the eighteen inductees was Juliette's niece, Margaret "Daisy Doots" Gordon. Who did not show up was African American girls due to segregation laws. In a nod to the floral association of Daisy-the original troops were the White Rose Patrol and the Carnation Patrol. Uniforms were blue with dark stockings and huge hair ribbons. The members played basketball on outdoor courts surrounded by curtains so that men would not see them in their bloomers. As the leader with the moistest, Juliette showed off a pair of shoes by standing on her head. The girls called their leader Miss Daisy. Some changes in the organization: Girl Guides-with its connotation of females as helpmeets-became the more adventurous sounding Scouts, the blue uniforms transformed to khaki, the revised pledge was, "To do my duty to God and to my country." In the role of British aristocrat, Juliette had dressed in French couture; as head of her organization, her new uniform was a belted khaki jacket, white shirt, and black tie, accessorized by a scout knife, whistle, and wide hat. Dedicated heart and soul to her cause, people viewed Juliette as possessing the "force of a hurricane." She only took a break to recover from the death of her father. Expenses came from her own finances, and, when her money ran low, she sold a valuable pearl necklace, a gift from William, for her cause célèbre. When seeking donations, Daisy pretended not to hear when people refused to offer a donation. As her renown spread, Juliette met with First Ladies, King George V, and Queen Mary.
Although women were unable to vote, attend most universities, or work in most professions, Juliette wanted her Scouts to understand they could nevertheless make a difference. In 1917, a troop from Muskogee, Oklahoma, sold home-baked cookies in support of the soldiers fighting in Europe. The fund-raiser spread like the proverbial wildfire and the Girl Scouts partnered with commercial companies. Under the patronage of Lou Hoover, a future First Lady, sales sky-rocketed. Over the past century, Girl Scout cookies have become a ubiquitous annual treat that generates millions of dollars.
The woman who had founded a fifty-million-member movement passed away in her home at age sixty-six from breast cancer. Her epitaph held the biblical quotation, "Now abideth faith, hope, and love, but the greatest of these is love." An honor guard of her troops escorted her casket to Christ Church. In. the pocket of her uniform was a note with the words, "You are not only the first Girl Scout, but the best Girl Scout of them all."
If Daisy could-in Spoon River Anthology-rise from her grave in the Laurel Grove Cemetery she would be astounded at her posthumous glory. The United States Postal service issued a stamp with her likeness; her portrait hangs in the Smithsonian National Gallery; President Obama honored her with the Presidential Medal of Freedom. She would also be thrilled to know that the Girl Scouts of American own her home and have turned it into a museum to honor her and the organization she instituted. Another touching tribute: before her burial, someone placed Anne Hyde Choate's, (a prominent leader of the organization,) telegram into in the breast pocket of Juliette's uniform that bore the words, "You are not only the first Girl Scout, you are the best Girl Scout of them all."
When one enters a home, the ghosts of yesteryear yet linger. In the House on the corner of Bull Street and Oglethorpe hold echoes of the Gordon family, former household slaves, and General Sherman. Visitors can view original furniture, an impressive staircase with a curved mahogany railing. There are numerous works of art, some created by Juliette, such as the monogrammed front gate, a skill she learned in England. As the first of Savanna's to be designated as a National Historic Landmark, it is fitting that the museum holds historical documents, Girl Scout artifacts, uniforms dating from the organization's inception, and photographs. Juliette's personal effects are her letters, books, and diary. When First Lady Edith Wilson became the 1917 Honorary President, Juliette presented her with a diamond, emerald, and ruby gold Cartier pin that is on display.
The View from Her Window:
In 1864, Juliette watched as the Union troops marched down her street. Later, when her. Grandfather told her that the Confederacy was gone, Juliette asked, "Where did it go?"
NEARBY ATTRACTION: Bonaventure Cemetery
The 100-acre cemetery, situated on the former Bonaventure plantation, appeared in John Berendt's novel, Midnight in the Garden of Good and Evil. One of the graves belongs to the Pulitzer Prize-winning poet, Conrad Aiken. There are also the tombs of many Confederate generals and Civil War soldiers.