Mr. Bojangles (1928)
F. Scott Fitzgerald wrote, "There are no second acts in American lives." His words proved a self-fulfilling prophecy when the hand that penned The Great Gatsby shook so much from alcoholic tremors he could no longer hold a pen. In contrast, other artists have reinvented themselves in their later years, a fact manifested by a woman who proved there was life post The Good Ship Lollipop.
Having given birth to two boys, Shirley's mother, Gertrude, longed for a daughter, one who would be the dancer she had aspired to be. In 1927, her father George had his tonsils removed because a doctor suggested it might improve his chances of siring a girl. Ten months later Shirley Jane Temple was born in Santa Monica, California. By the age of three, for 50 cents a week, she took classes at Ethel Meglin's (a Ziegfeld Folly alumni) Dance Studio in Hollywood where a fellow student was nine-year-old Judy Garland. When a talent scout chose Shirley and eleven other toddlers to star in Baby Burlesks, a series of suggestive one-reel shorts- shades of the future Toddlers & Tiaras-in which Temple imitated Marlene Dietrich, Mae West, and Dolores del Rio, he had launched the career of one of the silver screen's immortal stars. The producers locked any child who misbehaved in a windowless room with only a block of ice as a seat. Before each performance, Gertrude trilled, "Sparkle, Shirley, sparkle!"
Shirley's career really began in 1934 when she starred in Stand Up and Cheer, one of the many films made during a decade in which music chased away an unhappy reality: America was in the grip of the Great Depression and the Nazis had goose-stepped into the Rhineland. Within an hour of completing her song and dance number Baby, Take a Bow, Fox Studios placed her under contract for a year at $150.00 a week. Other roles followed such as The Little Colonel, Heidi, and Wee Willie Winkie; the world was gaga for the tot with the corkscrew curls styled in imitation of silent film star Mary Pickford. Temple later explained the adoration, "People in the Depression wanted something to cheer them up, and they fell in love with a dog, Rin Tin Tin, and a little girl." President Franklin D. Roosevelt proclaimed, "As long as our country has Shirley Temple, we will be all right." Yet there was a down-side to fame. Ms. Temple stopped believing in Santa Claus at age six when her mother took her to see Kris Kringle in a department store and he asked for her autograph.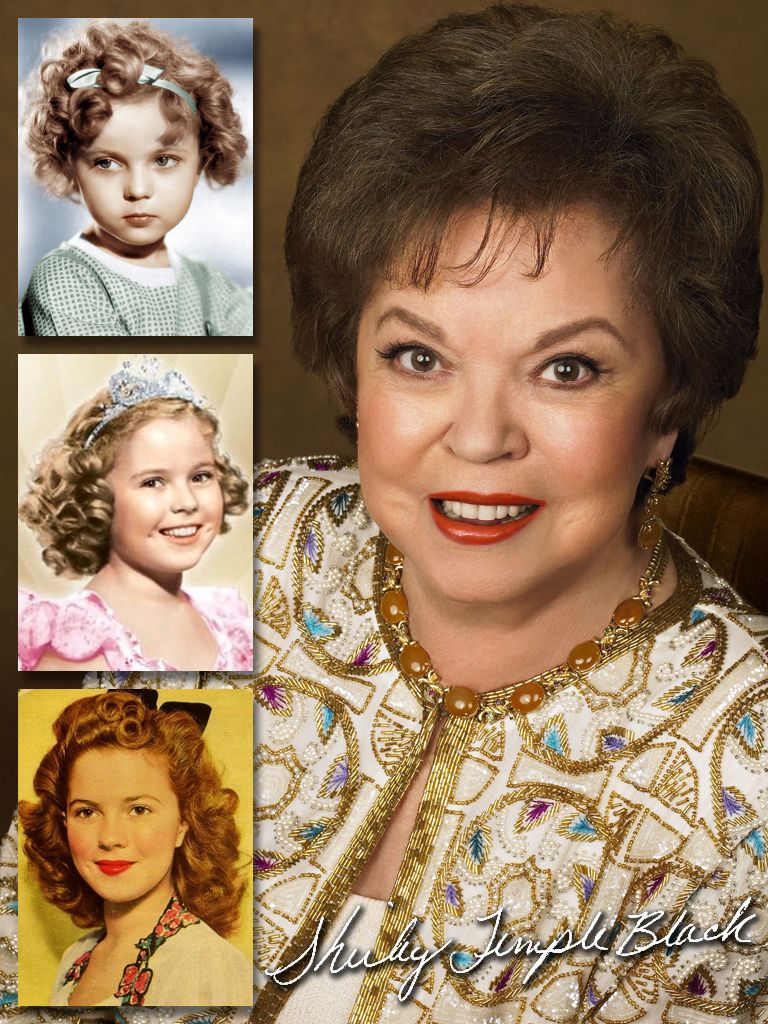 Shirley's fan mail averaged 16,000 letters a month, (Princess Elizabeth and Princess Margaret were her admirers) more than arrived for Greta Garbo. Her birthday brought 167,000 presents-all of which her parents gave to charity. Not only were mothers (like Shirley MacLaine's) naming their little girls after the starlet, they dressed them in S. T. fashion, bought look-alike dolls, (now collector items), and coiled their hair in trademark ringlets. One mother even offered George a stud fee in the hope he would sire another Shirley.
As one of the most successful child stars of the cinema, Temple grew up coloring with Gary Cooper and playing croquet with Orson Welles. She based her comfortability with adults on the softness of their laps and later remarked that J. Edgar Hoover's was the most comfortable. One of the few spankings Shirley received from her father followed a barbeque given by Eleanor Roosevelt at Hyde Park. When her hostess bent down to put chops on the barbeque, the mischievous 10-year-old took aim with her slingshot and landed a pebble smack on the First Lady's rump. She learned geography by tracking her friend- Amelia Earhart's flights and learned about racial prejudice in Palm Springs. She had a lavish suite while her dancing partner Bill Robinson (Bojangles) shared accommodations with the black chauffeurs. Shirley may have been the first white actress allowed to hold hands with a black man in a feature film.
Every night Gertrude coiled her daughter's hair into 56 pin-curls while her evening bedtime story was the next day's script. Accolade followed accolade: a miniature Oscar in 1935- the only one ever awarded to someone so young- her face appeared on a Wheaties box, her little handprints enshrined in the cement of Grauman's Theater, a non-alcoholic drink christened after her. As the most popular star in Hollywood's firmament-with Clark Gable a distant second-her salary increased to $1,000 a week ( $17,000 in today's currency); the biggest and littlest starlet declared her greatest wish was to own a pie factory when she grew up.
The hole in The Good Ship Lollipop appeared when Shirley grew less curly and more curvy and audiences disliked the idea of their favorite baby blossoming into a babe. The fact that she was no longer a little girl was duly noted by The Wizard of Oz producer Arthur Freed who offered her work at MGM, and at their first meeting, unzipped his pants. Naïve regarding male anatomy, -shades of Will Willie Winkie-Shirley giggled when she saw the unfamiliar male anatomy and an infuriated Freed ordered her out of his office. Astute enough to realize America's love affair with Shirley was waning, Gertrude enrolled her in an exclusive girls' school, and the idea of being with her peers seemed more exciting than making a new movie.
At age 17 Shirley was a strong-willed, chain-smoker and accepted a ring from a 22-year-old Army Air Corps sergeant, John Agar, Jr. The intimate wedding she planned turned into a frenzy when 12,000 uninvited guests mobbed her bridesmaids, ripping their blue organza dresses to tatters for souvenirs. Shirley was happy to trade Hollywood for housewife, but Agar proved unequal to the task as the husband of a national institution, and his drinking and affairs led to divorce. Although their relationship had turned into a nightmare Shirley said it brought her "something beautiful," her daughter Linda Susan. Four months later, on a trip to Hawaii with her family, Shirley met wealthy businessman Charles Black who claimed he had never seen a Shirley Temple movie. After her horrific marriage, she contacted her old friend J. Edgar Hoover to arrange an FBI background check. Charles and Shirley tied the knot after a brief courtship and raised Linda Susan, and the two children they had together, Charles Jr., and Lori, in Woodside, California. They remained committed to one another until his passing after 55 years; the devastated widow never removed her late husband's voice from their answering machine.
Shirley felt a need to make another mark and traded in her childhood aspiration for owning a pie factory for a career in politics. Her interest in international work came after doctors diagnosed her brother George with multiple sclerosis in 1952. She became active in local and international MS societies and helped found the federation of MS groups. Shirley hoped to emulate the Californian political success of her former co-star Ronald Reagan who had become governor. She did not garner enough votes; it did not help her chances that bands kept playing "On the Good Ship Lollipop" at campaign stops. In 1969, President Nixon appointed her to the five-member United States delegation to the United Nations General Assembly. She handled her position as professionally as she had her previous acting jobs and spoke out about the problems of the aged, the plight of refugees, and environmental issues.
To Shirley's great chagrin her childhood role as America's sweetheart continued to hurt her credibility. During her first ambassadorship appointment, when Secretary of State Henry Kissinger heard her discussing Namibia at a party and "was surprised that I even knew the word." She had to prove herself over and over during an era when few women, let alone a pretty former actress, received such a post. She persevered, and at age 41, President Nixon (in appreciation of her raising $2,000,000 for his campaign) appointed her as a delegate to the United Nations. On an official trip to the Soviet Union in 1972, Shirley felt a burning sensation in her breast that led to a cancer diagnosis. She underwent a modified radical mastectomy and held a news conference in her hospital room to discuss her condition years before Betty Ford had the courage to make the same announcement. Two years later President Gerald Ford made her the Ambassador to the Republic of Ghana where the one-time highest paid movie star had to boil her drinking water yet still declared her position "the best job I ever had." On one occasion she dressed in a Ghanaian outfit of printed cotton head scarf and gown, learned basic words in their language, and reached out to its working women who she called her sisters. In 1976, she returned to Washington and President Gerald Ford made her the first woman Chief of Protocol at the White House.
In her 60s no one would have cast aspersion after working since childhood, an abusive first marriage, breast cancer, and the struggle to help her daughter, Lori, beat her heroin addiction, Temple would have thought it time to put up the feet that had tap-danced into the world's heart, but retirement held no appeal. She returned to diplomacy under President George H. Bush when, as the Iron Curtain was descending, she served as the ambassador to Czechoslovakia. Temple recalled, "I was told I was going to a Stalinist backwater, one of the toughest countries around. And I thought, 'Good! Let's go get 'em!" When she arrived in Prague, she discovered that there had been a Shirley Temple fan club there 50 years earlier. Officials brought "Shirleyka" old membership cards for her to autograph. Mrs. Temple-Black succeeded beyond expectations, winning praise from Henry Kissinger who called her "very intelligent, very tough-minded, very disciplined." His words were an apt tribute to a woman who had left the silver screen saying she had "had enough of pretend."
Temple-Black also forged some unlikely alliances such as the one with farm labor leader Cesar Chavez who initially was reluctant at working with an ardent Republican. The two met for lunch and found they shared common interests in gardening and vegetarianism, as well as the value of union membership. The Clinton years ended her diplomatic career, but she remained active in groups such as the American Academy of Diplomacy.
In 2006 the Academy of Motion Pictures presented Shirley with a full-sized Oscar, having received a miniature one 50 years before, and she dedicated it to her late mother. She did not expect much attention as she had been long absent from the spotlight of Tinsel Town, but her first clue this was not the case was when Marisa Tomei gazed at her in rapture-and not because of Black's Oleg Cassini suit. Freshly Oscar-laden Helen Hunt and Robin Williams fussed over her, and the Academy's website lit up with more questions about Shirley, than any other star. Black stated, "I've been so blessed. If someone asked me whom I would choose to be if I could come back in another life, I would have to say Shirley Temple Black."
At age 85 Shirley Temple-Black passed away at her Woodside home. If her death were a scene from a Hollywood film at its closing, she would have taken Mr. Bojangles's hand and together they would have tap danced up the stairs.