Maza Shelaza
"It's not easy being green." Kermit's remark has universal resonance as most find life's journey an epic uphill climb. What made the 'green' easier for Muppet-Master Jim Henson was the love of his fellow puppeteer.
Jane Nebel had the unique position of being the mother of a brood of different colors- yellow, blue, and green-prior to marriage. The birth of her fuzzy foamed offspring was one even her father, writer for column Your Personal Astrology, could not have fathomed. She was born to parents Winifred and Adalbert, on June, 16th in Queens, New York City, where she joined brother Brereton and sister Margareta. As a teenager Jane moved to Salisbury, Maryland, and was admitted to the state university in 1951. She decided to major in fine art, which had a newly required course in puppetry.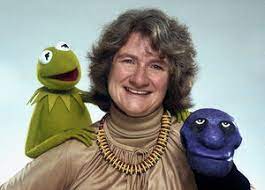 There she met eighteen-year-old Jim Henson who had opted for the program which exempted him from science requirements, freeing him to take more art classes. A secondary reason was the male-female ratio: six guys to five hundred girls. He appreciated the odds as he was self-conscious over his severe acne. His mother Betty refused to allow him to take medication as it went against their Christian Science faith. In the future he would grow his trademark beard to hide his deeply pockmarked face. Fortunately, Betty also had a light-hearted side. She would tell Jim to say "when" as she poured a glass of milk, and, if he didn't, would keep pouring till the glass overflowed. Jim referred to his childhood, "I was a Mississippi Tom Sawyer." Jim's talent in puppetry surpassed the teacher's, and in no time he had taken over the class. His transition from amateur to professional arrived when he was hired to work on a variety show for a local television program, and his wizardry was reviewed in the Washington Post. Impressed with his talent, he was given a prime time evening slot. The Muppets were launched on their journey to icons.
Word of Henson's puppet mastery resulted in the NBC television offer to produce puppet segments under the name Sam and Friends. Jim packed some of his creations, which he had christened 'Muppets,' (blend of words marionette and puppet,) and asked the talented Jane to accompany him as fellow performer and designer. Among the show's cast of furry foam characters was Yorick, a purple skull-like creature for whom Jane provided voice and Jim's favorite, Hermit, a future icon who sprung from humble origins. He was created from his mother's discarded felt coat with eyes fashioned from a bisected Ping-Pong ball.
Jim and Jane operated the characters, working together in a cramped space to make them real-a furry rendition of God breathing life into Adam. Jane well understood, "There is something about putting life in the inanimate doll. There's a bit of divinity in it that all puppeteers understand." In 1956 they performed on Steve Allen's Tonight Show where Kermit lip-synched from the Broadway hit My Fair Lady-I've Grown Accustomed to Your Face.
Life imitated puppet art as Jim and Jane had also grown accustomed to one another and in 1959 after a sojourn in Europe- where he discovered puppetry to be a time-honored tradition, asked for Jane's hand. His mother insisted the prospective groom shave off his new beard for the wedding. Jim put the shearings in an envelope and mailed them to Jane with a note, "From Samson to Delilah." The ceremony took place on May 28th, 1959, at Jane's family home in Salisbury; the minister was Jim's Uncle Jinx. The following spring the Hensons welcomed their first child, Lisa Marie. A family photograph shows the new father wagging Kermit in front of the baby, an early indication Lisa would be sharing her life with a unique sibling. Over the next ten years she would be joined by ones of flesh as well: Cheryl, Brian, John and Heather. Jane said of her five children, I don't know that I was a very good mother, but they taught me all I know." With her growing brood she transitioned to the role of full-time home-maker, yet she was still considered to be a major behind-the-scenes force.
Along with their growing offspring came phenomenal successes. In 1969 the Muppets became residents of Sesame Street and millions of children were transfixed by Kermit, Oscar the Grouch, the Cookie Monster, and BFF Bert and Ernie. Seven years later the Muppet Show introduced uber diva Miss Piggy, obsessed with finding the perfect frock and pursuing love interest Kermit. She became the most famous martial arts practitioner since Bruce Lee; in the throes of passion she would smother Kermit with kisses, when angry, give him a karate chop followed by an enraged "Hi-ya!" After a courtship as lengthy as their contemporaries Barbie and Ken, Kermit and Miss Piggy wed though, as she revealed, Kermit is "in a wee bit of denial about the exact nature of our marital status."
Cemented as the ultimate puppeteer in history by the Muppet Movies and massive merchandising, Jim Henson became a power-house in the entertainment world, heady fare for the self described Mississippi Tom Sawyer. However, he never adapted the antics of the prima donna Miss Piggy. When he was displeased he would merely mutter 'hmm,' when pleased say 'lovely.' And, in these cup-runneth-over years, there was much which was lovely-the girl from Queens became one herself- as owner of homes in New York, Orlando, London, and Malibu, decorated with costly antiques juxtaposed with all things Muppet. The heart of their estates was the family homestead which held in addition to the five children eight cats, two dogs, six rabbits, and a ferret. It was a scene from a Norman Rockwell portrait, albeit populated with Muppets and the extreme wealth they had bequeathed. Still, Jane hungered for the hungry days;she later recalled, "But we had fun back when it was just the two of us."
Kermit's philosophy was "Keep it simple," but from this his creator diverged. While his alter ego had a dissected ping-pong ball for eyes, Jim developed a wandering one. He began to discreetly date younger women, and as a multi-millionaire who had created the television world his girlfriends had grown up watching, there was no impediment of forays into adultery. Jim did not want to hurt his wife and was reluctant to say 'when' to his marriage, but also was unwilling to continue with a double life.
After he returned from a year in London, he did not want to move back to his house in suburban Bedford, New York and did not want to return to Jane. Pathologically non-confrontational, he told Jane that he had purchased an apartment on the nineteenth floor of the 5th Avenue Sherry-Netherland hotel in Manhattan. Jane misunderstood and thought he was merely saying he wanted a place to stay in the city when he had to work late nights. Over an omelet breakfast the next morning she asked how he wanted her to decorate. When he replied he would do it himself this time, reality finally sunk in. Devastated, the feisty Jane, a la Miss Piggy, could well have replied with a karate chop to the offending part of Jim's anatomy followed by a "Hi-Ya!"
The legal separation resulted in Jane not only losing Jim, but the company she had helped create more than two decades earlier. The break-up of 'Bert and Ernie' left their five children with Kermit's own hue.
Jim's encounters had not consisted of emotional adultery until he became romantically involved with employee Mary Ann Cleary of whom he pronounced 'lovely.' Smitten, Jim and his lover celebrated his fiftieth birthday with a yacht cruise in Sardinia and later a romantic Parisian and London interlude. Mary Ann introduced him to his first nude beach in Palm Beach. However, eventually she began to chafe over the fact he never went public with their relationship, and her promotion in the company may have been Jim's method of compensation. The truce was shattered when Jim brought the star of Mermaid- actress Daryl Hannah to one of his opulent masked balls where they were costumed as Beauty and the Beast-the latter costume finally something mistress and wife could agree upon. Gossips speculated there might be a mermaid Muppet in the future, but nothing came of their shared evening. Infuriated, Mary Ann broke up but they later reconciled, continuing an off again on again relationship of two years duration. It eventually ended when Jim refused to consider remarriage; Jane was the only possible Mrs. Henson. Although legally no longer a couple, neither was ever ready to cut their emotional umbilical cord. Jane said of the break-up of the father and mother of the Muppets, "He just sort of grown on to another stage. It seemed like we were always kind of married, but not really. Still together, in a different way."
The year 1990 was tense as Jim was in the throes of selling his production company to Disney in a $150 million dollar deal. It was during this time he also fell ill, a foreign condition to a man who had always enjoyed lifelong health. He had joked about growing old and turning an island into an Old Puppeteer's Home. Jane, who had been informed by daughter Cheryl he was ill, came to visit, bringing along a pot of chicken soup. She was alarmed at his appearance but Jim reassured her and asked her to stay.
During the night they spent together there was no talk of the ocean of hurt between them, no fingers pointed in blame. In his hour of need, Jane was comforted it was she her husband wanted. It was admission enough that despite his tongue-in-cheek note to her before their marriage that she had proved not his Delilah but rather his source of strength. Even though he was coughing blood he refused to go to the doctor. Jane attributed this to his abandoned though still hovering Christian Science background, and his lifelong insistence of not being a bother. Jim was suffering from pneumonia brought on by a rare strep infection. In the hours after being admitted, his body began to shut down and he suffered a severe cardiac arrest. Eventually his heart stopped beating
The headquarters of Jim Henson Productions in Manhattan epitomized the grief felt at the loss of the Grand Puppeteer. There were framed letters of sympathy which spanned the spectrum from President Bush to a child who had written, "God must have needed Muppets in heaven." The Walt Disney Company had sent an oversized condolence card which encapsulated bereavement: it showed Mickey Mouse with his arm around the shoulders of a downcast Kermit, his head in his hands. No condolence words were needed. Jane visited and sat under a painting in which Kermit the Frog was outfitted as Gainsborough's Blue Boy. She spoke of her gentle genius, as she always would, in the present tense.
Jim's funeral service was held in Manhattan's Cathedral of St. John and, per his request, no one wore black. One of the many heart-rending moments was when Big Bird sang a moving rendition of Kermit's "It's Not Easy Being Green." Jane became the keeper of Jim's flame and in 2010 donated the original Kermit and nine of his buddies, including his adoring, Miss Piggy to the Smithsonian. When asked for her reaction seeing the Henson collection on display she replied, "I don't think of it as historical. It's my life."
When Jane passed away in 2013 after a long bout of cancer, tributes poured in from around the world, the most touching from her daughter Cheryl. She called her the Mother of all Muppets which, in the Henson family lexicon roughly translates to, "the great Maza Shelaza."