Love Life (1947)
Scent is a tool of seduction. Medea used an aromatic ambrosia on the dragon who guarded The Golden Fleece. When the creature succumbed to her spell, she absconded with the treasure. After a woman asked where to put her perfume, Chanel responded, "Wherever one wants to be kissed." Marilyn Monroe's response to what she wore to bed, "Chanel Number 5." Tragically, interwoven with the French floral fragrance of Miss Dior Eau De Parfum is the stench of a deadly weed, one forced upon Catherine Dior.
For those who have the means to spend $200.00 for a five-ounce bottle of Miss Dior, a single spray can unleash a bouquet of flowers. Catherine was born on August 2, 1917, one of five siblings. Each of her three brothers carried a cross: Raymond suffered from shellshock from his time in the trenches of World War I; Bernard had schizophrenia; Christian was a closeted homosexual. Catherine was closest to Christian with whom she shared an interest in music, art, and gardening. Together they created flower beds in the shape of a butterfly and a tiger. At age fourteen, her mother, Madeline, died and her father, Maurice, lost the family fortune in the Wall Street Crash. The new economic status forced Catherine to relocate from the grand Villa les Rhumbs in Normandy to an isolated farmhouse in in Provence. Her life improved when she joined Christian in Paris where he worked as a fashion illustrator, and she sold hats and gloves at a boutique. After the fall of France, as swastikas flew above the nearby Eiffel Tower and Arc de Triomphe, brother and sister retreated to Provence.
The following year, while in Cannes on a quest for a radio to access broadcasts from Charles de Gaulle,-leader of the Free French Forces- Catherine fell in love with Hervé des Charbonneries, a married man, the father of three. Through him, Catherine, under the code name Caro, joined a Resistance network with ties to British and Polish intelligence. Living on borrowed time, in 1944, the Rue de la Pompe Gestapo-composed of French collaborators-subjected her to torture. Ten days before the Liberation, the Nazis sent her to Ravensbruck concentration camp. She refused to pick up food that an SS guard had thrown at the prisoners, "If you did that, your life was over." Her desperate brother was unable to intervene.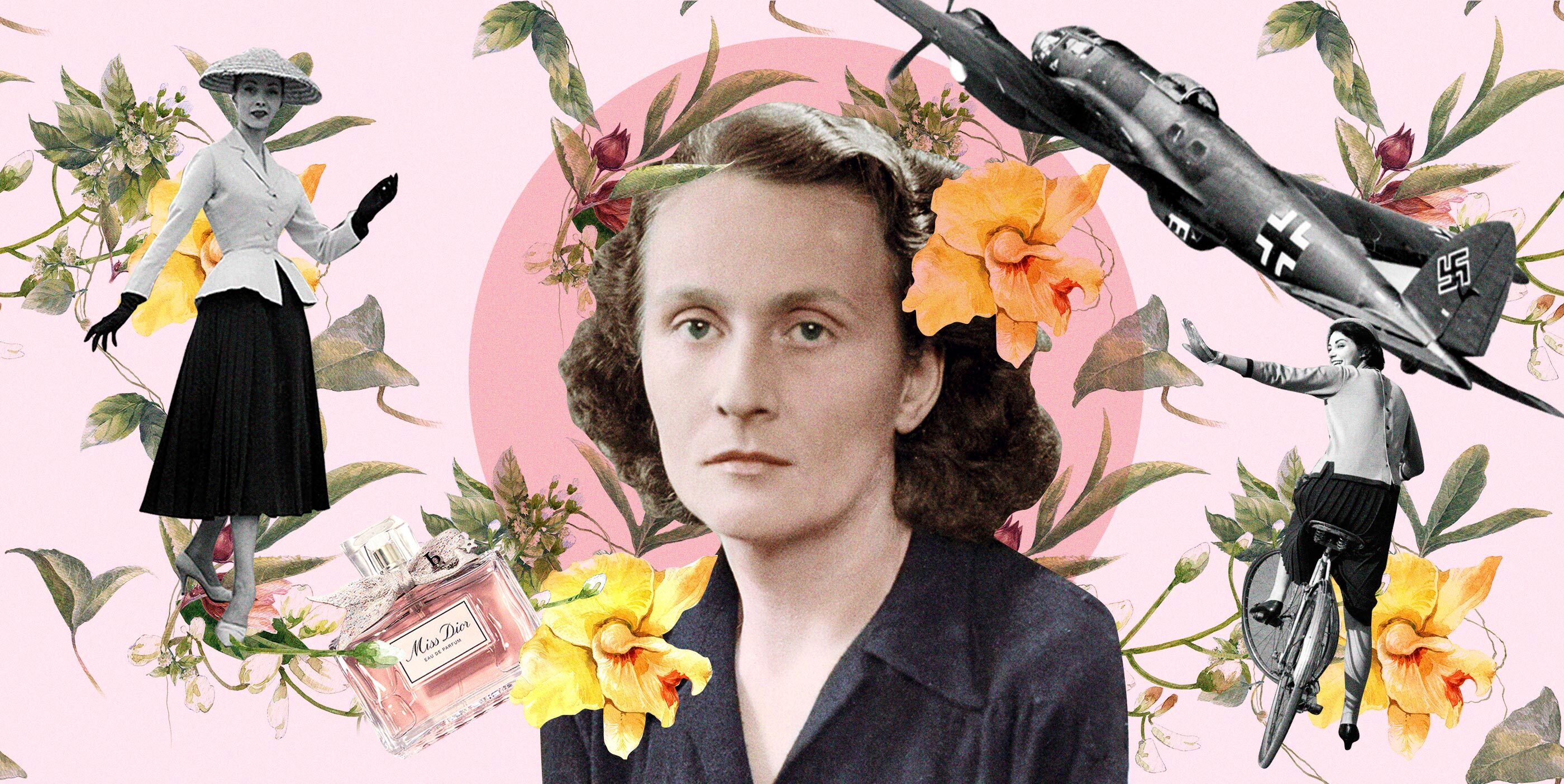 On a 1945 death march, Catherine escaped near Dresden where Soviet troops delivered her to safety. She made her way back to Paris, so emaciated that Christian, waiting at the train station, did not recognize her. Catherine, along with Hervé, moved in with Christian, and sought solace from cultivating her roses. France decorated her with the Croix de Guerre, the Combatant's Cross, and the Legion of Honor. Britain awarded her the King's Medal of Courage in the Cause of Freedom.
Caro's courage inspired her brother to take a chance: in 1946, he opened his house of couture. When he debuted his New Look collection, his sister was in the audience, and the air was heady with Miss Dior that he had christened after the woman he had dubbed "his moral heir." The show catapulted Christian to fame and fortune. Wallis Simpson and Princess Margaret despised one another but shared the need to wear the latest Dior. In contrast, Catherine preferred garments conducive to gardening. Unlike her flamboyant brother, she preferred the shadow of seclusion.
Having outlived both her adored brother and lover, Catherine passed away at age ninety-one. Although circumspect about her past, when a veteran asked her about her years in the Resistance and Ravensbruck, she responded, "Aime la view, jeune homme." "Love life."