Life's Leading Lady
Alfred Hitchcock's place in the pantheon of great film directors rests on a secure niche of psychological thrillers, thanks to classics like- 'Psyyyy-cow," (as he pronounced it) which led generations to shudder when showering at a motel. He is one of only two movie directors whose faces are as familiar as some of the actors who starred in his films (the other is fellow working-class Londoner Charlie Chaplin). Hitchcock's renowned silhouette in his movies depicts his enormous girth, but lost in his towering shadow was his partner, Alma Reville.
The woman destined to succeed in the male-dominated early movie industry (though in largely unrecognized role,) began life in the city of Robin Hood fame, Nottingham, on August 14, 1899. Her father worked in the costume department of the United Kingdom's largest motion picture studio, Twickenham, where she obtained a position as a rewind girl when she left school at age sixteen. Ever enterprising, she was promoted to cutter, where she would splice and glue together pieces of film. She also worked as a script girl which gave her exposure to the embryonic movie industry, a niche few women of the time were granted access. When the studio closed, she was hired by an American company, Famous Players-Lasky, at its Islington location.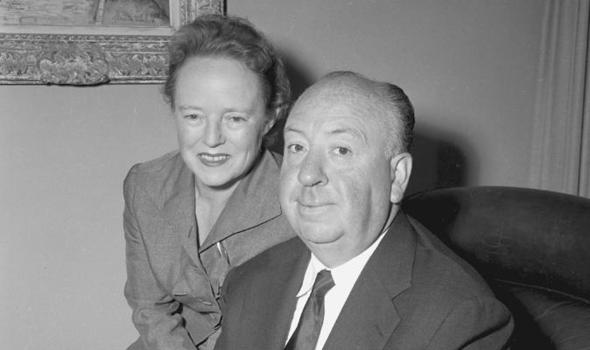 It was in the studio Alma met Alfred, who had just been hired to write title-cards for the silent pictures. Their first encounter was not promising. Alma later recalled how he strolled across the set with a deadpan expression before disappearing, without a glance in her direction. For the next two years he never met her eyes or exchanged a word. He later attributed his aloofness to shyness, the fact she was higher on the studio hierarchy, a repressive Catholic upbringing- and his belief she was a "trifle snooty."
The silence was broken when the branch closed, and Alma was once more unemployed. In 1923 she received a phone-call from Hitchcock requesting her presence at a meeting; he had been made assistant director on the film Woman to Woman and needed an editor. The interview was cut short when Reville, as fiery as her red hair, rejected the proposed salary. After she left the room, the portly Hitchcock raced down the corridor and made a better offer. The two entered a business partnership and eventually began dating, a relationship born of commonalities: Alma had been born on the same day, a few hours after Alfred, and both were monomaniacal about all things having to do with movies. At age twenty-seven Alma was the first woman, other than his beloved mother, with whom Hitchcock let down his guard. Their relationship, however, was chaste. He made the admission he was still ignorant of "the mechanics of sex" and confessed that during this time he "never so much as touched her little finger."
The couple worked together at Gainsborough studio where Alfred was beginning to garner a reputation as a virtuoso behind the camera. Some believed Alma could have become one as well, but she shrugged off any such suggestion with a reference to her 4'11'' frame, "I'm too small. I could never project the image of authority a director has to project." Nevertheless, her skills did not go unnoticed. In 1925 the Picturegoer ran a piece: "Alma in Wonderland: An interesting article, proving that a woman's place is not always at home." And though Hitch, (as Alma called him,) was the consummate narcissist-he made a cameo appearance in every film-acknowledged how much he depended on her opinion. This was revealed in the Anglo-German production of The Pleasure Garden in which Alma served as assistant. In an interview with Francois Truffaut Hitchcock described the chaos of working on a low-budget production and how he depended on Reville to find extra money and listen to his litany of woes. One of these troubles was he did not want to tell his Hollywood star that it was his first movie as director and money was in short supply. He told Truffaut, "I did a really mean thing. I managed to twist the facts and put the whole blame on my fiancée…I always make my fiancée do all the dirty work."
On Christmas Eve, on the return trip to England, Alfred asked for Alma's hand on a storm-tossed ferry. She was seasick when he produced the engagement ring, and in a decidedly unromantic proposal he ventured, "I thought I'd catch you when you were too weak to say no." She weakly nodded assent before she resumed retching. In order to please Alfred, Alma relinquished her Protestant faith and they exchanged vows on December 2, 1926, in the Church of the Oratory, in Knightsbridge. This was followed by a honeymoon in St. Moritz, Switzerland, where they vacationed at the Palace Hotel, which became their favorite destination.
Two years later, the event which Hitchcock always referred to as his "finest production" arrived-the birth of their only child, Patricia Alma. He was absent during the delivery, explaining he could not bear the suspense. The family stayed at their London flat during the week and on weekends in their idyllic country retreat, Shamley Cottage. Patricia recalled home was a happy place where her father would contentedly puff cigars while she and her mother attended to their menagerie of pony, Arabian stallion, and several dogs. Although Hitchcock's fame placed him on the A-list, he was happiest in his humble ancient cottage. He was never known for his bubbly people skills. To Pat's dismay, no other sibling arrived. This was because though Alma and Alfred were soulmates, sexual chemistry soon migrated from their domestic nest. In fact, unlike other macho directors, Hitchcock implied he suffered from chronic impotence and described himself as celibate.
Life changed dramatically in 1939 when the siren call of Hollywood summoned England's greatest director to Tinseltown. The Hitchcocks purchased a home on the fifteenth fairway of the Bel Air golf course which they filled with masterpieces by Rodin, Klee and Utrillo. Alfred's string of successes allowed Alma to live a lifestyle she could never have imagined when a cutter at Twickenham Studios. Although living in America, they remained Brits at heart, and had the Times of London and British food flown in weekly. Food was very important to the couple and Alma, as accomplished in the kitchen as she was in the screening room, produced culinary masterpieces. Alfred even analogized his approach to moviemaking with dessert, "Some films are slices of life; mine are slices of cake." Every Thursday they dined at their favorite restaurant, Chasen's, where they would order steak for their adored dogs salivating in the chauffeur-driven limousine. Waiters would routinely overhear Alma urging her portly husband to forgo the second pudding. In a reverse Jack Sprat and his wife fashion, Hitchcock grew in girth over the years while Alma remained slight. On their evenings out Hitchcock would greet fans with his trademark 'good e-ve-ning'; an obsessive creature of habit, he was never without dark suit and skinny tie. (His contemporary JFK dressed in a similar fashion, but the vibe was different.) Film and food remained the twin passions in the Hitchcock marriage and Alfred was known to quip that he and his wife had only had sex once- when they conceived Patricia.
The director of psychological thrillers was the master manipulator of the macabre and his apogee was Psycho, based on Wisconsin body-snatcher Ed Gein. Paramount got cold feet over the project, feeling movie-goers would not appreciate a picture involving voyeurism, a mother who was the victim of taxidermy and a cross-dressing leading man. However, the Hitchcocks were committed and bankrolled its $800,000 budget. Although Psycho is forever intertwined with its director, Alma left an indelible fingerprint.. It was her suggestion the heroine be killed off half an hour into the film (contrary to Hollywood convention,) and who recommended Anthony Perkins (with his rumored secret homosexual life,) for the role of Norman (a name whose final letter 'n' could never be supplanted by the letter 'l.': thankfully 'normal' was not an adjective to represent the consummate mamma's boy.
Janet Leigh was cast as the doomed Marion Crane; her blond beauty in keeping with other Hitchcock starlets: Grace Kelly, Ingrid Bergman, Kim Novak. In a nod to Freud's eternal question Hitchcock opined, "I never understood what women wanted. I only knew it wasn't me."
Alma also left her mark on the climatic moments of the film. Alfred was adamant that the shower scene have no accompanying music; his wife convinced him otherwise. The decision proved prescient as the background score of the shrieking violins is enshrined as one of the greatest scenes in film. And though the Bates were effective at eliminating guests, it was Ms. Reville who cinematically finished off Janet Leigh. She was the only one who noticed the actress swallowed after lying dead on the bathroom floor and brought attention to the oversight. Indeed, it was Alma's unsung role which led critic Charles Champlin to write, "The Hitchcock touch has four hands, and two of them are Alma's." In the studio everyone deferred to the director who only deferred to his spouse. If she phoned, no matter how busy, he would state, "Madam wants me at home" and would leave.
To outsiders looking in, Reville appeared to have a storied life: wife of the director acclaimed on both sides of the Atlantic, a daughter who had bypassed teenage angst, and a multi-million-dollar fortune. However, rumors circulated that Alfred was a Peeping Tom and his actresses his Lady Godivas. While Alma fondly called Hitchcock by the first syllable of his surname, his reluctant blondes often referred to him by its second. The grapevine warned that the Hitchcock casting couch entailed bench-pressing a 300-pound director as they fended off his advances. The greatest detractor was Tippi Hendrin, whom Alma herself had recruited after discovering her in a soft-drink commercial. The star claimed she was the recipient of the flesh and blood Psycho who became her obsessive stalker. She appealed to Alma for help, "It would take just one word from you to stop this." Alma merely walked away. She was the wife who knew too much. Alfred simply was adhering to Norman Bates' words, "We all go a little crazy at times."
Retaliation was swift and sadistic for Tippi's unwelcome protests. In the Bird's climatic scene, Tippi was engulfed by authentic crows rather than the plastic variety. Post-spurning, she became a person non-gratis and Hitchcock henceforth only referred to her as 'the girl.' Perhaps the truth about the adored director's allegedly deplorable actions would have come to light if in the Truffaut interview he had talked blondes rather than shop.
Miss Reville became Alma in wonderland once more when Queen Elizabeth knighted her husband, making her Lady Hitchcock. A further tribute was when Hitchcock was honored with the American Film Institute's Lifetime Achievement and, aged and infirm, he gave his speech from his seat, with his wife of fifty-four years by his side. "I beg permission to mention by name only four people who have given me the most affection, appreciation, encouragement and constant collaboration. First of the four is a film editor. The second is a scriptwriter. The third is the mother of my daughter, Pat, and the fourth is as fine a cook as has ever performed miracles in a domestic kitchen. And their names are Alma Reville." Regardless of what went on in the secret recesses of Hitchcock's heart, Alma was his life's leading Lady.