A Monument to Me (1925)
In 1938, the first Action Comics introduced the world to Superman; the cover featured the Man of Steel holding a green Chrysler aloft. The car derived its name from another man of steel, Walter Percy Chrysler.
The titan who left his mark on the highways of America, whose building is a crown jewel of the Manhattan skyline, was born in 1875 in Wamego, Kansas, the third of four children. The family moved to Ellis, Kansas, where his boyhood home is now a museum. When his parents could not afford a pair of roller skates, Walter made a pair at a local machine shop. His interest in cars originated in his late twenties when he spied "two or three horseless thing-a-majigs."
At age seventeen, Walter took a job as a nickel-an-hour apprentice machinist in the Union Pacific Railroad. As he felt its tools were inadequate, Walter created his own. He also fashioned a shotgun that he used to hunt rabbits in the near-by Kansas brush. In 1900, he married fellow Ellis resident, Della Forker; they settled in Salt Lake City, Utah, where they raised children Thelma, Bernice, Walter Jr., and Jack.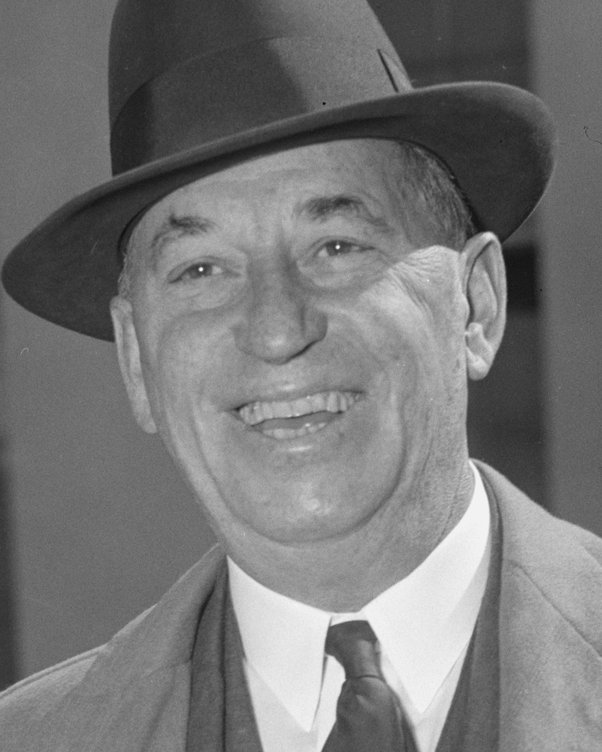 The event that altered Walter's career path took place at the Chicago Automobile Show of 1908. Although he did not know how to drive, he put up $700 in savings and borrowed $4,300, to purchase a white Locomobile with red seats. Rather than taking it out for a spin, Walter took it apart in his barn to understand its inner workings. Bitten by the automobile bug, Walter took a position at General Motors. He became the manager of the Buick plant in Flint, Michigan, where he tripled production. After butting heads with the owner, Walter moved to a position at Maxwell Motor Company. He introduced a model named the Chrysler Six that he showcased at the New York Automobile Show. With the modest price tag of $2,000, the car was within reach of most Americans. Due to the Chrysler's runaway success, Maxwell took the name Chrysler Corporation that, after taking over Dodge, became one of the Big Three in automobile production. Walter posed for magazine ads, one of the first corporate leaders to do so. Five years later, he appeared on the cover on Time Magazine's Man of the Year edition. With his new status, Walter hobnobbed with fellow industrialists such as Cornelius Whitney. The millionaires hunted on the Chrysler estate on the Maryland shore, sailed on the Chrysler yacht, Zowie.
After conquering the highways of America, Walter erected the world's tallest building, a citadel of capitalism. To his great chagrin, the Empire State Building surpassed the height of the Chrysler Building the following year, and it was on the Empire's spire where King Kong roared his cinematic fury. For posterity, Walter hired acclaimed Margaret Bourke-White to immortalize the Chrysler Tower's soaring height and design. In 1930, as visitors entered the building's 71st floor observation deck, they spied a box containing metal tools that Walter had made as a young man, testimony to his meteoric rise. An architectural flourish was the skyscraper displayed unique touches such as radiator ornaments. Critics complained that the structure resembled a Ziegfeld girl's headdress, a comment that did not bother Walter. Several of the showgirls paid visits to his private suite in the skyscraper. One of his not-so-discreet follies involved Peggy Hopkins Joyce, a Ziegfeld dancer with a knack for collecting wealthy husbands. Smitten, Walter showered her with diamonds and a pair of Isotta Fraschini automobiles. Della had to make do with a Chrysler Imperial. Walter's name, emblazoned on his car and on his architectural marvel, were, in his words, a "monument to me."