The Wounding Thorns (1938)
Sultan Shahriya, angered after his wife dabbled in adultery, ordered her execution. To avoid further humiliation, every night he married a virgin who he beheaded the next morning. Scheherazade, one of his hapless brides, devised a plan to escape her predecessors' fate. During pillow talk, she spun such fantastic tales the king delayed her death. After 1,001 nights, the Sultan fell in love, and Scheherazade lived out her natural life span. The ancient Persian tale had real-life implications for a modern-day Shahbanou.
Farah, the woman who would be queen, was born in Iran, the only child of Captain Sohrab Diba (Persian for silk) and Farideh Ghotbi. The Captain's father had been the Persian Ambassador to the Russian Romanov Court. The sole trauma of Farah's idyllic childhood came at age nine with the sudden death of her father from cancer. Her grief was even greater as her family had hidden his illness to spare her worry. His passing left his wife and child in straitened circumstances, and they left their large villa for an uncle's cramped apartment. As a teen, Farah studied at the Sorbonne's Ecole Architecture. In France, Farah had a rendezvous with a destiny that rivaled the tales of One Thousand and One Nights.
The Pahlavi dynasty was not of ancient lineage; it originated with Reza Shah Pahlavi, the first Shah of Persia, who changed the name of his empire to Iran. The patriarch took his surname from the ancient Persian language. In 1959, his successor, Mohammed Reza Pahlavi, met Farah at the Iranian embassy in France. He was taken with the twenty-one-year-old beauty and was intrigued when she had the moxie to complain how their country's reduction of scholarship funding created a hardship for its students studying abroad. She recalled of their first meeting, "I wrote a letter to my mother saying he has such beautiful eyes but very sad eyes." The encounter turned into a royal romance despite their nineteen-year-age difference, her status as a commoner, and Mohammed's two failed marriages. His first marriage wife was Princess Fawzia, daughter of King Fuad I of Egypt. The teenaged couple united two great Muslim lands, and during their wedding, fireworks lit up the sky over the Nile. She bore their daughter, Princess Shahnaz; however, when there was no further pregnancy, as the Shah needed a male heir to inherit the peacock throne, she returned to Egypt. The next Shahbanou was Princess Soraya, a daughter of Iran's powerful Bakhtiari family. He adored her; however, just as Napoleon had to end his union with Josephine as she was barren, the same fate befell Soraya. The story of her divorce inspired a French songwriter, Francoise Mallet-Jorris, to write "Je Veux Pleurer Comme Soraya" (I Want to Cry Like Soraya.) What helped dry her tears was a more than generous settlement. When she passed away in Paris, she left behind a fifty- million-pound fortune that included a Rolls Royce, her 22.37 carat diamond engagement ring, and a lavish Parisian apartment. Farah became Mohammed's third consort, and her youth, beauty, and elegance, coupled with her royal status, made her the eastern Princess Diana.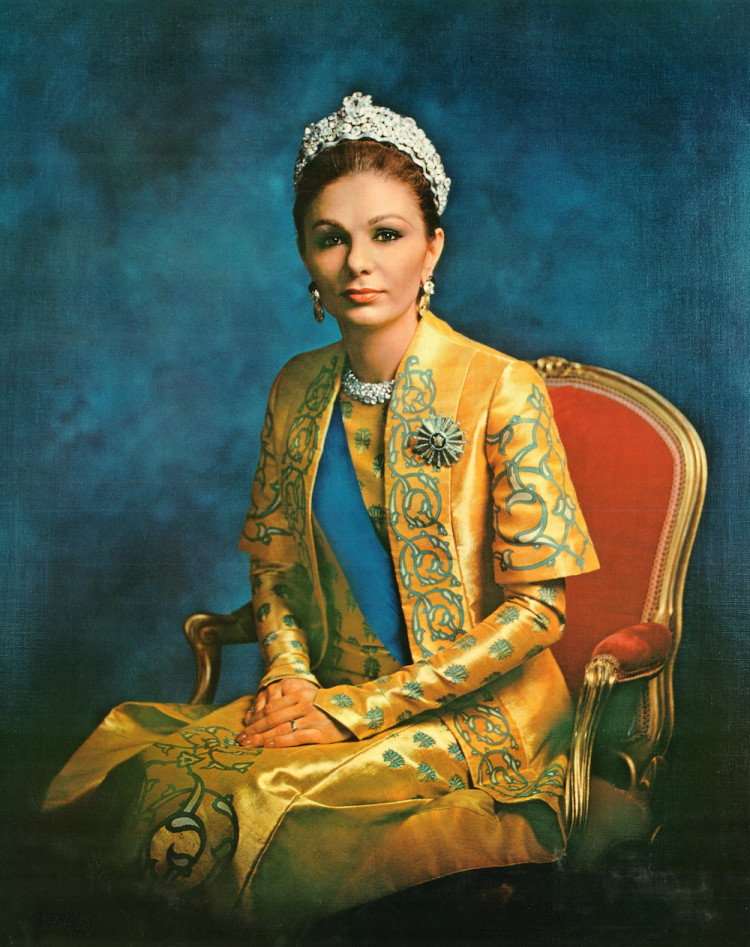 The couple married in the Marble Palace in a Shiite Muslim Ceremony. On her head rested a Harry Winston creation: a four-pound tiara whose centerpiece was the sixty-carat pink Noor-ol-Ain (Eye of Light) diamond, one of the largest in the world. Yves St. Lauren created the wedding gown that included a fur-lined hem with the color blue sewn in for good luck. In keeping with tradition, the bride set 150 caged nightingales free. In one photograph, her mother stands beside the bride, also awash in diamonds, no doubt far from displeased her daughter had caught the catch of catches. Wherever she went in Iran, people cheered; President Charles de Gaulle liked her more than any other first lady, including Jacqueline Kennedy.
Farah escaped the fate of her two predecessors when she gave birth to a son and heir, Crown Prince Reza, ten months after tying the imperial knot. An honor guard marked the moment by firing their guns, and there was dancing in the streets. A second son, Prince Alireza, and daughters, Princess Farahnaz and Princess Leila, followed. Among other lavish perks, the children enjoyed their private zoo stacked with deer, antelope, monkeys, lions, and an Indian elephant, a gift from Indira Gandhi.
The Shah was a complicated man who, on the one hand believed in the divine right of kings and on the other strove to modernize his country. As part of his White Revolution, he worked to emancipate women, and the Empress was a symbol of their new-found freedom. Unwilling to be just a beautiful face with a tiara, she was the first Iranian queen to be named as regent in the event her husband died before the crown prince turned twenty. The empress was the patron of twenty-four organizations, donated blood, established the first self-sustaining leper colony, and visited its residents. Under the royal's a certain class of Iranian women played volleyball on the shores of the Caspian Sea in bikinis-a world away from the enforced modesty of the shawl.
The Shahbanu founded the Tehran Museum of Contemporary Art where she assembled the greatest collection of art outside of Europe. The masterpieces included the Impressionists (Monet and Renoir) for an estimated one hundred million dollars. Today, the gallery- that includes works by Gauguin, Toulouse-Lautrec Picasso, Dali, Pollock, and Lichtenstein- is valued at three billion dollars. During its construction, she met Salvador Dali, Marc Chagall, and Henry Moore. In 1976, Empress Farah commissioned Andy Warhol to paint her portrait. The Queen and the pop artist had met at a White House dinner hosted by President Gerald Ford in honor of the Shah. Warhol's portrait portrayed her with blue eye shadow, pink lipstick, against a vivid yellow background. In an article about his commission, he wrote, "I had the best time. It was just so up there. So glamorous. She was really, really kind and so beautiful." During their reign, Frank Sinatra and Yehudi Menuhin performed, and theaters screened Midnight Cowboy. Although many applauded her liberalism, others blamed Farah and her Westernization for the rise of Ayatollah Khomeini.
Before long the streets became the site of less than laudatory displays of public sentiment. Pahlavi's White Revolution alarmed conservative Iranians who feared imported films, clothes, and customs endangered their Islamic faith. When the economy weakened in 1977, the simmering discontent became a flood that threatened to wash away the monarchy. Mohammed used the Savak, his dreaded secret police, as the antidote to dissenters.
Despite the blue fur hem and the freeing of the nightingales, Farah's luck deserted. With strikes paralyzing the country, the Pahlavis left Iran for a vacation that turned into permanent exile. They would never be able to go home again; the Revolutionary government had ordered the execution of the Shah and the Shahbanu. Mohammed's staff did not have the opportunity to flee, and the Islamic clerics had them executed. Farah said that saddened her.
Ousted from the Marble Palace, they became royal refugees. In Farah's memoir, An Enduring Love: My Life with the Shah, she waxes eloquent on her early days in exile. Travelling with what she claims were only fifteen suitcases, none of which, she wanted it to be known, contained the Iranian crown jewels or priceless paintings, the Pahlavis embarked on a desperate odyssey. Every country that opened their doors received a barrage of threats from enraged Islamic radicals. In desperation, they became royals in search of asylum. They went first to Egypt, then to Morocco as guests of King Hassan II, then to the Bahamas, and Mexico. They headed to the Caribbean where they were granted temporary refuge in the Bahamas on Paradise Island. The Shah offered to buy the Island for 425 million dollars, but the officials rejected his offer. Despite rumors Mohamed and Farah had escaped with one hundred million dollars and were known to be generous, in fear old friends turned their backs. Farah wrote of the days when she had to eat the bitter bread of banishment, "People change when you are not in power. I lived hour-to-hour, day-to-day. But I had to survive for my children. You can lose your position, your possessions, your country, your loved ones, but you shouldn't lose your dignity or your courage."
In 1979, they came to the United States for Mohammed's cancer treatment. His wife had been kept in the dark over his illness, an echo of what had transpired with her father. In fury at America for helping the Shah, thirteen days later militant Iranian Muslims invaded the U.S. Embassy in Tehran and took hostages to demand the Shah's extradition, the return of his plundered wealth, and a confession of American crimes in Iran. Upon his release from the hospital, Mexico blocked his return, and the family went to Panama and then departed once more to Cairo where Mohammed died at age sixty, a king without a country. However, he remained a king with a fortune. His holdings have been estimated at more than twenty billion dollars, although much of the imperial wealth remained in Iran and could not be liquidated post- revolution. Farah's fairy-tale life had become a living Hell.
With Mohammed's death, President Sadat granted the devastated widow asylum and the use of the Koubbeh palace in Cairo, but his assassination ended this refuge. At this juncture, President Reagan told them they were welcome in the United States where the family finally settled in the upscale town of Greenwich, Connecticut. One would have assumed that the sanctuary was the last chapter in Farah's One Thousand and One Nights, but the gods were not yet finished with her.
Farah was extremely worried about her youngest daughter, Princess Laila, who suffered from low self-esteem, although her beauty had led to her walking the Parisian catwalks as a Valentino model. Among her afflictions were anorexia, depression, and insomnia. Her mother's friend discovered her emaciated body in a 500 pound per night London hotel room, a result of an overdose of prescription drugs and cocaine. In the nightstand was a photograph of her family watching television in their palace in Tehran. Laila's funeral was in the Cimetiere de Passy, Paris; in attendance were members of the French royal family and her mother, her face etched in grief. Alireza had been extremely close to his sister, and her passing cast a lingering shadow. He had received his bachelor's degree from Princeton and master's degree from Columbia and was studying for his Ph.D. at Harvard. His credentials had earned him the designation as "one of the world's most eligible princes." Despite his privileged life, in 2011, Ali committed suicide with a shotgun in his Boston home. His final wish was his ashes were to be scattered in the Caspian Sea. Seven months later, his girlfriend gave birth to their daughter, Iryana Leila. Farah recognized her as a full member of their family and as a Princess of Iran.
Farah Diba Pahlavi, the survivor of many storms, lives alone in a vast apartment overlooking the River Seine in Paris. The floors display fine silk rugs, there are displays of Persian antiquities, and handmade bonbons are offered by a silent maid in a starched pinafore. "Exile is very hard," and she would know, after living it for twenty-five years. She could also be referring to the hardship of having only two personal assistants; in the olden, golden days she had sixty. In her memoir, her remembrance of things past, she recalled her lost land through rose-tinted glasses. She painted an adoring portrait of Mohammed, a statement that leaves hanging the question if the Shah was the wonderful ruler she claims he was, why were 500,000 people waiting at the Tehran airport to welcome his archrival, the Ayatollah Khomeini, back from exile? She also dismissed the torture and murder of the Savak with the literary equivalent of a wave of the hand. However, she does concede that Mohammed's desire for modernization was too far-reaching for a country mired in the Middle Ages, that his rule was too authoritarian and that "perhaps we should have been more humble." Humility had never been their strong suit. In 1971, in the ancient city of Persepolis, they threw what has been described as the greatest party in history to celebrate the 2500 anniversary of the Persian Empire. Maxim's of Paris provided the catering; Baccarat provided the goblets. Elizabeth Arden created a new line of cosmetics christened Farah. The party price tag: $200 million.
While watching television in her Parisian apartment, she discovered that Fundamentalist vandals had slashed her Warhol portrait, the damaged masterpiece could serve as a metaphor for her fractured country. Her pronouncement was, "They are stupid. Instead of tearing it they could have sold it!" The clerics had banished the billion-dollar collection to the basement of the Tehran Museum of Contemporary Art as they deemed it products of the decadent, depraved Western world. There was no way that Renoir's Gabrielle with Open Blouse would have passed the regime's censors. The Moore sculpture in the garden bears the souvenir of a bullet. However, even four decades after the Revolution, the Empress in exile remains optimistic that light will overcome darkness. She stated, "The seeds you plant and love never perish."
At eighty, the woman who was empress remains elegant as ever, her Nefertiti-like makeup only slightly toned down as when she sat for Andy Warhol. Every year Farah visits her husband's tomb in the Al-Rifai mosque in Cairo. She remembers him as an adoring husband, a memory than contrasts with less laudatory accounts that portray him as a philanderer whose view of women was chauvinistic. He had remarked, "In a man's life, women count only if they are beautiful, graceful, and know how to stay feminine. Women have never produced a Michelangelo or a Bach or even a great cook."
Farah explained she finds comfort for her life's vicissitudes in the words of Hafiz, a celebrated Iranian poet, "Pay no heed to the wounding thorns."