The Jet (1931)
In 1982, cartoonist Bob Thaves said of Fred Astaire, "Sure he was great, but don't forget that Ginger Rogers did everything he did…backwards and in high heels." Another female dancer shared the same handicap as Ms. Rogers with the additional burden of being Latina in a white world.
A sense of security is a basic human need, and this concept holds true especially for children. This security was torn from Rosa Dolores Alverio when she was five-years-old. In her memoir she described the island of her birth as, "the most sensual place in the world" near the the Puerto Rican rainforest. Her mother (also named Rosa who had her daughter at age 17) decided to forego natural beauty for a chance at material wealth and leaving her cheating husband (the first of five) and son Francisco behind she and her daughter immigrated to the United States. Later, in a throaty Cheech and Chong accent, little Rosa recalled when they approached the Statue of Liberty, she thought "a lady runs dees country." Although that was not the case, a woman did run her life: she had the quintessential stage mother. New York was a forest of a different sort, cold and replete with racism. They ended up in a dismal shared apartment in the Bronx, a transition that Rosa compared to The Wizard of Oz in reverse (from warm, glorious color to inhospitable black and white). Unable to communicate in English, her form of expression was dance, and Mrs. Alverio's double shift as a seamstress paid for lessons from Paco Cansino, Rita Hayworth's uncle. Before she was 10, Rosa was performing what she calls a 'Carmen Miranda act' at weddings, and also dubbed Spanish voices for various actresses in movies.
Armed with beauty and talent, at age 16 she dropped out of high school and headed for Hollywood. The first movie star she met was Clark Gable who told her, "Rosita. Great name, kid." Bill Grady, a casting agent, disagreed and tried out alternatives: Ruby Fontino, Marcy Miranda, Orchid Montenegro. Then he hit on Rita- after Rita Hayworth; her surname Moreno was compliment of her stepfather. In an interview with Louis B. Mayer-one of the Ms in MGM studios-at the Waldorf Astoria, the famed director took one look at the sultry teen who had made up her face to resemble Elizabeth Taylor, and seconds later said, "Sign her up!" Her voluptuous beauty caught the eye of many men, some old enough to be her father. One of these was a handsome red-headed gentleman at a hotel who sat next to a regal woman. Rita later wrote of this encounter, "His hairline moved back an inch, as when a predatory animal spots his prey and paralyzes it with 'that look.' It was obviously lust at first sight, and I remember thinking, 'Whooo, this guy don't waste no time!" Weeks later she saw her admirer in Life magazine-the young senator from Massachusetts, John F. Kennedy, with wife, Jackie.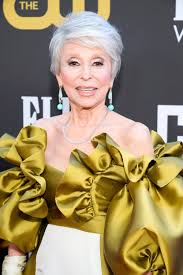 Men were always quite "friendly." In Rita's first movie, So Young, So Bad (1950), she played a suicidal teenager. The 1940s matinee idol Paul Henreid "used the scenes of cutting down my dead body as an excuse to run his hands over my breasts." Due to her ethnicity, whether she played Arabians, Polynesians, or Mexicans, her parts involved, "You tink you fool Lolita? Ha!" She was the "sexy spitfire" with a false accent; she had lost her own to meld into a New York City that had not yet experienced the great Puerto Rican migration.
Moreno's big break came when she landed a role in the 20th century version of Romeo and Juliet, West Side Story, where the fire escapes of Manhattan replaced Verona's balcony. Rita played the sexy, skirt-twirling girlfriend of a Puerto Rican gang leader, and as Anita danced her way into America's heart. Moreno said, "Anita was the very first Hispanic character I had ever played who had dignity, a sense of self-respect and was loving. She became my role model." Although the production was mostly a labor of love, the scene where the rival gang members pinned Anita to the floor in Doc's candy store, taunted her with racial epithets, and threatened her with rape, left her an inconsolable blubbering wreck. The actors had called her the sorts of terrible names she had not heard since her Bronx childhood. Rita said of the encounter, "It was coming from my entrails. Sometimes old wounds don't heal." After her historic achievement of being the first Hispanic to win an Academy Award, Rita refused "the sexy see-norita roles. And that wasn't easy cause that was all that was offered me; easy, ignorant, illiterate and needy women. It was almost pornographic." Rita needed to draw on inner strength as she continued to fight racism, sexism, and eventually, ageism.
Although Moreno was fiery and formidable on screen, off screen she was a hot mess. In 1954, in a make-up room on the set of Marlon Brando's Desiree in which he played Napoleon, the 22- year-old Moreno met the man who impacted her life. In Rita Moreno: A Memoir she remembered, "Just meeting him that first day sent my body temperature skyrocketing as though I had been dropped into a very hot bath, and I went into a full-body blush. It was the sort of rush that inspires poetry and songs." However, their torrid, eight-year affair inspired chronic philandering, emotional abuse, a botched abortion, and a suicide attempt. Part of the problem was Brando had "insatiable sexual needs" that made him pursue numerous other women. During their relationship he married twice and fathered children with his wives. Yet Rita could not stay away from the notorious narcissist; she became addicted to the challenge of winning him over and over again. In a move as old as relationships, Rita decided to win Marlon back through the jealousy card and took up with a disappointing Dennis Hopper and the British critic Kenneth Tynan who turned into her stalker. During a particularly rough patch with Brando-she had discovered a nightie in his closet-Moreno read in a gossip column that Elvis Presley wanted to meet her. Her Presley dates ended in a tender tussle with Elvis' pelvis moving in that famous gyration, but that was it folks. One day, observing the King devour a peanut butter, banana, and bacon sandwich, Rita realized he could not compete, and returned to Marlon. The reunion resulted in a pregnancy; Brando immediately arranged for an abortion and for his friend to pick her up post operation. The doctors botched the procedure and to her horror the stillborn fetus remained inside. Marlon's response was less than empathetic; he swore he would get his money back from the doctor. The straw that finally broke Rita's back was when he married Tarita Teriipia. Distraught, she took an overdose of sleeping pills. Of the desperate act she recalled, "I went to bed to die. This wasn't a revenge suicide, but a consolation, an escape-from-pain death." She recovered and through her therapist's intervention finally ended her corrosive relationship. At this juncture a friend set Rita up with Jewish cardiologist Lenny Gordon, and they remained together until his 2010 death. Marriage and motherhood gave her the strength to resist falling back into Brando's arms. After Marlon's death the only piece of movie memorabilia in his Mulholland Drive home was a photo of him locked in a passionate embrace with a nude Moreno.
The lyric from Gloria Gaynor's "I Will Survive"- "I used to cry but now I hold my head up high" represents Rita's metamorphosis from Rosa to a strong, independent woman. Currently the octogenarian is as much a spitfire as ever and proudly proclaims that in her eighth decade, she has hit her prime saying, "I am the happiest 82-year-old person I know." In the latter part of life, she has finally been able to put behind her the trauma of the separation from her father and brother, societal prejudice, and monomaniacal Brandon relationship. Unfortunately, even her 46-year marriage turned out to be a sham. As it transpired, Rita had been an actress both on stage and off and revealed her husband was tyrannical, possessive, and monitored her every move. His controlling behavior made her feel claustrophobic and explains her comment she once made that she would rather "eat glass than ever get married again." When Gordon passed away, she finally found her freedom; the guise of a happy wife was a long-standing role. Of it she stated, "It was an astonishing discovery. After all the years of supervision I can do whatever I want. It was a very long time to be that unhappy."
In 2014, Moreno was driving near her home in Berkeley, California when she picked up her cell phone; on the other end was the head of the Screen Actors Guild with the news its members had chosen her to receive the Guild's 50th life achievement award. A gobsmacked Rita, slammed on the brakes and "damn near had an accident." The 82-year-old had not expected the honor and called back for confirmation she had not undergone an auditory hallucination. Rita said of the award, "Truly, unless I won the Nobel Prize, I don't know that I can compare it to anything I've experienced-and that does include the Oscar." Her concern was how to phrase her one-minute acceptance speech, ''That's going to be extremely difficult. I am Puerto Rican and can't even say hello in a minute." The following year she added the Kennedy Centre Honors to her impressive trophy shelf. Her earlier awards sat in a cardboard box until her late husband intervened. Other mementoes in her Berkeley, California hillside home-where she moved to be closer to daughter Fernanda and her two grandsons-are a presidential Medal of Honor. A high-profile fan is fellow Puerto Rican Supreme Court Justice Sonia Sotomayor who stated she was honored to call her a friend and Moreno was the voice in the audio recording of Sotomayor's 2013 memoir My Beloved World. The actress remains elegant and lithe, and in 2015 was at Rockefeller Center in New York City hawking her new CD, sporting a dark, body-hugging top under a print blouse. However, she admits her knees are shot from all the years of dancing in high heels. She still retains the glamor and sultriness of her 1954 Life Magazine cover that proclaimed, "Rita Moreno: an actresses Catalogue of Sex and Innocence.'' Still going as strong as ever, Ms. Moreno said she is as happy as an uneaten clam, and in her later years is having the time of her life. She quipped of her ability to not define herself by the year on her birth certificate, "I should be a representative for AARP!"
In 2018, the living legend teamed up with Norman Lear for a remake of the director's 1970s classic sit-com One Day at a Time- with a Latin twist. Subsequently, the powerhouses arrived at the Golden Globes on a scooter built for two where the 86-year-old Rita rocked form-fitting leather pants. Although she caught the attention of everyone on the red carpet, The New York Times disrespected her when it referred to Ms. Moreno as Mr. Lear's guest. Fans immediately fired back on social media thereby proving the esteem in which America holds the iconic star. Lear poked fun at the firestorm when he tweeted: The Rita Moreno and guest. The outrage was understandable as Ms. Moreno is one of only four actors to have earned the grand-slam of show business by winning an EGOT: (Emmy, Grammy, Oscar, Tony.) Latinos revere Moreno as a role model and call her "La Pioneer." The star is also a longtime civil rights activist who was with Dr. Martin Luther King, Jr. during his "I Have a Dream" speech.
In West Side Story, Maria was affiliated with the Puerto Rican gang the Sharks; however, considering the upward trajectory of her life she is their rival-the Jets.