Smarter Than the Average Bear (1958)
Certain denizens of ancient mythology were hybrids: Pan- man and goat, the Minotaur- man and bull, the Sphinx- woman and lion. In the 20th century, the coalescence of human and animal occurred when Yogi Berra was the inspiration for Yogi Bear.
When the baby-boomers of today were children, a favorite pastime was scarfing cereal while watching the antics of Yogi Bear and his side kick, Boo Boo. Their habitat was Jellystone Park, (Yellowstone Park,) where a ravenous bear was forever trying to swipe "pic-a-nick" baskets from under the eye of Park Ranger Smith.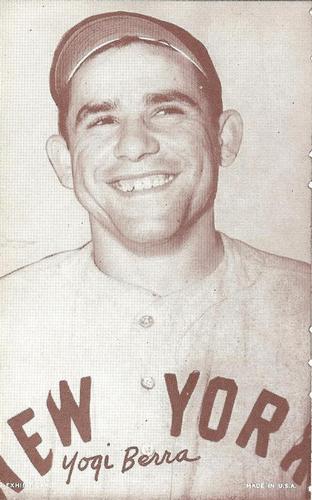 The origin of his name came from animation studio owner, Joseph Barbera, who needed to name an anthropomorphic bear. Joseph, born and raised in Brooklyn, a nephew of five baseball fan uncles, was often at Yankee Stadium. Hence, when it came to christening his four-footed offspring, he did so with a nod to his childhood hero.
Yogi Bear made his first television appearance as a cast member of The Huckleberry Hound Show. Wildly popular, in 1961 he had his own show that aired on 200 television stations in America, Europe, Australia, New Zealand, and Japan. The baseball player, irritated at his association to the bear, threatened to sue Hanna-Barbera.
Lawrence Peter Berra, (Yogi,) born in 1925, grew up far from Jellystone Park. His St. Louis neighborhood was known as Dago Hill, a reference to the prejudice against Italian- Americans. His mother, from a village near Milan, pronounced his nickname, Larry as "Lawdie." HIs famous moniker originated in his early teens when he and some friends went to a movie. The film showed a Hindu yogi master sitting cross-legged, the same position Lawrence used when he waited for his turn at bat. His name-and a future bear-would forever be Yogi.
As academics held little appeal, Yogi left school in the eighth grade. With the onset of World War II, the eighteen-year-old joined the navy and was on one of the first ships to reach Normandy beach on D-Day. He left the service with a Purple Heart. In 1946, after his discharge, Yogi joined the New York Yankees where he played alongside the legendary Joe DiMaggio. During his eighteen-year career, he won three Most Valuable Player awards and was a ten-time World Series champion. Upon his retirement, the Yankees retired his number 8; the Baseball Hall of Fame made him a member.
Yogi Bear moonlighted as a philosopher, "I don't think we get smarter as we get older. I just think we run out of stupid things to do." The other Yogi also possessed a knack for coming up with unique epigrams. The most famous of these spoke a truth about baseball, about life, "It ain't over till it's over."
The baseball legend's great second act was, upon his retirement, he became a manager for his beloved team. In a kick-to-the-gut moment, during a losing streak, team owner George Steinbrenner fired him; his employee, Clive King, had to deliver the devastating news. A furious Yogi vowed never again to step foot again in Yankee Stadium. To use Yogi Bear's utterance, "Sheesh!"
Fourteen years later, Steinbrenner, after the deaths of Mickey Mantle and Joe DiMaggio, felt it time to rectify his boo-boo and paid a visit to Yogi's door to apologize to the self-exiled Yankee. Yogi, by way of greeting, told him he was ten minutes later. Steinbrenner, realizing he was actually fourteen years late, told him that letting him go was the worst mistake he ever made in baseball. Berra replied, "I made a lot of mistakes in baseball too." With his forgiveness, Yogi proved, like his cartoon counterpart, that he "was smarter than the average bear."