Mrs. Blue-Eyes
When one conjures the image of Francis Albert Sinatra, it is of a Jersey crooner with the velvet voice, the bruised romantic with shady Mob ties. The biography of the first modern pop superstar is the stuff of legend, as his second wife Ava Gardner and third, Mia Farrow. However, his fourth wife, like Sinatra's trademark lyric, lived and loved her way.
Barbara Ann Blakeley was raised the daughter of a kosher butcher in whistle-stop town Bosworth, Missouri, in 1926. The family relocated to Wichita, Kansas and in the spirit of Dorothy and Toto, she was destined to trade her gray Midwest home for an emerald Oz. She first heard "The Voice" (as Sinatra's velvety vocals were called) at fifteen in a drive-in movie where, she recalled, the tenderness in his song melted her tomboy heart.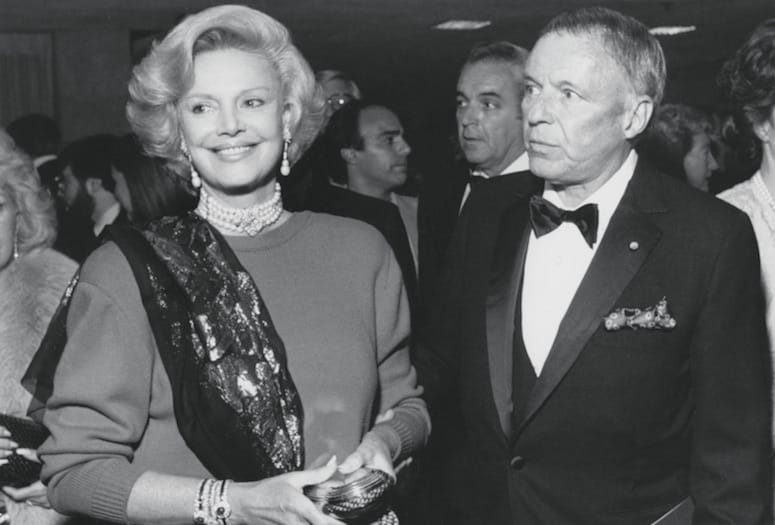 In her late teens the family moved to California where Barbara won the Miss Long Beach Beauty Pageant. At twenty-one, Wichita had grown too small for the tall stunner, so as an escape from Dullsville, she married a part-time bartender and singer, Robert Oliver, who claimed he sounded like Sinatra and could make money from the connection.. Apparently audiences did not share his view and the couple was soon drowning in debt.
The birth of son Bob did not prove a strong enough adhesive to keep the marriage together and Barbara became involved with another singer, Joe Graydon, whose repertoire consisted of Sinatra hits. (Sense a theme here?) When he accepted a position as a DJ in Los Vegas she accompanied him and became a $150.00 a week showgirl. She glided across the Las Vegas stage in towering head-dresses that featured anything from the Statue of Liberty to the Eiffel Tower. She also became a model for the legendary fashion designer Mr. Blackwell, the force behind the annual "worst-dressed list." The romance soured when Joe lost his job and Barbara became a regular at the Riviera hotel/casino, a watering hole for possessors of deep pockets. Barbara used the casino in the hope to hit her personal jackpot: a high roller who would keep her rolling in the green. It was there she first met inveterate gambler roller Frank Sinatra, seated at the bar with Ratpack buddies. They invited the blond bombshell to join them, and though tempted by the opportunity to meet her idol, she declined. She did not care to be around the inebriated, nor did she care to be a footnote in the sexual swordsman's romantic resume.
A middle-aged man attended the casino every night to watch Barbara; Harpo Marx had retired from show business to indulge in golf, gambling and women. He was the least funny, but wealthiest of his famous brothers. In 1958 he invited Barbara to his home in Palm Springs where her love for the designer desert won over her lack of interest in the man. Soon, Mrs. Barbara Marx enjoyed the proximity of the stars, especially Frank Sinatra who lived next door with Mia Farrow in the mansion called 'the Compound.'
Post divorce, Sinatra dated a never ending stream of the world's most desirable women, many whom Barbara met when she and Harpo were his guests. One evening there was a game of charades and Barbara was on his opposing team where, as time-keeper, she held a large brass clock. When Barbara announced the time was up before Frank's team had solved their charade, Sinatra smashed it against the wall, to Barbara's horror. Fortunately, there was a comedienne in the room who diffused the situation with the quip, "I just guessed the charade: 'As Time Goes By.'"
The relationship between Barbara and Frank shifted from clocks flying to sparks flying one enchanted evening. When the crooner made a pass at her, she explained her infidelity by claimed Sinatra was such a force of nature she "didn't have a choice." Harpo did not concur. Upon discovering his neighbor and his wife had simultaneously broken the Seventh and Tenth Commandments, he filed for divorce. Although he was worth millions, Barbara received only $180,000 and a four-year-old Jaguar.
The Sinatra-Marx affair continued; one of her draws was Frank liked a woman who could hold her liquor and Barbara never disappointed in that aspect. He also hated women who smoked, (though he loved his unfiltered Camels,) and she quit cold turkey. The sacrifices one makes for love.
One evening, shortly after they had first become intimate, she stepped into a car thinking she was on the way to dinner. She was correct, but in order to get to the restaurant they had to board Frank's G2 Gulfstream jet, headed for Athens. He laughed and explained, "I fancied Greek food tonight."
Despite the jet-setting life style in the company of the A-List, Barbara lived in a constant state of uncertainty, fearful one younger, more beautiful, waited in the wings. On one of his world tours, they stayed in Jerusalem and visited the Wailing Wall. In the shadow of King Solomon's ancient temple, Barbara penned a prayer and slipped it in the crack of the wall. It was a heartfelt plea for God for continued happiness with Frank, and, in a plaintive P. S.- that Frank ask for her hand in marriage. To help alleviate her anxiety, her lover showered her with expensive gifts of a Palm Springs home, a new Jaguar and jewelry, but failed to offer what she most coveted: marriage.
A night to remember occurred when the man known for his mob affiliation showed his Italian romantic side when he filled a hotel room with flowers and gave her a mammoth pear-shaped diamond, instructing her to take it to Jeweler's Row and choose its setting. In a nod to 'hope springs eternal' she designated it as a ring and shipped the finished product to Frank. When he re-presented it to her she coyly told him to choose which finger it would adorn. When he picked the left-hand digit it produced a gasp heard around Palm Springs.
The life of Frank's fiancée became a fairy tale far from one predicted for a kosher butcher's daughter. Now, instead of wearing the Eiffel Tower as a headdress she visited it in the company of the man dubbed the entertainer of the century. She hobnobbed with the world's whose who: Prince Rainier and Princess Grace, Gregory Peck, Cary Grant, Liza Minnelli and the Rat Pack. Another couple they socialized with was Liz Taylor and Dick Burton; Ms. Taylor received her famous 69 carat diamond as a mea culpa when Richard unfavorably compared his wife's legs to Barbara's.
The wedding for which Barbara had expended infinite prayers was July 11, 1976. In the spirit of Henry IV's, "Paris is well worth a mass," she converted to Roman Catholicism to secure her long-awaited prize. This still did not win over her future mother-in-law, Natalie, to take to the Jewish, twice divorced single mother. Instead, the Italian mother confronted her son: "Aren't there enough whores around?" Additional members on the anti-Barbara front were Frank's three children from his first wife, especially his daughter Nancy. Her one hit had been "These Boots Are Made for Walking," and she knew exactly where she wanted her boots to land as footprints on her new stepmother. On the morning of the long awaited day romantic Frank had his attorney deliver a prenup- if she did not sign the blessed event dangled in front of her would not occur. Confident of Barbara's compliance, Frank had invited glittering guests who included Ronald and Nancy Reagan, Gregory and Veronica Peck. Barbara signed.
Mrs. Frank Sinatra IV became the official chatelaine of the Compound as well as various other stately pleasure domes. Her spouse had a great eye for precious stones and a king's ransom of gems would be hidden in random places- pillows, purses, for her to stumble upon. One emerald bauble, originally made for Madam Cartier, was dubbed The Holy S_____!" for obvious reasons to anyone who laid eyes on it. Another gift came in plain view, her birthday present: a Rolls-Royce Corniche. If the gods had not upended the cornucopia enough on Barbara's ever perfectly coiffed head, she had a respectful husband in the house as well. Frank was no slob; for him slumming was lounging around the mansion in silk pajamas as he was a Type A neat-freak. In a nod to a Sinatra lyric, it was a very good year.
That said, as she relayed in her memoir Lady Blue Eyes the moon around which she revolved possessed a dark side, which erupted after Frank spent time with his ever present companion: Jack Daniels. He insisted his drink only hold four ice-cubes. If it did not he would snap at a bartender, "What am I, an ice-skater?" After too much imbibing, Dr. Jekyll would turn into Mr. Hyde-the street tough from Hoboken, NJ-which was Barbara's cue to take refuge in her bedroom with the door locked. This explains the sign over their home's service entrance: "Never mind the dog. Beware of the owner." He also never lost his lust for the ladies; however, Barbara stoically adopted the Jesus admonition, 'turn the other way.' When asked about Ava Gardner for whom Frank had carried a lifelong torch, Barbara responded, "A very wise French lady once said to me, 'You don't worry about old flames-just new ones.'" Mrs. Sinatra obviously earned every diamond.
Given his proclivity for the ladies she was not shocked when random strangers would approach claiming to be the mother or the grandmother of his child. She, for her part, remained true to her marital vows. This may be because while in a movie Frank was The Man with the Golden Arm he may have possessed another golden part of his anatomy. Barbara stated, "He had a sexual energy all his own. Even Elvis Presley, whom I'd met in Vegas, never had it quite like that." Frank's famous libido made headlines in 2014 after a Vanity Fair interview when Mia Farrow claimed her son Ronan may possibly be the biological son of the famous crooner rather than director Woody Allan. The DNA of public opinion weighed in, saying Ronan shared the famous lady-slaying blue-eyes- and was more Frank than Woody. Ronan tweeted his take, "Listen, we're all "possibly" Frank Sinatra's son."Barbara, who was married to Frank when Ronan was conceived, dismissed the whole affair as "a bunch of junk." At least Rosemary's baby knew his true paternity. Another of her spouse's Achilles Heel was his temper. When he was out on a bender, his drinking buddies reached out to her for back-up; Barbara was the one to bring her errant husband home. Another famous display of temper occurred in an Italian restaurant when he noticed his pasta was soggy. While other similarly dissatisfied patrons would send the offending dish back, Frank hurtled his plate against the wall. Before storming out, he examined the mess of splattered tomato sauce and dipping his finger in it, signed the mess 'Picasso.' The owner of the eatery put a frame around the unorthodox work of art.
In her memoir she explained she was the best one to keep Mr. Hyde at bay and wrote during her twenty-two year marriage she proved his companion, consultant, psychiatrist and lover. In a photograph in one of their over the top residents is a photograph with the inscription: Love is…us. Dean Martin had once made the observation, "It's Frank's world. We just live in it-a sentiment his spouse well understood" Barbara was the wife with whom he truly coexisted, the only one who did not come with an expiration date. Most of all, she was his ever faithful "paesano" friend; she once remarked having Frank on your side was akin to having a whole army.
One of Frank's pronouncements was, "You gotta love livin', baby, because dyin' is a pain in the ass." In 1998, Frank had a heart attack and Barbara rushed to the hospital. She tried to reassure him as to his recovery by reminding him how many times he had defied illness. He then uttered his final words, "I can't" and the famous blue eyes closed forever. Condolences poured in from around the world, though none was forthcoming from step-daughter Nancy who complained his children had not been summoned to the hospital so the newspapers could report he died in his wife's arms. Nancy added with vitriol, "Karma is too good for her." Barbara's contentious relationship with her husband's children had always been an enormous elephant in the Sinatra's lavish rooms.
Sinatra was a megastar who belonged to the world so his widow decided his funeral would not be the small ceremony which she claimed she would have preferred. Frank was dressed in his finest suit and family and friends slipped mementoes into his coffin: a flask of Jack Daniels, unfiltered Camel cigarettes and Zippo lighters. Private grief was public mourning as well: at his passing the Empire State Building was bathed in blue-for the departed Ol' Blue Eyes; the neon-drenched Las Vegas stripped dimmed its lights in honor of its adopted son.
In Lady Blue Eyes Barbara recounts when she visits his grave she is photographed by hordes of reporters and fans. She writes, "I sometimes wonder what they think of me, this woman in her 80s keeping vigil for her dead husband. Few knew where I came from or how I got there. They know nothing of my life before Frank, or how rich it became once I met him. If they only knew the places I've been, the things I've seen, the people I've met on my journey. That was some candy jar!" For most people a candy jar is filled with various hued jelly beans; however, for Barbara it was filled with a Holy S___! necklace, the company of the rich and famous, and jet-setting around the world. But its true sweetness came because it was shared with the man who made her Mrs. Blue Eyes.