Here's to You (1940)
The most iconic jersey in baseball history is emblazoned with number 42: Jackie Robinson wore it when he dared dream the impossible dream. But the number not only symbolizes a pivotal moment in the Civil Rights Movement-it represents an enduring love story.
Rachel Annetta Isum was born in Los Angeles on July 19, 1922. The city was infected with racism: a nearby theater required blacks to sit in the balcony and an adjoining hamburger stand refused non-whites service. Despite the bigotry surrounding her family, her parents provided stability: violin lessons, visits to the Huntington Museum and attendance at the local Bethel African Methodist Church. An indelible childhood story from her father related how he had grown up in Chicago where his parents had lived in a rental for forty years after which time they were evicted. His message "a key to one's own home provides the only key to security." They intended for her to get that key through education.
Following graduation from nearby Manual Arts High School, Rachel won a scholarship from a civic group and entered UCLA. At university she not only became the first of her family to attain a degree; she also became the tireless teammate of a man whose shadow was to stretch far beyond Ebbets Field.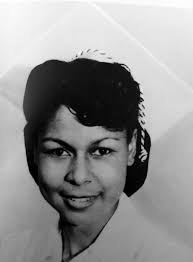 UCLA's few African-American students congregated in the corridors of Kerckhoff Hall, where Rachel first laid eyes on Jack Robinson, a four-sport letterman. He favored crisp white shirts to showcase the color which he refused to view as a badge of shame. Rachel was interested-as were many girls- but felt she would never be the homecoming queen to the BMOC. Nevertheless, in a nod to 'hope springs eternal' she would arrive early in her beat-up Ford V-8 to accidentally bump into him. They were introduced by a mutual friend and Jackie was taken with Rachel's beauty and dignity. For their first date Jack, (as she called him,) invited her to a Bruin football dinner at the Biltmore. She was eighteen years old and nervous-she had never been on a date or a guest at a hotel. Sheathed in her first black dress, purchased from the May Company basement, she danced the foxtrot throughout the night with her BMOC.
To their mutual dismay, in 1942 Jack moved to Honolulu to play semi-pro football. Realizing Rachel was "the one" he wrote daily love letters and sent a weekly box of candy. Rachel declared her love but said she would not marry until she became a nurse and he obtained a position as a high school coach. Jackie left Hawaii two days before the bombing of Pearl Harbor and true to his middle-name (Roosevelt), he enlisted in the armed forces. The couple had a major spat when Rachel wrote she wanted to volunteer for the service and he replied she should be content in the role of his "personal draftee." Rachel returned his ring, though reconciliation followed. The war hit home when Rachel's brother, Chuck, a Tuskegee airman, was shot down over Yugoslavia and interred in a prisoner-of-war camp. Jack, for his part, faced court-martial when he took a stand by refusing to sit down at the back of a bus in Waco, Texas. When a white MP used the epithet 'nigger' Robinson threatened to "break in two" anyone who used that word.
After his Honorable Discharge from the military the couple planned a life together, however, their best laid plans-and American history-was irrevocably altered with a meeting with Branch Rickey, president of the Brooklyn Dodgers. Rickey was committed to his 'noble experiment-' to put a crimp in Jim Crow, a tradition as American as baseball. He understood the man chosen for the fight would need to be the possessor of Samson-like emotional endurance-who would be able to keep his fists down and courage up. Jackie asked, "Mr. Rickey, do you want a ball player who is afraid to fight back?" "No," was the response. "I want a ballplayer with guts enough not to fight back."
Five years after their first meeting, Rachel and Jackie were finally married on February 10, 1946, in a black church in West Los Angeles followed by a reception at the Isum home. While the contemporary connotation of a sports wife is a woman obsessed with diamond karats and being arm-candy for her celebrity spouse-Rachel was cut from a different cloth. She was Jackie's strength; the one who made sure the only time his fist was publicly clenched was when he grasped his bat. In February, 1962, Jackie penned a newspaper column recounting his love. "Thinking about Rae always makes me want to remind women how important they are in making the world go round. It's an old saying-but a true one-that behind every successful man there is usually a woman who deserves much credit for his success."
In the theme song from the Graduate, Simon and Garfunkel sang of a Mrs. Robinson, "Look around you, all you see are sympathetic eyes." But this was not the case for her baseball counterpart of the same namesake when Jackie broke the color barrier on April 15. On that date, in the year 1947, the player with the 42 jersey had to be the Artful Dodger of the Dodgers, -ducking the fans who threw racial epithets, the balls pitched at his head, the cries of "Nigger go home." Mainstream America did not take kindly to an African-American on the field; the reigning belief was blacks belonged in the segregated spectator section or hawking popcorn and Cracker Jack. Death threats targeted not just Jackie but Rachel, something that would cause many a trophy wife today to take-off in her stilettos. On the contrary, through every game Rachel Robinson was in the stands, back ramrod straight, feeling each taunt, every indignity. She had to remain strong for her husband, for her people, for their children: Jack Jr., Sharon and David.
Nevertheless, there were some magic moments: Pee Wee Reese, from Kentucky, in one game placed his arm around Jackie's shoulder. He later remarked, "You can hate a man for many reasons. Color is not one of them." April 15th had historically proven a tragic one-Abraham Lincoln passed away from an assassin's bullet; the Titanic submerged in the Atlantic, but because of Jackie and the forces who kept him from faltering, it was to become a pivotal date in the timeline of tolerance.
In the late 1940s, the era before the multi-million dollar contracts, the Robinsons diligently saved and realized their dream of home ownership. One of Rachel's cherished childhood memories was when she was ten her father held a solemn front-porch ceremony to burn the mortgage after his final payment. They purchased a house on Long Island, a neighborhood which included jazz musician Count Basie. It became their haven where the cardinal rule was not to talk about the negativity. There the main focus was their three MVPs, their children who not only had to deal with prejudice, but a father who was at the eye of the racist storm.
Daughter Sharon recounted a favorite wintertime ritual in which her father would test the backyard lake to ensure its safety for ice-skating. Although he could not swim, he would step onto its deepest part to make sure it was safe. The ritual could well serve as the metaphor for the man. In the later life newspaper entry Jackie wrote, "In my trophy room at home, I've got lots of awards and medallions and certificates. Sometimes I think there should be two names on them instead of just mine. For Rae has been a full partner in anything I have done or tried to do ever since that lucky day in California when we decided to share our lives."
In 1956, the once indomitable athlete, weakened by injuries and diabetes, announced his retirement in Life Magazine. If the Fates' loom ran on karmic justice, Jackie and Rachel's latter days would have been as tranquil as the former was tumultuous, but the sisters did not weave that pattern. Simon and Garfunkel had admonished, "Most of all, you've got to keep it from the kids-" but the Robinsons were unable to do that with Jackie Jr. He had survived Vietnam and a heroin addiction only to die at age twenty-four in a car accident. Wracked with pain, Jackie stated, "You don't know what it's like to lose a son, find him and lose him again. My problem was my inability to spend much time at home. I guess I had more of an effect on other people's kids than I did on my own." Rachel's training as a psychiatric nurse and her faith helped cope with the devastating pain.
A year later, Jackie made his final public appearance at the 1972 World Series in Cincinnati. Rachel's worry was palpable as she gazed at her husband, enveloped by baseball dignitaries. The fifty-three-year old was nearly blind, his eyes clouded by diabetes. Illness had slowed his energetic gait to a wary shuffle. His hair had turned as white as the crisp shirt he had worn when he caught Rachel Isum's eye, and heart, at UCLA. Nine days later Jackie passed away from a massive heart attack at their Connecticut home.
Rachel's lifelong commitment to Jackie embodied Elizabeth Barrett Browning's sentiment, "And, if God willeth, I shall but love thee better after death." Months after her husband's passingshe became the keeper of his flame. In a nod to her father's words, "a key to one's home provides the only key to security," she began the Jackie Robinson Development Corporation that provides housing to low-and middle-income families.
Rachel, currently in her nineties, never lost her sense of humor. The Dodgers, not surprisingly, remain her favorite team which became manifest when she attended a Saratoga Race Course. She had become friendly with Nick Zito whose horse, Bellamy Road, was owned by George Steinbrenner, owner of the NY Yankees. As she passed its stall, the horse nipped her arm. She replied, "Fifty years later, and the Yankees are still trying to bite me."
Another anecdote shows she has also maintained her indomitable spirit which assisted her husband in maintaining his own. On September 11, 2001, Rachel and Dorothy, the widow of Pee Wee, were in New York City's Hall. They were there to choose one of five bronze sculptures commemorating when the Kentucky-born Reese had laid his arm around Jackie's shoulder. When the first airplane hit the World Trade Center a few blocks away, concerned city officials began to usher the two baseball widows to a secure location. Not one to accept preferential treatment, even though she was almost eighty at the time, Rachel walked alone to her apartment on the Upper East Side. Leonard Coleman, president of the National League, voiced his tribute, "If there was a flood, I'd get next to Rachel. She stands on higher ground than the rest of us."
A slew of posthumous honors keep the flame burning for the athlete who bore on his shoulders the weight of history: induction into the Baseball Hall of Fame, the retirement of the iconic 42, a movie named after his number-all of which allows Jackie Robinson to steal home once more. And because Rachel was Jackie's anchor, it is fitting on April 15th to make a toast to Mrs. Robinson, "Here's to you."