Camelot Queen (1929)
A rite of passage of many a young girl is to indulge in make-believe, envisioning a tiara, a coach, a prince. With the passing of the years, reality takes over, but the fantasy remained for the one who became both an American and European princess.
In Alfred Hitchcock's film Rear Window, a wheelchair-bound man asks the woman in his Greenwich Village apartment, "Who are you?" People have posed the same question about his star, Grace Patricia Kelly. The two most prominent Irish American, Catholic families were the Kennedys of Massachusetts and the Kellys of Philadelphia. The patriarchs shared the commonalities of traversing the road from rags to riches-Joseph Kennedy as a bootlegger and Jack Kelly as a construction company owner- and both did not feel sex needed to be exclusive to their wives. Jack and Margaret raised four children in a seventeen-room estate in Germantown overlooking the Schuylkill River in whose depths Jack relived his glory days when he had won three Olympic medals for rowing. A childhood grief for Grace was she felt her father favored her athletic siblings.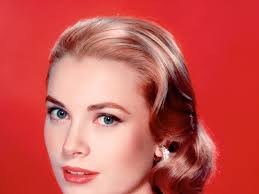 Rather than take the debutante route of a Philadelphia prima donna, Grace heeded the siren call of the stage though this meant butting heads with Jack who believed acting "a slim cut above streetwalker." Leaving Germantown in the rearview mirror, Grace headed for Manhattan where she attended the American Academy of Dramatic Art. In New York, Grace traded her mansion for a residence in the Barbizon Hotel for Women. What saved her from the role of a struggling actress was the clout of her successful uncles: George Kelly was a Pulitzer-Prize winning playwright, and Walter C. Kelly, a famed vaudevillian. Her breakthrough role was as a Quaker wife in the Western, High Noon where she co-starred with Gary Cooper. However, her role in Metro Goldwyn Mayer's Mogambo, directed by John Ford, brought an Academy Award nomination as best actress. The film also turned the spotlight on Grace's love life, and rumors flew that on the set Grace Kelly and the movie's star Clark Gable had embarked on an affair the press dubbed, "L'Affaire Gable." When questioned as to the rumors, Grace replied, "What else is there to do if you're alone in a tent in Africa with Clark Gable?" In an era when laissez faire sex was scandalous, Grace's other alleged high-profile horizontal partners included Gary Cooper, William Holden, Bing Crosby, Frank Sinatra, and Oleg Cassini. Her greatest screen success was in The Country Girl where Grace appeared with William Holden that garnered her an Oscar as Best Actress; she dazzled in an aquamarine gown by famed designer Edith Head. Emcee Bob Hope announced, "I just wanna say, they should give a special reward for bravery to the producer who produced a movie without Grace Kelly." The woman of the hour graced the covers of Look and Time magazines, yet public persona masked private pain. In her suite at the Bel Air Hotel, she recounted it was "just the two of us. Oscar and I. It was the loneliest moment of my life." Grace was not to be lonely for long as the star of To Catch a Thief was imminently to catch a prince.
The American movie star met the Prince of Monaco through a blind date suggested by Olivia de Havilland, of Gone with the Wind fame. In 1955, the two actresses were on a train heading from Paris to the eighth Cannes Film Festival when de Havilland and her husband, Paris-Match editor, Pierre Galante, played matchmakers. Prince Rainier Louis Henri Maxence Bertrand Grimaldi-(Europe's oldest royal family), and Grace met in his 102-room Monte Carlo pink palazzo on the French Riviera where the royal took her on a tour of his private zoo. One of the animals was a baby Asian tiger, a gift from Emperor Bao Dai of Vietnam. De Havilland reported that the meeting left Grace "in a state of enchantment." The sense of enchantment may have come from Grimaldi as well as the lure of Monaco, a five-mile principality that had once been the domain of the Bourbon and Napoleon dynasties. As they began to appear together, the press went into a feeding frenzy over the romance of the Hollywood beauty queen and the European prince enacted against the purple and pink Mediterranean sunset. The hint that their relationship was more than a dalliance occurred when Rainier flew to Philadelphia to spend Christmas with the Kelly family. As it transpired, Albert had proposed on the second date. He had done so partially for a mixture of romance and rationality. He believed America's sweetheart star as his princess would increase tourism for his principality, and he needed an heir: under the terms of a 1918 treaty, Monaco would become the property of France if Rainier died childless. Grace agreed to become his seaside kingdom's First Lady, a deal cemented with a 10.47-karat diamond engagement ring from Cartier of New York City. Their fairy-tale romance captured the world's imagination, though not everyone was impressed. Upset his leading lady was trading her talent for a tiara, director Alfred Hitchcock dubbed her "dis-Grace." However, he later softened and remarked, "I am glad Grace has found the best role of her life." Jack Kelly, in a nod to his future son-in-law's diminutive stature, told reporters that Rainier was only "tit-high to Gracie." No wonder Grace remarked, "You choose your friends but your family you're born with." Another hiccup came when Rainier met David Niven and asked the actor who had been his most exciting lover. Niven answered, "Grace, of course," before catching himself and adding, "er, Gracie Fields." Jack eventually came around and ponied-up the cost of the $2 million wedding that was an affair to remember. His connection to royalty helped salve the insult he had received as a young man when he was ineligible to compete at the famous English Diamond Sculls at the Henley Royal Regatta because he had once worked as a bricklayer. In response, Jack sent his sweaty rowing cap to the King as a souvenir. Although Jack had been at the receiving end of prejudice, he had dismissed Grace's earlier boyfriends as "wops, dagos, and Jews."
In 1956, in a nod to art imitating life, after completing the film High Society, Grace set sail for Monaco. On board the SS Constitution she recalled, "When I left New York our ship was surrounded in fog. What sort of world was awaiting me on the other side of that fog?" Her trepidation stemmed from the fact she was leaving loved ones, career, and country for a place where she knew only her fiancé, did not speak French, and where ritual ruled. Her new role as a royal was to place her in a gargantuan fishbowl. Furthermore, she understood that in the contingency of a divorce, her husband would retain sole custody of any future children. Regardless of what the crystal ball would reveal, those who knew her had no doubt Grace would play her role to perfection.
Prince Rainier III and Ms. Kelly exchanged vows, "Oui, je veux," in the Cathedral of St. Nicholas in Monte Carlo. The press called the event the wedding of the century while Grace referred to it as the carnival of the century: 1,500 reporters converged to capture the image of the twenty-six-year-old blonde bride. Crowds were so massive that Prince Rainier summoned the assistance of the French riot police; the newly minted Princess Grace later suggested that she and the prince should have been awarded battle ribbons for all the fighting required to maneuver through the throng of onlookers. Their six hundred guests included European bluebloods, the international jet-set, and American movie stars. MGM filmed the event live for an estimated television audience of thirty million. Before boarding her husband's yacht, Deo Juvante II, for their honeymoon, Grace remarked, "Thank you, darling, for such a sweet, intimate wedding."
Life in a postcard-perfect castle perched on a cliff overlooking the Mediterranean became the real-life stage setting for Her Serene Highness Princess Grace. Twenty-one guns heralded the birth of Princess Caroline, the day became a national holiday where gambling halted and champagne flowed. Crown Prince Albert merited a 101-gun salute, followed by last-born, Stéphanie. The Grimaldi siblings were the recipients of their mother's beauty and their father's pedigree and served as catnip to the paparazzi with their romantic hi-jinks, the type of publicity their parents abhorred. While Grace's priority was family, she also dedicated her life to duty on behalf of her adopted homeland and was a staunch supporter of charities and cultural events.
While from the outside looking in, the girl from Philadelphia, the princess of the silver screen, reigned over a glittery municipality and enjoyed a life lifted from make-belief. However, as Grace remarked, "The idea of my life as a fairy tale is itself a fairy tale." Disney fantasy transformed to the Grimm Brother variety when Grace and seventeen-year-old Stéphanie were returning home from Roc Angel, the Grimaldis' French estate. Refusing the service of her chauffeur, Grace was driving her British Rover 3500 on a winding road at Cap-d'Ail in the Cote d'Azur region when she suffered a stroke and plunged down a 45-foot embankment. The princess sustained multiple fractures and a cerebral hemorrhage that resulted in her death at age fifty-two. Stéphane spent time in a hospital for shock and non-life-threatening injuries. An estimated worldwide audience of 100 million watched the internment of Princess Grace in the Grimaldi crypt. The crowned heads of Europe were in attendance, including Diana, Princess of Wales, representing the British royal family. Years later, when asked if he would consider remarriage, the prince responded, "How could I? Everywhere I go, I see Grace."
The Kelly and Kennedy clan shared a final commonality with the tragic deaths of Princess Grace and President Kennedy. After her husband's death, Jacqueline compared her husband's 1,000 days in the White House to King Arthur's kingdom, as both had been dedicated to democratic ideals. Mrs. Kennedy quoted from the Broadway musical, "Don't let it be forgot, that for one brief, shining moment there was Camelot." During a golden era, Princess Grace reigned as Monaco's own Camelot queen.