After the Fall
Famous playwright Arthur Miller went through life asked what it was like being married to Marilyn Monroe. It was an all too obvious euphemism for the real question: what was it like to have sex with the goddess who went to bed wearing only Chanel No 5? Miller took the answer to his grave but was never loathe to wax eloquent on his last wife after Marilyn, "This marriage makes the past seem worthwhile."
A photograph in a 1957 issue of Life Magazine shows a car on Times Square with a llama's head protruding from a window. Even in expect-the-unexpected Manhattan, the image was unforgettable-as was the woman who had captured the shot. Ingeborg, "Inge," Hermine was born in 1923 in Graz, Austria, to liberal Protestant parents. They had converted from Roman Catholicism before marriage to have an escape route if conjugal bliss proved elusive. Her future wanderlust was fostered by the Morath's constant moves due to Dr. Edgar Morath's academic postings. They ended up in Berlin, right at the outbreak of World War II.
It was here she had her first encounter with the avant-garde with the Entartete-Kunst (Degenerate Art) exhibition organized by the National Socialist Party. Its purpose was to inflame the public against this type of art; it ignited a passion in Morath who stated, "I found a number of these paintings exciting and fell in love with Franz Marc's Blue Horse." As it was heresy to show approbation, she kept her private thoughts private. Post high school she passed the Abitur and was compelled to complete six months of service for the Reichsarbeitsdienst (Reich Labor Service) before she could enroll in Berlin University.
Life under the Third Reich was far from comfortable for the anti-Nazi Moraths and the teenaged Inge ran afoul of the authorities. She refused to join the National Socialist Studentenschaft (Student Organization) which resulted in expulsion. In retaliation she was compelled to labor in an airplane parts factory at Tempelhof which became a repeated Allied target. After the plant had been subjected to a particularly heavy bombardment, she ran through the rubble holding a bouquet of lilacs above her head as a talisman against death raining from the sky of Berlin. She later recalled walking through the countryside and witnessing the devastation of war, "Everyone was dead or half-dead, I walked by dead horses, by women with dead babies in their arms."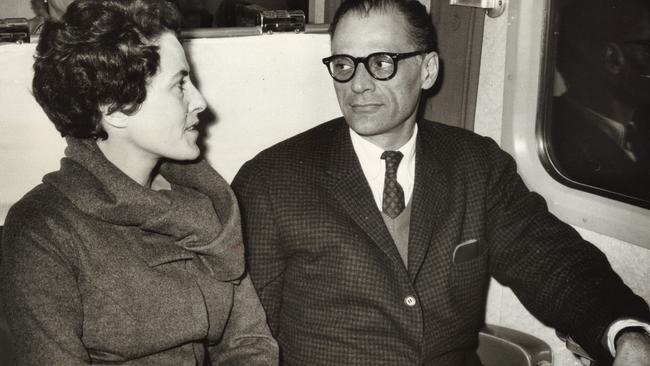 With her teenage years branded by Nazi repression, she turned for self-expression through the lens of a camera and took as her mantra Goethe's quotation we are born seeing but we are required to look. It was this capacity for observation that informed her oeuvre, "When you take a picture you trust your eye, and cannot help but bare your soul."
After the war, Morath moved to London where she obtained a position under art director Simon Guttman at the magazine Picture Post, where she met her future husband, journalist Lionel Birch. To her grave disappointment, instead of apprenticing as a photographer, she was given secretarial chores or tasks at the Post such as heating Guttman's shaving water. Starved for professional fulfillment she began freelancing and sold her works under the pseudonym "Egni Tharom" her name spelled backwards. Disillusioned with job and marriage she left both and moved to France to work with the Magnum Agency, the first woman admitted to the intensely macho club. Photography became her main source of self-expression because she was ashamed to speak German after the war, viewing the language as a millstone of guilt.
It was in Paris that Ingeborg saw a performance of The Crucible, her first experience with the American playwright who would impact her life. But it was not until she made her first trip to the United States in 1956 that she understood first-hand the significance of the play's anti-McCarthy message. Coming through customs she was detained for carrying in her baggage a book which, though about movie stars and called Stardust in Hollywood, had been published by the Left Bookshop in London. With characteristic chutzpah she pointed out she could not possibly have survived The Third Reich had she been a communist. She further added it would be more pertinent to ask those with Austrian passports had they been Nazi sympathizers. When she left the airport, she encountered a woman handing out leaflets ordering people to report any suspicious un-American activities. After a few months at Magnum, Morath became an assistant to Henri Cartier-Bresson who told her that photography was, "The courage to walk up and hold your breath and take your picture."
So great was her talent she began receiving assignments from around the world. One of these included a trip to Iran where she wore a chador which disguised her ever present Leica. During Ramadan she sneaked inside a grand mosque to photograph the men prostrate on the floor. One worshipper sat up and alerted the others who began pelting her with stones. Fortunately, there were not too many of the make-shift weapons lying around and she was able to flee without injury. In Spain to photograph the running of the bulls she won the rare position of entering a famous matador's dressing room. It was considered bad luck for a woman to see the fighter before the bull had the opportunity, but she convinced him that by snapping pictures she was not looking at him with female eyes. Her work eventually grew to include the iconic people of her era: Alexander Solzhenitsyn, Eleanor Roosevelt, Andy Warhol, and places such as Boris Pasternak's home and Mao Zedong's bedroom.
In 1960 Magnum sent Morath to Reno, Nevada, to shoot stills of the Misfits, the film Arthur Miller had written for his wife Marilyn Monroe, whose psyche was crumbling along with her marriage. There she captured one of her most famous shots-the screen siren in a black cocktail dress-lost in thought and kicking up leaves in the Nevada desert. The picture captured anguish crouching behind celebrity.
The playwright first encountered the woman behind the camera when she and director John Houston were in the Maples Bar, deep in reminiscence of an earlier film. Miller later spoke of his first glimpse of Ingeborg who was to complement and complete him, "She was a slender, noble-looking young woman with bobbed hair and a European accent, who seemed both shy and strong at the time." However, Miller was too preoccupied to say more than hello as the Misfits was experiencing more off the set drama than on. Marilyn was spiraling out of control and Houston was often so intoxicated he fell asleep while directing. Ingeborg, for her part, only viewed the famed writer with professional interest. She had determined post-divorce her only significant other would be her Leica camera.
Several months later Morath and Miller ran into each other in New York, and he asked her for dinner. Despite their differences in religion, nationality and backgrounds, Ingeborg knew she had found her flesh and blood Blue Horse. Inge recalled of that first date, "I thought he'd be terribly stern and serious. He's very very funny." The playwright whose titles veer far from lightheartedness (Death of a Salesman, the Misfits, the Crucible) did have a sense of humor as evidenced in his classic anecdote which Billy Wilder found hilarious. When Miller and Monroe had first become engaged, Arthur took her to New York to meet his mother, Gussie. Mrs. Miller lived in a tiny apartment with walls so thin that when Monroe went to the bathroom, she worried everyone might hear her and turned on the faucet full blast. The next day he called his mother to ask what she thought of her future daughter-in-law to which Gussie responded, "She's sweet. But she pisses like a horse!" He also found out what Ingeborg and Houston had been recalling at the Maples Bar. In 1950, when the director was in Mexico filming The Unforgiven and Inge was taking its photographic stills, the actor and former war hero Audie Murphy's boat had capsized, and he was in danger of drowning. Morath quickly stripped to her underwear and towed Murphy back to shore while he was holding on to her bra strap. In gratitude he gave her his watch which he had carried throughout the war.
Miller, who had recently undergone an excruciating divorce from Marilyn, claimed his 'reasoned resolve' was to never again walk down the matrimonial aisle. His play After the Fall was a thinly veiled confessional of the anguish he had endured with America's sex symbol, even if she was the Hourglass sheathed in silk. It was readily understood why writer Truman Capote had pronounced of the Miller-Monroe marriage: Death of a Playwright. Arthur had likened her to a smashed vase, "It is a beautiful thing when it is intact, but the broken pieces are murderous and they can cut you." However, his feelings for Inge, the opposite of Monroe, made for a change of heart. He explained, "Maybe all one can do is hope to end up with the right regrets." A month after ending his marriage to Marilyn, Arthur wed Ingeborg. Miller later said the forty years he spent with her proved the best of his life. In tribute he dedicated his autobiography, Timebends: For my wife, Ingeborg Morath. Love allowed the angst-ridden writer to finally escape his crucible.
Miller had named his 1940 play The Man Who Had all the Luck and it was a phrase widely, if mistakenly, used to describe its writer's fraught marriage to Marilyn Monroe. However, Arthur considered himself the titan of luck as the husband of Ingeborg. The couple made their primary residence a ten-bedroom estate in Roxbury, Connecticut, (which he had purchased and renovated while married to Marilyn,) whose privacy they ensured by planting an army of trees. Under the influence of his wanderlust wife, the inner voyaging Miller became a world traveler where they collaborated on books of their journeys in which she provided the photographs accompanied by his text. However, their greatest collaboration was daughter Rebecca, born in 1962; four hours before going into labor the feckless mother to-be was on the top of a tall crane taking photographs in the Brooklyn Navy Yard.
Unfortunately, the tall trees surrounding their property and the bouquet of lilacs did not serve as protection against heartbreak. In 1966 Morath delivered her second child, Daniel, who was born with Down Syndrome. Ingeborg wanted to keep him but Miller arranged for the 'mongoloid,' as he referred to him, to be institutionalized. Though his mother visited on Sundays his father rarely did. The infant was excised from the playwright's life as if a character too discordant to the overall plot. Timebends had no mention of son Daniel Miller. This chimed a jarring note from the author who had written in Death of a Salesman, "Attention must be paid." Despite this heart-break, Rebecca was an endless source of joy and her parents were pleased with her marriage to actor Daniel Day Lewis whom she had met during the production of the Crucible and with whom she had sons Ronan and Cashel.
From the 1980s onwards, Inge stayed home for longer periods at her Roxbury home, where she made little alteration other than to convert the heart-shaped swimming pool, (shades of Marilyn,) back into a natural lake where she swam daily. A vegetarian, often when not behind a camera she enjoyed being in front of a stove where the kitchen was aromatic with the fragrance of baking bread and Austrian cakes and pastries. This was a far cry from Marilyn's stab at domesticity when she attempted to dry pasta with her hair dryer.
In 2002, diagnosed with lymphatic cancer, Inge decided to return to the country of her birth and documented the occasion in her final work Last Journeys. Of his wife's photography Miller was always her most ardent fan, "She made poetry out of people and their places over half a century." She passed away later that year at age 78 in New York Hospital. Ingeborth's greatest gift to Arthur was an emotional resurrection After the Fall.